Penelope. Hallberg Rassy 35; Horta Faial, Azores – Plymouth UK, July 2022
Crossing the Atlantic eastbound on a 35 footer; second leg; straight line sail, not reefing once.
Flying out to Horta, Sunday, July 17th 2022
Jay and I arrived at Horta airport just 5 minutes from each other. Perfect timing, so we shared a taxi to the marina. Before we left the airport though, I went to the check-in desk to pick up my dividers.
When I flew to Amsterdam I was a bit early and the first passenger to check in. It was clear that the security officers had nothing to do except, going through all my luggage. That wasn't that much, I only had some hand luggage because I would return in two weeks. Still, I had to unpack and open everything. They didn't like my dividers I had in my pouch. I explained that it was a navigation tool and that I had never had a problem taking them before, but the chief was adamant. I could check in my bag or just leave them there. One of the assistance asked me if was planning to come back soon. I actually was, so she offered to keep them for me for the time being. So nice! She gave me a piece of paper with her name and told me that she would probably work the day I would return. And she was. As soon as I walked to the check-in desk, she saw me, got up and went to get my dividers. Nice way to return!
We spent the rest of the day preparing the boat for the next leg. Monday we'd do the provisioning and finish our painting. The plan was to leave Monday around noon.
July 19th 2022, 01:45 position 39:05.11N 28:06.26W
We left Horta Monday around 5pm. In the morning we did a basic painting on the quay for a safe trip. Elliott got some leftover paint and a brush. It's not the most artistic painting but it's there. Hopefully it'll last at least as long as my True Companion painting I did 10 years ago.
We provisioned early afternoon and they delivered all the stuff at the pontoon. Jay downloaded the charts for the plotter and after a last shower we slipped the lines.
It's just over 1300Nm to Brighton. The winds will be light the first couple of days because of the high just north of the Azores. But later we're supposed to have a nice breeze from the west/north-west, which will take us in a straight line to Brighton in around 11-12 days. So if all goes well I'll be home before August 1ste, when Marischka and I have booked a short vacation. If not, I'll step off at Falmouth or Plymouth and get a train to London to catch the Eurostar.
July 20th, 03:45 position 40:27.22 N 25:48,16W
We passed Graciosa, the most northerly island of the Azores.
It's a calm dark night. The first night at sea on our way to Brighton. Not too much wind, only 9kts, motorsailing. It's a nice calm night, a bit dark except for the lights of the island. The last bit of land we're about to see for about 10 days.
The winds changed sooner then expected and by sunrise we killed the engine. Close-hauled with a 15kts breeze we're doing 4.5-5 kts on the rhumbline. Later the winds veered a bit and we had a perfect sail all day.
At sunrise we were beating into the waves a bit, later the see flattened although the winds were still the same. All in all we had a great and smooth sail all day.
By sunset the winds had veered even more so now we're on a beam reach with hardly any waves, doing 6kts on average. We already covered some 180Nm. What a great start of this second leg! The first leg from Bermuda we covered only 50Nm in the first 3 days.
The winds are supposed to hold till sunrise. By then they might drop and we may have to motor again. Well, we'll see. So far it's a perfect sail and perfect conditions to get used to the movements of the boat again 🙂
July 20th, 13:00 position 40:56.05N 24:56.62W
I was reading my book when out of nowhere there was this sailing yacht on our port side, less the 0.5Nm away. Hadn't spotted it before but it must have been there for quite some time.
I called him over the radio. At first there was no response but than he answered. It turned out to be a French guy that didn't speak a word of English.
Well anyway, he managed to tell me that he was solo sailing on his way to La Rochelle. He didn't understand the question where he was coming from but I guess he set sail on the Azores too.
Since he was heading slightly more east and just a bit faster than us, I actually had to give way on the middle of the ocean.
I wished him a bon voyage which he understood and that was it.
July 21ste, 15:30 position 42:16.55N 22:33.71W
We're motor sailing since last night. The winds had dropped as forecasted and later on the winds veered so we dropped the main too. We're heading dead downwind and aren't in for any accidental gibes.
The weather cleared though and todays the first sunny day. We're doing fine, started fishing, reading books, listening to music and playing chess. Making significant ground, close to 375Nm in 3 days. Tonight we'll have a pizza night and a glass of wine:-)
We didn't see much wildlife yet except for a pot of dolphins and a few birds but no Portugese man-o-war any more. I guess we're to far north now. We did see some cargo ships and another sailing yacht, but that's about it. For the rest just the calm and peaceful blue ocean.
July 23th, 12:30 position 44:31.04N 18:21.55W
We motorsailed for quite a bit and when checking, we burned quite some fuel. We're down to three days fuel. But then again the winds picked up a bit. Enough to get us sailing again and still doing a decent speed. We're sailing wing on wing surfing the waves. With about 12kts apparent doing 5.5-6 kts SOG. That's faster even then motoring!
We decided to stop over in Falmouth or Plymouth depending the time we'll get there. We won't make it to Brighton in time for me to get back home before August 1ste otherwise. Jay and Elliott we'll sail the last bit the two of them. They're in no rush and probably stay in Falmouth or Plymouth for a day to rest and of course fill up the diesel.
Setting the new waypoint, automatically make us hit half way point today:-) So later today we'll have champagne to celebrate!
The weather is a bit weird. It's foggy-ish. You can't see further then maybe 3Nm but you can feel the warmth of the sun. I guess it's a typical very low thin cloud we're in. It looks kind of strange but it feels very comfortable. Anyway apart from a occasional cargo ship there's not much going on around here.
July 24th, 07:00 position 45:38.02N 16:43.49W
It's a beautiful morning. The sun's out and it's warming up. From the west a large cloud cover is filling in though. Enjoying the sunny sight while it's still there 🙂
We're still sailing wing on wing doing around 5kts SOG. A bit north of the rhumbline but the winds will veer later, pushing us back on track.
Yesterday evening we passed a Dutch yacht, Midsummer Sun, heading to Terceira. We couldn't see them even though they were only a mile out. They were beating into 20+kts while we had a comfortably 13kts downwind sail.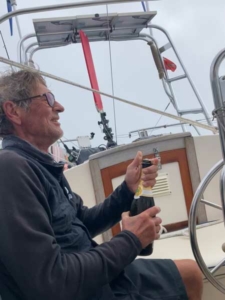 We had our half way champagne celebration. That was really nice. Afterwards I had another hour of sleep before my watch started at midnight.
When I came on deck it was pitch black. No stars, no moon, just total blackness. A few hours later though the sky cleared and by the time Jay took over we had the most amazing sky. As we're getting more north it's getting cooler with brighter skies. I tried to take some foto's but that didn't work unfortunately.
July 26Th 03:15 position 47:11.73N 13:00.64W
We've been motorsailing for two days now. The weather's okay. Not too cold, not a lot of sun but no rain either and not much wind, too little for sailing.
The swell makes us roll constantly, which after that long is getting a bit annoying. The winds are supposed to pick up again the day after tomorrow. Hopefully they will indeed. Apart from a more stable sail, we're running a bit out of fuel. We'd need at least a day, or two days even, with enough wind to sail to reach Plymouth by Friday.
We did see a couple of whales the other day. Actually we heard them before seeing them. They seemed to follow us for a bit, coming as close as 100m they had this little dorsal fin so my guess is it were Mink whales. They were big but not as big as others I have seen. Anyway it was a pretty cool sight.
The nights are pretty dark. No moon, occasionally a star, the clouds thin enough to leave just enough light to see a horizon.
About every day we pass a cargo ship. On the ais we also saw another sailing vessel motoring parallel to us. We never saw the vessel itself although it was less than 10Nm on our port side.
Sometime in the afternoon suddenly the autopilot was alarming that we're off course. I set it on standby and tried to get back on course but the helm wasn't working … It turned out that the piston had unscrewed itself from the steering part. The same had happened on my trip from Cape Verdi to Barbados. Anyway it was easily fixed and luckily it happend today with no winds and a very calm sea state. Half an hour later the autopilot gave the same alarm. This time however it was totally different. I had used the heads and my pocket knife had set off the compass of the autopilot that was mounted in the heads at exactly the height of my left leg pocket with my knife in it. Well everyday is a school day I guess.
During my watch later that night the wind picked up enough to set sail again:-)
July 28th, 02:30 position 48:53.12N 08:27.62W
Last 24 hrs. we had a great sail. The winds varied from 10-13 kts on our beam, giving us 4.5-6 kts SOG, heading directly to Plymouth. Only 190Nm to go. I guess by tomorrow night we'll get to see the first glow from land. ETA at Plymouth would be sometime Friday night.
So far this is my first ocean passage we didn't have to reef once. Quite exceptional!
Yesterday afternoon we were visited by a pot of big dolphins. This time they weren't just passing by but stayed with us for some time. That was cool.
It's getting busier and busier anyway. At least one cargo ship is on the ais al the time and right now there's two of them and a fishing vessel as well.
The nights aren't as dark anymore. The more north we get the more the horizon stays visible, even with no moon or stars. The temperature is fine. It's fresh but not cold. With a hot drink it's quite nice even. Really enjoying the sail 🙂
July 28th, 19:30 position 49:25.18N 06:33.08W
We had great winds until late afternoon. Then it dropped and we started the engine. We've got enough fuel left for the remaining 110Nm. We've even got an ETA on the plotter now. Although it keeps varying we'll arrive at Plymouth sometime between 4 and 6pm taking the time difference in account that is.
We celebrated our last full day at sea with some cocktails Elliott made. Rum with pineapple juice, coconut milk, lemon and some watermelon juice. Never had that before and I doubt he ever made it before like this but it tasted really nice 🙂
Looks like our last night at the ocean will be very nice too. The sky is getting all clear. Meaning the temperature is also dropping.
It's been a real great and relaxing trip so far. Some days of motoring but greats winds too from the best direction. A very calm sea made it also a quite comfortable trip.
So far we also got very lucky with the rain. Except for some drizzle, we had no real rain whatsoever. We did see a lot of serious showers but we kept missing them or they kept missing us.
As the night went on and I came on watch at 3 am, we had sailed into a different weather system. The winds were still only 5 kts but from the west instead of east. Also the temperature had gone up. Quite pleasant.
There were a couple of fishing vessels. We had to bare away for one of them but soon after we overtook it and could get back on our course.
In the glow of sunrise a small pot of dolphins visited us and stayed with us for some time. Nice!
There was still no sigh of land or anything even though we're less than 20Nm from m shore now. In an hour or so the tide will turn which will give us an extra knot SOG. I guess we'll soon see land then.
It took another 2 hrs. but than land came in sight. Later also borderforce came in sight. They were coming for us and boarded with as much as 3 officers. All papers were checked. They also did a quick search though the boat. After half an hour or so we were cleared. It was a routine check and the guys were friendly and polite. Still it's a bit intimidating. Their vessel looks like a small warship and the officers were impressively dressed although not armed. Poor guys, they were sweating like hell in their outfit with the sun and all.
Anyway, only 16 more miles to go. The tide has turned again. Doing 4.5 kts should get us there in 4 hrs. or so.
00:30 we arrived at Plymouth Yachthaven. Getting into our berth wasn't that easy though. The hydrovane worked perfectly the whole way from Bermuda, but on maneuvering in a marina it sort of disables your steering. Anyway, with some help we got in okay and that was it: end of this trip 🙁