Annie's Song, Oyster 46; Rogoznica Croatia – Preveza Greece, September/October '23
My first real sail in the Med. beautiful weather not too much wind
Wednesday, September 27th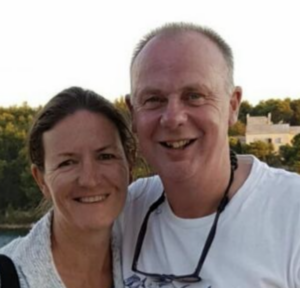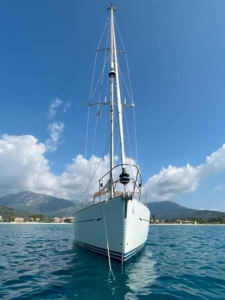 Today I flew from Amsterdam to Split where a cab was waiting for me to take me to Annie's Song in marina Frapa. Annie's Song is a beautiful Oyster 46 owned by Chris and Anne.
I met Chris in Santa Marta, Colombia. He sailed on Voyager II of the World ARC.
We hit it off immediately and long story short, he would like to sail the World ARC with his own boat but only with someone with whom he can really share responsibility for the boat and the whole trip.
When I told him I might want to be that someone, he was very pleased. We agreed that I would come visit him in Croatia where Annie's Song was located. From there we could then take a trip for a week or so and in the meantime discuss the plan seriously with Anne, his wife, and decide if we would indeed go for a circumnavigation on Annie's Song.
Friday, September 29th, Vis
The plan is to sail to Greece. We actually wanted to go through the Corinthian Canal but that turned out to be closed from September to February due to construction. Where we will end up now we will see.
First stop is Vis some 30Nm south, where we arrived late Thursday afternoon. The weather was beautiful, the first part just too little wind to sail but later in the afternoon the wind picked up a bit and we had a noice sail. With only 10-12kts of wind we even did 6.5kts SOG.
Vis is a very beautiful island with some typical Croatian villages ánd this time of year very peaceful.
The bay Viske Luka where we picked up a mooring bouy has 2 villages, Luka and Kut. Kut in Dutch means cunt, in Croatian it will certainly mean something else -:)
Anyway we moored on the Luka side where we had a wonderful dinner that evening.
Saturday, September 30, position 40:21.69N 18:31.78E
We just passed Brindisi. The weather is still beautiful although the nights are getting a bit cooler. But then again what do you want, tomorrow will be October 1st ….
From the moment we left Vis, yesterday around 10:30am we had to motor for almost 12 hours. At around 11pm the wind picked up and from then on we were able to sail all the time.
We steered almost dead downwind with only the genoa and we even reefed it. Not because of the strong wind but because we are running more than 6kts SOG all the time, which is faster than planned. Our goal is Preveza but with a daylight arrival. At this speed we're doing now we'll get there by 1am.
The reefing does not help very much by the way. We are still doing 6kts.
It is a bit calmer here close to the coast of Italy in terms of waves. Last night it was quite rolly. Neither Chris nor Anne got much sleep. Fortunately, I it didn't bother me too much.
In the meantime it is clear to me that the plan to sail around the world with Anne's Song is not going to happen, at least not in '24-'25. Anne doesn't really like sailing. Her experience on Thetis earlier this year certainly didn't help. We'll talk about it more later but for now this is what it is.
In the afternoon, we witnessed a very unusual "conversation" over the VHF radio: "Russian warship, Russian warship, this is US warship, US warship, please alter your course to port and follow a southerly course, you're interfering flight operations".
This text could be heard intermittently throughout the afternoon. There was no response from Russian side except for an occasional short answer with such a heavy and almost caricatural Russian accent that it was completely unintelligible.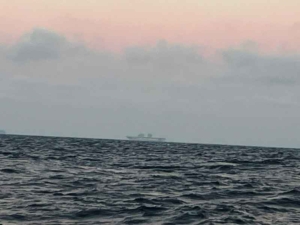 On the ais, of course, they could not be seen but at the end of the afternoon we saw the American aircraft carrier on the horizon. It wasn't the biggest, but still….
Anyway, it was a quite unique experience.
Monday, October 2nd Preveza
The last leg to Preveza was quite interesting. We had a very nice 20kts breeze on a beam reach doing 7kts SOG but that would get us in Preveza somewhere around 2am.
That was not our intention, we wanted to go through the canal in daylight. Also there wouldn't be anyone at night to help us dock stern to.
Ergo, despite the nice wind, the challenge was to go no faster than 4.5kts. That was far from easy but we managed reasonably well. Around 8am we arrived at the canal. In the meantime Anne had discovered that we were no longer towing the dinghy. Apparently the painter had loosened itself due to the fairly rough seas. That was quite a setback. Needless to say, the dinghy was nowhere to be seen and thus lost. Shit happens but it was very sour.
The arrival went very smoothly. We chose the marina over the town kay and we were excellently helped with the lazy line by the guy on the pontoon.
Getting all the formalities done then took about all morning. Long live Brexit.
Next challenge would be getting a new dinghy. We decided to call it a day and get some sleep first after lunch. We were all quite tired.
Around 5:30 everyone was awake again and after freshening up we walked into town.
The center is not very big and in every way typically Greek. That was really nice and special. We ended up in some small streets and alleys full of cafes and eating joints where we then had a delicious meal. What an unexpected pleasure!!!
Tomorrow we will continue our search for a new dinghy and also see from where Anne and I can fly home. Based on that we will then also consider where we want to sail the next few days, south towards Lefkas or north towards Corfu.
Wednesday, Oct. 3rd Vasiliki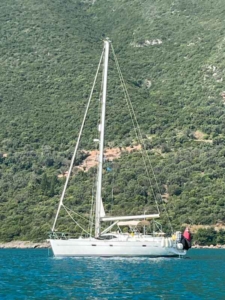 South it was… We anchored in a beautiful bay near Vasiliki on the south side of Lefkas. Again the weather is beautiful.
The trip here was super. Not in terms of wind because there was hardly any but the whole west coast of Lefkas is spectacular. It looks a bit like the white cliffs of Dover but a little less white.
It was a 25Nm and we arrived here around 6pm. The anchor held in the first time and we lay here with about 6 other yachts.
An hour later we went ashore where we put the dinghy in front of the restaurant where we had another great meal.
Friday, October 6th, Meganissi
Wednesday we decided to stay another day in Vasiliki. While we were ashore, I had also seen a poster with a number of hiking and biking tours. A hike looked like a nice thing to do. The hike we chose was only 6 km but without real hiking boots that was enough for me.
It was a great walk that led us through the hills and (remnants) of old houses and beautiful views.
Thursday we sailed a little further on. A very nice trip along and between the islands, really beautiful. Unfortunately again on the engine because there was no wind.
The north coast of Meganissi has many bays and anchorages. We chose the bay of Port Atheni where we anchored stern to with a line to shore.
That was the first time for Chris and for me too by the way. We found the perfect spot and it went very well. That evening we had dinner at the only little restaurant.
Today we'll continue to Lefkas town. At least, that was the initial plan. Until Anne realized that Friday is the day when all charter boats must be in. So Lefkas would be super busy.
Indeed, the huge number of boats we saw heading north was a clear confirmation.
Just before the canal to Lefkas, is Ligià, a small village with a small harbor and just north of it an excellent anchorage with only 3 other boats. The choice was quickly made, this is where we will stay tonight.
Sunday, October 8th, Preveza
We are back in Preveza. Today I am flying back home and Chris and Anne are also going home for a week. The plan is that I will return in a few weeks to sail the boat back to marina Frapa in Croatia with Chris.
The leg from Ligià to Preveza was the perfect ending to a very nice week.
First we had to go through the bridge at Lefkas. A pontoon bridge but on 1 very big pontoon. Then we had a nice breeze to the marina in Preveza some 8Nm further north. Clause hauled on the wind we were actually running doing almost 7kts SOG. Obviously we got there fairly quickly but it was the perfect way to end our trip.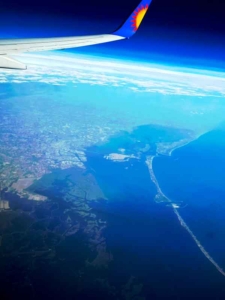 The rest of Saturday we used to clean the boat, tidy up and pack everything. In the evening we had another very good dinner in a bustling town.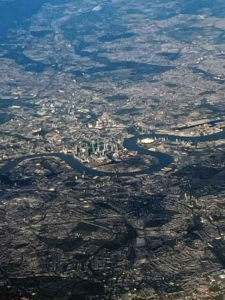 Apparently Saturday night is THE night here . It seemed like everyone was out and about.
The flight home was via Bristol and it took me almost 9 hrs. to get home. It was a nice flight though. I had a window seat and took some nice pictures when we flew over Venice and London.