Oyster 56; Amanzi; Sailing from St Lucia to Santa Marta, Colombia; Januari 2023
Sunday 8 January; position 13:43.127N 62:31.193
We have left! Next destination: Santa Marta, Colombia.
Exactly 3 weeks I had been home. It was nice to be home for the holidays with Marischka and the girls. Especially since I will now stay on board for 4 months. Next time I'll be flying home will from Tahiti May 1ste.
The few days in St, Lucia were fairly relaxed. Most preparations had already been made and the upcoming trip was also not very long, 4-5 days.
January 7th at noon was the start. We had a nice wind and with all sails up, perfectly trimmed, we were flying. We started a bit at the back but soon we had overtaken almost the whole fleet. Now, a good 12 hours after the start, only Isabelle is still ahead of us and that's an Oyster72. They are making a stopover in Bonaire to pick up 1 more crew. So on the route to Santa Marta, we are 1st in the field!
The first day was a very nice start of the trip. Apart from a few seriuos showers, it was a beautiful sail. With 15-20 kts of wind and hardly any swell, we are doing  7 to 8 kts SOG.
For me, it feels a bit like the trip is really starting now. I had already crossed the Atlantic a few times and I have been to many islands in the Caribbean during my round the Atlantic trip on my own boat. Everything to come now is new and quite exciting. I've been reading all kinds of stories, but now it is for real. Colombia, the Panama Canal of course and then the Pacific.  Very exciting and I'm really looking forward to it.
We're the three of us now and it will stay that way. Olaf, who was going to embark on the Galapagos, has informed us that he will not be joining us. That's a pity and at the same time it's fine. The atmosphere is fine and very relaxed. We have even more space and also a cabin free for when Marc or Clare want to sleep a bit more stable when the weather and especially the waves make it less comfortable.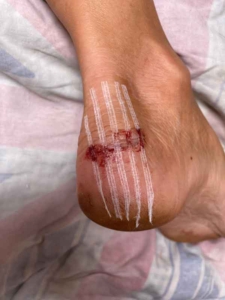 How well that extra cabin would work out proved very much sooner than expected. When Clare was due to take over my watch at 4 am, she slipped and fell off the companionway. She had a (plastic) coffee cup in her hand that broke with the fall and caused a substantial cut on her heel. That was minor for a while. Fortunately, we are very well equipped in terms of first aid and I am also very happy with my medical care and medical aid training, but of course this was not something we're looking for.
We disinfected the wound with alcohol and then we had to decide how to suture. We opted for suture plasters instead of needle and thread after all. That was practical and also suited the cut perfectly. Then I bandaged her and with a couple of paracetamol she returned to bed with her foot on a pillow.
Marc then took over her watch and by 7 am I was back on deck. The two of us will have to do it for a while. Well, no problem and fortunately it's a trip of only a a few days. In a week it should be healed and in the middle of the sea the risk of infection is not very high. When I came on deck, she was still deeply asleep and Marc went to lie down in the starboard cabin. I will check the wound later today.
The wound looked beautiful. Very calm and no sign of any infection thankfully. No pain either so it seems not too bad after all. No watches for her the next few days. Marc and I will take turns every 3 hours.
Tuesday, January 10th; position 12:32.240N 68:52.690W
Clare is doing very well. She took the first watch from 7-10pm and then Marc and I alternated again every 3 hrs.
Sunrise, it was a beautiful night. Nice winds of 15-20kts with a virtually flat sea. We are sailing like clockwork, averaging over 8kts SOG and are still in the lead. Isabelle makes a stopover in Aruba and we have now overtaken her too.  We are now passing Curaçao. If the wind eases a little more, we can also stay north of Aruba without jibing. That would be very nice. We want to stay well off the coast of Venezuela. That's where you have the highest risk of piracy.
When the sun was really up, I could see Curaçao and I actually had reception on my phone. Unfortunately, Marischka was apparently in a coaching session and couldn't answer the phone. Well, maybe later. Just don't know how long and how stable the connection will remain.
So far, everything is running super well, except fishing. So far e didn't have to motor at all. The weather is fine, fairly cloudy which is okay. When the sun comes through we sit in the shade. Very occasionally we have a drops but you can't call rain. We did see a nice rainbow behind us though.
If the weather stays like this, the ETA of Wednesday 16:05 Marc gave, might turn out to be very nice. Well, for now we still have over 300Nm to go.
Around 16:00 we pass Aruba. The weather and wind still perfect. We just can't make it to stay north of the island and at 4nm from the coast we have to jibe anyway. A simple one then. We furled the genoa and leave the boom in place. After 15 minutes, we have enough room to jibe back.
Just before the manoeuvre, we suddenly have a bite.  A more inconvenient  moment could hardly have happened. Clare brings the rod in for a bit while Marc and I do all the things we need to do. Then I took the rod. It turns out to be a small barracuda of less than 20 cm. We're not going to do anything with that. I quickly took it off the hook and throw it back again. Well, at least we caught a fish.
Just before dark we decide to jibe again. This time all the way to the other side, with the genoa on the boom as well. Otherwise, there is no way we will get around Colombia's northern peninsula. Moreover, we would then get tangled up with a couple of tiny islands in the middle of the night. The course after the jibe takes us exactly to the waypoint we had planned when we left. Good decision. What helps enormously are the headphones Marc bought. That makes communicating a whole lot easier.
At the roll call, we still appear to be 1st in the field. Both in our class and overall. If we keep this up then we will even take the line honors. It's not a race but this is super fun.
At 20:00hr I go to sleep. At 01:00 my watch starts. So I can sleep for 5 hrs. What a luxury 🙂
Wednesday, January 11th; position 11:48.532N 73:18.804W
When I came on deck at 01:00 Marc was quite displeased. The wind had dropped a bit, he couldn't keep the sails full, flapping with the swell and our  speed had dropped too much. We were about to be overtaken by Salt, we're only a few miles ahead off them. They sailed a bit more inshore with a slightly more unfavorable wind angle but still….
This leg would be our only chance for line honors as Isabelle still appears to be still in Bonaire and we don't want to let that chance slip away at the last minute.
We decide to jibe, which would at least provide a better course. Salt too had already jibed. That does help. We now steer directly towards Santa Marta but the speed still falls short of what we would like. At 15kts, we barely get above 5.5 kts SOG. That should be more. We try all kinds of things but with no real results. We stop the boat and sail backwards a bit. Maybe there is a bunch of seaweed in the propeller or between the rudder. That too has no result.  We give up for now; when it's light we'll see.
The next morning Salt is still behind us but close by. We try everything with sail trim, genoa on the other bow, staysail furled in, then furled out again, sail backwards again. Marc even goes into the water to see if we are dragging seaweed. Everything is clean.
We decide to use the old staysail as a 2nd genoa. To do so, I have to go into the mast because the halyard is out. When the halyard is in it turns out to be on the wrong side of the genoa. We take a break to think about what to do next. We try the staysail on the barberhaul. That is actually what we would like to do with the 2nd genoa. This turns out to be unsuccessful. In the end, we decide to jibe again. The wind has also turned a bit and we are actually sailing too much west.
At least that helps with the course. In the meantime, the wind has picked up and we are now sailing at a decent speed again. We decide to leave it as it is. Salt has not come any closer.
Late in the afternoon, the wind picks up further to 25kts. We are now running super fast, averaging almost 9kts SOG. We won't go any faster and we don't bother setting up a second genoa.
The wind remains and even increases slightly. Normally, we would set a reef now, but when Marc downloads the grib files, it turns out that the wind decreases somewhat during the night. We leave the sails as they are. Full sail including staysail. We keep sailing at max speed and stay on course. During my watch from 7-10 pm we slowly but surely increase the distance between Salt and us. Still 60Nm to go before we have to jibe to the finish line again. It looks like we are going to make it.
Clare likes it but not that much. She's not joining in tonight and leaves the racing to Marc and me.
When the wind stays consistently more than 25kts, I decide to roll in the genoa anyway. The race is fun but we don't want to break anything. We still have a long  way to go before we round the world. In terms of speed, it doesn't make much difference and the boat is much calmer.
Thursday, January 12th, Santa Marta
At 05:40 we're the first to cross the finish line. That was quite an experience. We had cashed our only opportunity of line honors.
The last bit was a bit exciting though. It was blowing over 35kts, it was dark and we were heading for a marina we've never been. The lights on the shore came closer and closer, there were two dark spots, a large rock and an island, surrounded by the lights of some cargo ships anchored there as well.
Once across the finish line, we got in the lee of the hills and the sea state came to a rest too. The entrance to the marina was again a bit hard to see in the dark. All the more so because a large fire-fighting vessel was lying stationary right in front of the marina.
In the end everything went very well, however this was the most stressful moment of the trip.
We were given a perfect berth at the hammerhead of the outer pontoon and at least 4 men helped us mooring up.
An hour after us, Salt came in. We saw them coming in but that was it. We were pretty exhausted and after celebrating our super trip with a well-earned drink we went to sleep.
I didn't wake up until 2pm. Meanwhile, several boats had already finished. Naturally, we stopped by them all but the conversations were all pretty short. Everyone was pretty wrecked.
Later that afternoon we went into Santa Marta. What a city. What a vibe, music everywhere, cars and lots of motorbikes swarming together. But what an atmosphere! Great! I'd never been to South America before. The only picture I had of it was from television. In reality it is exactly like that (of course) but actually experiencing it is fantastic.
That evening, together with the people from Mistral, we went for dinner in one of the restaurants recommended to us. That too was an experience. It was very crowded but we were able to take over the table from the Renegade people. The menu was in Spanish and the service spoke very limited English. With some hand and foot work, we got by just fine and the food was fantastic. The bill ran into the hundreds of thousands of pesos but did not represent a whole lot in euros. That exchange rate took some getting used to. Fortunately, they actually only use paper money there and no coins 🙂
Exploring Santa Marta
Santa Marta is the oldest city in Colombia as we were told by the guide. It's not as original as Cartagena. That was protected by a big wall. Santa Marta wasn't and therefore destroyed a number of times by pirates and such.
It is still a beautiful town, very lively. It has the oldest cathedral of Latin America. Nearby is the San Pedro Allejandrino village, where Simón Bolivar, the liberator of Colombia died.
We did a tour to Minca, a town close to Santa Marta, Colombia, famous for it's coffee plantation. Minca was closed off a long time because of the Farc and the paramilitaries. Nowadays it's a popular place where many tourists, Colombian as well as international go to visit. A beautiful and very interesting place. The people very friendly an helpful. I learned I really didn't know much about Colombia
So glad to have this opportunity to educate myself!