Monday July 23rd 2012
Marc and I went to the supermarket and again managed to fill 7 big trolleys with stuff. They had a great service in bringing the stuff right away in a small van. We managed to stow everything in a reasonable place sort of…
We had a nice farewell dinner at Internacional and after finishing our painting for good winds and a safe trip we set sail at around 10.30 pm.
It was a real nice and smooth start, sailing to Sao Jorge and after that into the Atlantic.
Position 41°24.781N; 27°13.193W
The day after we left the wind picked up and it became more of a challenge to steer the boat on a straight course. Sailing downwind with 4 to 5 meter waves is not particularly the easiest course to get used to the boat. So Marc and I did the most part of steering until the next day.  Then the wind had dropped and on a beam reach it was a bit more comfortable. Speed was great though and after the wind veered to the East were could sail a course pointing straight to Scheveningen. But if there's one thing for sure at these latitudes… it never stays the same for longer times .
One moment we sailed with all full sails, including the staysail and some time later we were sailing double reefed. Still, that's good practice for the new crew getting to know the boat and the rigging of all the lines 🙂
So far everything is okay and we are starting to pick up the routine of doing watches, cooking and cleaning.. and, most important we all enjoy it very much.
Position 43°31.791N; 27°17.429W
Yesterday we had a challenging ride… 30 – 35 kts and 4 – 5 meter waves… With the wind from the North East it meant right on the nose… with the second reef and the full staysail the boat was in perfect balance and steering her was very easy. We did made good speed too but the best course we could steer was due North.. Well anyway, the gribfiles I downloaded showed a more smooth ride for the night.
The whole night was great, it was a very clear night with an ever amazing number of stars 🙂
It was a bit colder though, with Northerly winds it's significant cooler than a few days ago. So by sunrise the ones on deck were all geared up. For the first time since… I can't even remember I actually put on my trousers instead of my shorts….. Anyway, shortly after sunrise and with a beautiful sky it got real nice and warm again.
After I made lunch with bacon and eggs, we cleaned the cockpit and reorganized the mess in the saloon. It sure makes a difference sailing with 5 crew instead of 4, clothing wise 🙂 We decided to tag and steer East for a day or so. Hopefully the wind will back as shown on the gribfiles before we hit Spain..
Anyway making use of this beautiful day it also was time for a real fresh ocean shower !!
Position 43°29.7826N; 24°27.608W
Since we tagged the wind didn't change much so we're still pointing some North of East. According to the latest gribfiles we'll find some Westerly winds more North the plan is to tag again tomorrow. We'll probably have to motor sail through the center of the high but then we'll find the Westerlies hopefully.
Anyway, this trip is more a challenge not only in finding the best course and winds. Also in repairing all kind of little things. Yesterday the inverter stopped working. That was weird, I bought that new in Horta. It turned out to be a short circuit… but where? All 220V outlets were fine and checking the cables on the breaker box didn't lead to anything. Luckily I also got a new small unit before I left last year so I can at least charge my laptop.
Then last night Marc noticed that the port lower spreader was wiggling. Hmm,…it's not supposed to do that. So, I went up in the mast and put in some new rivet's.
Then early this morning while furling out the gennoa a bit more, the halyard broke. We got it down okay and used the uphaul as halyard. Good thing I had all the stuff and tools to fix it but working half way up the mast mid Atlantic is not particularly comfortable.
In the meantime the wind had backed a bit more and we could steer a much better course.
Position 44°08.2066N; 21°52.449W
Yesterday we figured out a new watch system. That wasn't easy with a crew of 5 and 4 beds… that is one for me and 3 for the others.. captains privilege :-). Anyway it took some puzzling but it worked and we'd all get 8 hours of sleep! That was really nice and we all were very happy with it.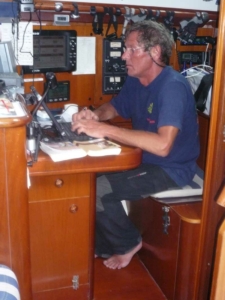 The night was quite comfortable, we made some progress although the wind is still from the North. This morning I downloaded new gribfiles and they looked very promising. Today we'll have very light winds… light enough to motor sail in the right direction and, into the area with Westerly winds.
When Jantine woke up at around 11 fresh and completely rested she suggested to reorganize the provisions. It turned into a total clean up, in a way you could never do with real wind. Very good Jantine!! We started after lunch and all worked together cleaning, trashing, repairing and stuff and by 4 pm the whole boat looked again as we were about to leave 🙂
In the meantime the wind had backed and now we can really sail again. If the wind freshens a bit more we can set the gennoa and kill the engine.
So far we only could make a 450 Nm or so, leaving us another 1100 Nm to go. That would mean we probably won't reach Scheveningen next weekend. Well, we'll just have to wait and see. So far we all enjoy the trip and a day or so longer is not a problem at all!
Position 46°19.742N; 16°15.206W
Today we celebrated half way 🙂 It took us a week but that's because we couldn't sail in a straight line. According to the latest gribfiles we'll have Westerlies from now on and at least 15 kts. Tomorrow even 35 kts so the next half should be considerably faster.
We had champagne and for lunch Jantine backed scones, very nice indeed!
The day before when I was asleep in the cockpit she polished my toe nails….  Of course no one did nothing to prevent this molest and they all had a good laugh when I woke up.
Anyway, for the rest we're doing fine and the weather is real nice too. So far it's been sunny all days and now we have the Westerlies, the wind is not as cold as before. Meaning we're still in shorts and T-shirt, as it should be. During the night however, it's kind of cool, and we have to gear up properly to stay warm.
We're sailing full speed with double gennoa's, a full main and directly pointing at Scheveningen. Doing over 7 kts on average it's only another 120 hrs. to Scheveningen. Tomorrow we might have a rougher day though. A depression SE of England is forecasted to give us a fresh breeze. However, the direction is perfect and it might even increase our speed.
Position 48°13.627N; 009°55.388W
The winds came indeed. By the time we dropped one of the gennoa's, we also furled in the remaining one a bit and put the first reef in the mainsail. 2 hrs. later we put in the second reef and some time later we dropped the main all the way. So no now we were sailing with only half a gennoa and still doing  8.5 kts average.
The wind had picked up to 35 kts and the waves grew bigger and bigger. The boat steered very well but it's a bit more tiring steering. We decided that because of the conditions, Marc and I would steer through the night.
We had some pre made lasagna for dinner but Jantine made a delicious dessert, backed banana with a bit of rum and sugar. That was a real treat indeed.
As the night went on the wind dropped a bit but the waves were still pretty high, high enough for Marc to set the speed record at 14.9 kts surfing down the waves with only half a gennoa. Overall we did about 165 Nm that day and that's a day record for this trip
At sunrise the waves had decreased also a bit, enough to set the main again double reefed and we pooled out the gennoa. With a Westerly wind, we're now pointing at Brest. The plan is to then sail Northeast, to the South coast of England, head for Dover and cross the Channel there. By this we can avoid the South West of England where another depression is forecasted to bring a lot of wind.
Well we'll just have to wait and see. In the meantime, it's a very nice and sunny day today and…we spotted two whales just about a boat length on our port side. They didn't stay long but still, it's amazing to see those huge creatures that close by.
As a very rough indication, we think we'll reach Scheveningen by Sunday night or Monday morning.
Position 50°01.137N; 003°57.330W
The plan was to point at Brest… well whatever. The wind changed so we gibed and then we were pointing at Land's End.
Again it was a very nice and sunny day and on top of that we got visited  by a pack of dolphins, not just once but three times. The last group was really funny. They were doing all kind of tricks jumping out of the water. It even looked like they were trying to splash Jantine who was watching them on the bow. Later that day we also saw a huge turtle.
Last night we got to see the first sight of land. Not real land yet but the lighthouse of Bishop Rock just South of the Scilly Isles. From now on we have to be very careful and watch out for other ships. The Sea-me sure helps other vessels to see us but the AIS that's supposed to give us information about the others does not really work. It only shows vessels that are very, or better, way too close by. It might be that the antenna is too low to work accurately. Which is a bit strange because the one I had before worked fine with the same antenna. Anyway, we checked in properly with the Falmouth Coastguard and now we're on our way into the Channel just about South of Dartmouth.
The wind has died a bit but it's supposed to pick up again later today. The direction is fine though and if it stays this way, it'll bring us all the way to Scheveningen.
Position 51°28.497N; 001°55.010E
We just finished dinner and are preparing for our last night at sea. The sail through the Channel was smooth and the weather was superb except for Marc's watch last night. He and Jantine had some serious showers but by the time Monique and I took over the sky was clear again and it stayed clear all day. We passed the cliffs at Beachy Head and sailed all the way up to Dover. Then the wind dropped to practically zip and we had to start the engine.
From Dover we're motorsailing up NE about 30 Nm or so and then turn East to cross the shipping lanes and head for Westkapelle. From there the route is very familiar.
By now we're sure to arrive Sunday but an accurate ETA is still difficult. I don't expect us to get there before dinner though.
I feels a bit weird to know this will be my last night at sea. Tomorrow I'll be back at Scheveningen where I left September last year.
It was a very eventful an exciting trip! It had changed my life in more than one way and a new future is about to start. I'm ready for it and full of energy to make it happen.
August 5th, Scheveningen; end of the trip and start of a new future
We arrived at Scheveningen Sunday, August 5th at 7 pm after a long 24 hr. motor sail from Dover… no wind at all. That wasn't too bad though. We made well use of the time by collecting all our stuff and cleaning the boat.
It felt a weird entering the breakwaters of Scheveningen and calling the harbormaster for clearance to enter the marina after almost a year. It's been quite a trip and now it was coming to an end for real. No more flying back to where I left the boat for the next leg. This was it.
Friends and family greeted us standing on the quay and that really felt great. Clare was there with the kids and she had picked up my mother too. Jantine's parents and boyfriend were there as well as a couple of friends of Willem Jelle and Monique. Frits who sailed with me from St Martin to the Azores had come down from Katwijk. Unfortunately, we were too early for Eline to come over all the way from Friesland to join the party.
And very, very special to me, Marischka was there to welcome me, together with her daughter Ashley.
During my short stay home in between arriving and leaving the Azores we had really met and had stayed in close contact. She and her daughters had lived in my house during my times at sea and on my way back to Scheveningen we had agreed she would stay living with me as my new True Companion.
It's funny if you think of it, Marischka, Ashley and Yentl were all there to say goodbye when we left Scheveningen September last year.
It took almost 10.000 Nm to bring us together at the exact spot I left about a year ago. We are very happy and looking forward to a new future together. Exactly 9 months later, May 5th 2013 we married, in Scheveningen just opposite my boat.