Wednesday July 11th, Back in Horta, Azores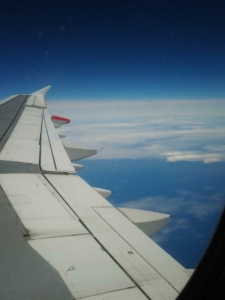 Last night we arrived in Horta again. The flight was ok but it still took us a whole day. Especially Eline didn't enjoy it very much, she doesn't like flying, too boring and too much waiting. It turned out to be a real disaster for her… when we finally arrived, her suitcase was missing..
For a 17 year old.. that's about the worst thing that can happen. On top of that, the weather was not as good as in the brochure 😮 It took her some time but in the end she was okay-ish again.
We had dinner at Internacional and that was real good. Afterwards Rutger and Eline went for a walk and we had another drink before going to bed.
This morning the weather was really fine and sunny. First thing we did after breakfast was go get some stuff for Eline and when she found a nice dress she was happy again. Then we had some things to do on the boat. Rutger had already done most of the cleaning when I was shopping with Eline.
Then the bilge pump turned out dead .. it's not even a year old. Anyway we fixed it, replaced the also diseased inverter for a new one. The new unit for the fuel inlet also had come in. Rutger tried the cap first and we were very lucky: it fitted, so we didn't have to replace the whole unit 🙂
This afternoon we found a nice spot to put our put our mural painting and did some preparations in making it nice and white. Tomorrow we'll finish it.
Jean Pierre, who had looked after the boat while we were away, told me that Terceira would be a nice island to visit. There's a lot going around, so he says. It's only a 12 hr. sail so it's worth going there and if we're lucky we'll see some whales on the way. Anyway that will be the plan for Friday, tomorrow we'll explore Faial.
In the meantime, I hope very much Eline's suitcase will turn up. Usually it does the next day they told us… fingers crossed.
Thursday July 12th
Yeee!, Eline's suitcase did came in. I got the call from the airport. The suitcase had arrived and they would send it with a cab to the marina. Eline was very happy and made sure we all knew 🙂 for the rest of the evening. I must admit.. the night before, when we went for dinner I asked her if she didn't want to change.. oops.. she got over it eventually but it's much nicer to see her happy.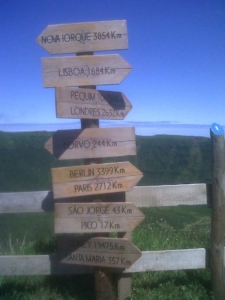 Today we rented a car and went up to Caldeira, the volcano crater we didn't see the other time. Today however the weather was perfect and the view amazing. We walked around a bit and then drove to some other place on the coast and had lunch in a small restaurant. It was a real nice place and the price was also very okay: € 15  for the 3 of us.. That's a place to remember, also the car I rented was half the price we paid the other time..
On our way back to the boat, we drove by the supermarket and got some stuff for the trip. I got some very useful tips and the plan is now to leave for Sao Jorge tomorrow. Then from Sao Jorge to Terceira, Pico and back to Faial. The weather is supposed to stay fine as the Azores high has kicked in and seems to stay until September.
Having the car, we also took the gennaker to the sail maker, who was back in business again after his heart surgery. He hummed for some time looking at the ripped sail but agreed it would be worth it to fix it. Well anyway, he told me he would see this as a nice job to get back in the routine and would go easy on the price.
If all goes well we'll be back at Faial the 19th when Marc is flying in. We then have time enough to redo our put mural painting… that didn't go too well so far 🙁
We ended the day at Pete's were we had dinner and changed flags 🙂 So now the YSY flag and the flag of Scheveningen is flying at Pete's. Dinner was quite funny in ordering.. Rutger and I ordered a steak and Eline a small steak. Then the waiter asked how we wanted our steak.. Rutger and I both said medium. Looking at Eline he asked: medium.. no, small she said… yes, but medium? No, small… Yes I know, but do you want it medium? NO, SMALL !! with the look of what don't you understand ?!?!
Too funny, eventually it was clear what he meant
  July 13th, Velas, Sao Jorge, Azores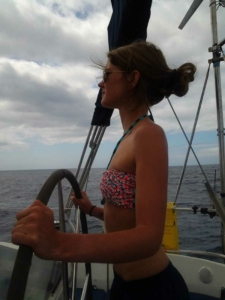 Today we sailed to Velas on Sao Jorge, a trip of 35 Nm. For some reason I woke up later than usual and the weather wasn't that nice. However when we left Horta at around 10:30 the sun was out again and we had a nice breeze. After an hour or so the wind dropped and when we were down to 2 kts we had to start the engine. Not for long though, an hour later the wind picked up again 🙂
By the time we got to Sao Jorge the weather had changed again. Dark thick clouds and visibility had dropped so much that we couldn't see the Island. Only when we came as close as 2 Nm from the rocks we could see the Island.
Velas has a very small marina with evenly small berths. The harbor master was very friendly and very helpful but the birth he showed me was not wide enough.. We tried but we just didn't fit…. Anyway we ended up alongside a 55 ft Swan 🙂 In all the people over here are very friendly indeed and it's a real pleasure to visit these Islands. All the islands are different and very beautiful.
Anyway, after I had checked in the clouds were mostly gone and the sun was shining again.
We walked around a bit and when I got back to the boat, Rutger and Eline went over to the supermarket to get the onions we forgot yesterday. They came back all excited… and called me to come on deck. It was amazing, a rainbow so close that the boat seemed just under it… If the weather is good tomorrow, we plan to do the most famous hike on the Island. Then on Sunday we'll leave for Terceira.
July 16th , Porta de Santo Antonio, Terceira, Azores
Last night we arrived at Terceira after a superb day of sailing. Great weather, gentle breeze, no swell. We sailed close hauled for the first part to the east end of Sao Jorge and then beam reach to Terceire. Of course we got the gennaker out as well 🙂
We arrived at around 9 pm and were welcomed by the marina staff that helped us getting in a berth.
They are all so very friendly here!!
The day before leaving Sao Jorge we did a great hike. There are a lot of trails set out and the one we did was from the mountain down to the North coast. The view was amazing and half the Island is covered by Hortensias. We crossed some streams and went down to a beautiful waterfall. It took us about 4 hrs. to walk to the place where the taxi picked us up again.
Then the driver told us about the bull fighting that they had in the other village and he drove us there. They have bull fights all the time, every Sunday at least. It's not really a fight and they don't kill the bull. They let a bull out and the 'brave ones' tease him until he charges and they run away..
The bull is tied onto a rope that's hold by a bunch of guys to keep some control. Anyway this time the arena was the parking lot. The bull had no grip at all on the concrete and slipped the whole time. That made it a pathetic spectacle and especially Eline got very upset and angry. I didn't like it either, so we left pretty quick again.
Normally, like here in Terceira, they do this on in field or in the streets. Every time you here a canon, it means a bull is out in the streets and here that's pretty much the whole time, even at 8 am this morning 😮
Anyway, today we'll explore the village a bit and check on what we want to do tomorrow.
July 19th, position 38º 24,051 N; 28º 24,207W, South of Pico, Azores
Angra do Heroismo is the town were the marina is on Terceira. It's much more a town then Horta and Eline finally got to go out shopping 🙂 She and Rutger went to explore the town while I took a nap. They were gone for hours and came back loaded with bags. Rutger wanted to buy some new jeans and Eline helped him together with the lady from the shop. Ha, they made him try on a load of stuff and combined all kind of shirts. In the end Eline of course also had seen a nice shirt, a dress and the pair of shoes she was looking for so long… Anyway, since I wasn't there… it was Rutger who paid for her stuff as well, ha!
That night we had diner at a nice restaurant near the harbor and went for a coffee to the main square It's a real nice and pretty place and a very good marina. After coffee I went back to the boat while Rutger and Eline stayed a bit.
Next morning at around 5.30 I woke up… just in time to see Eline get undressed and go to bed… 🙂
They had asked the waitress if she would know a place to go out. She did actually, but that was in another town. If they wanted they could join her and a her girlfriend… they too wanted to go out too after work.. Of course Rutger and Eline didn't mind to wait a bit… but after work was around 2.30 pm… Anyway they went to different places ending up at the beach close by the marina and stayed there till sunset 🙂 They had a great time!
'Next' day we would leave for Horta but not before midnight since Eline very much wanted to sail at night. So we spent the afternoon at the beach, relaxing.. which was in fact our first day at a beach.
Too bad I only had two decent beach towels, meaning I was on the tiniest towel you can think off, lying in the sand for the most part 🙁
The water was a bit colder than in the Caribbean let's say very refreshing. Still it was very nice swimming there. It's surprising how little tourists there were, I think we were sort of the only ones while the beach was packed…
We left around midnight and sailed to the South-East point of Pico, then we'd go West following the coast and cross over to back to Horta, Faial. It would take us most of the night to get down to Pico, getting there early in the morning. That'd be the best time and place to see whales…
Of course Rutger and Eline had to say goodbye to their new friends before leaving, meaning I had the first watch 😮 Eline stayed on deck too though and she was very excited about the night scene. It was a perfect clear night with more stars she had ever seen. Already in the first half hour she saw 4 shooting stars.. leaving her without wishes 🙂
Later that night we were welcomed by some 10 dolphins. This was her first time to see dolphins in the wild and she couldn't stop telling how COOL is was 🙂 They stayed with us for at least 15 minutes. Then when they were gone… by then Eline was very tiered and went to bed. So did I 🙂
On my second watch I too saw something new for me: Venus and Jupiter so extremely bright… it was amazing !! Later I woke Eline to watch the sunrise which was beautiful too. At home we of course never get to see the sunset at the beach 😮
After we rounded the SE end of Pico we saw the little boats that take people for whale and dolphin watching so we altered our course a bit. And then suddenly there was this big whale very close by the boat. Just long enough to see it and realize what we saw and then it was gone again. Getting closer to the other boats we saw several more, just relaxing cruising around for a while before disappearing again into the deep. We also got to see lots of dolphins, little ones that really jump out of the water and bigger ones that just swam alongside. It was a really exciting trip with perfect conditions except maybe for the wind, which wasn't really there.. but who cares, we didn't 🙂
July 22nd , Horta Faial
An hour or so after when we'd moored up at Horta, Marc arrived at the airport right on time. We had dinner at Peter's. That took a while… they could have some more people working there..
Anyway, next morning we wanted to sail to Lajes on the Island of Pico. We did just after lunch when it stopped raining. We had a nice sail and, again saw some whales 🙂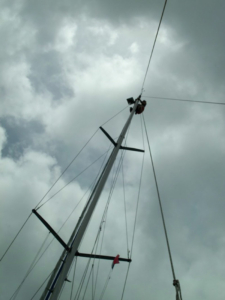 The marina was a bit tiny and when we moored between two other boats, the difference in size did matter. We were way too big to stay there and had to move to a pontoon just outside the marina.
Lajes is a nice but very small village. However it has some very nice restaurants and places to have a drink afterwards.
Next day we did a number of jobs on the boat like changing the broken tricolor. I spent about 4 hrs. up in the mast while Marc and Rutger did some other jobs and Eline cleaned out her cabin.
Just before dinner we booked a swimming with dolphins trip for the next morning. The dream of Eline !! So we didn't stay up too late because we had to be there before 9 am. The trip turned out to be a combined trip, swimming with dolphins and whale watching.
It was a close to perfect trip.. we did see at least 6 whales, three of them in a group and a whole pack of striped dolphins. They are really funny, they like to jump real high out of the water and wiggle their tales but they usually don't stay with the boat and were not the right group to swim with.
A bit later we found a good group and Eline and Rutger went into the water. They really enjoyed it!
Only two at the time are allowed in the water so when they came back Marc and I were getting ready to jump in.
Just before I did however, I got this jellyfish on my foot, a Portuguese Man O' War. That hurts like hell I can say now…. Holy F.. Half my foot was covered and in trying to get the shit off I got it on my hands and leg too… It's sort of a sticking mess that doesn't come off that easy. Marc was lucky, he was wearing flippers and didn't get any of the shit on his foot or leg.
The thing to do then is to pour vinegar on it but, they didn't had any on the boat. So the trip was over and we raced back to the marina. It took us 15 burning minutes to get back where there was someone waiting with vinegar. I ended up for a check in the hospital but it was all okay.
The doctor told me to just put some cream on it and take a painkiller, both of which I had on the boat. According to the doctor mine probably would be better than what they had in the hospital.
Anyway, after the painkillers kicked in we left for Horta. Willem Jelle, Monique and Jantine had arrived to join us for the sail to Scheveningen and were waiting for us.
Monday July 23rd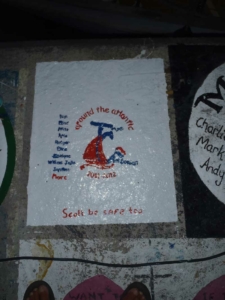 Monday morning we finally got to finish our mural. That was really nice. After we finished it, I  took Rutger and Eline to the airport. Eline especially didn't want to leave, more than once she asked if I couldn't change her flight for the next week 🙂 But then again she didn't feel in joining us for the long sail home, so she finally was okay with leaving.
On my way back I picked up my gennaker which was perfectly fixed and went back to the marina where I found Marc in a very pissed off state. He had been trying to find out what happened to the life raft we had ordered. That should have been delivered by now. He  spend quite some time at the phone and finally with the help of the harbor master it was clear that it would be delivered that day at 5 pm. And, it was. We're ready to get ready to set sail.