Around the Atlantic, sailing south; Scheveningen to Baiona Bay
The first part of our trip around the Atlantic sailing south was quite eventful.
Near Brighton the alternator broke and the seacock of the forward heads started leaking, leaving a Coruña we witnessed a collision between a fishing vessel and a freighter and rescued the skipper, on our way from Lagos to Madeira we ran into a storm and at Fuerteventura we almost lost our boat when the anchor broke loose while we were on shore …
Prologue
When I bought my boat, a beautiful maintained Beneteau Oceanis 46ft, I had this dream to someday do an Atlantic crossing with her. She was the right boat for it, with a cutter rig, enough space to stow supplies and enough room for a crew of 4.
'Someday'…
When my ex-girlfriend asked me when someday would be, she also told me that 'whenever' at the end of the day usually means 'never'. So then I made the decision, I'd go next year. Once the decision was made and I started telling everyone of my plans, it sort of just started happening. I made arrangements at work, got the boat ready and found my crew.
My oldest son Rutger, always wanted to take a year off to discover the world after graduation. But he decided to do it the other way around, sail with me now and graduate the year after. Marc, my youngest brother would also join me on the crossing. I sailed with him on his boat, the previous years, now he'd sail with me. Jur, my friend and chief instructor of the sailing school in Scheveningen would also join us during the crossing. Andy, whom I met during my Yacht master offshore training in Falmouth and had become a good friend, would join us on the trip to the Canaries. Charlie who sailed with my brother on his crossing, would join us in the UK to cross the Bay of Biscay. Unfortunately he injured his back and couldn't make it after all sailed with my brother when he crossed the Atlantic. Last but not least Monique, a friend of Marc, would join us at a Coruña for the sail down to the south of Portugal.
For the sail back from the Caribbean I had no clue. I'd have to see that later
Scheveningen September 20th slipping the lines
Andy, Rutger and I left Scheveningen Tuesday September 20th 2011. After almost a year of preparations and getting my boat ready it was the day my dream came true. My boat was the perfect boat for this trip. Her name: True Companion proved to be spot on.
Some of us dropped a tear kissing farewell as it was quite emotional moment.
The plan was to sail down the south coast of the UK and along the way pick Charlie to cross the Bay of Biscay, staying as far out the bay as possible on the much deeper ocean.
However, as it usually goes with sailing plans, things change on the way. The wind was supposed to veer from south west to the north, but it didn't. It also was supposed to decrease instead of increasing to 35kts.
So after 36 hrs. on a choppy North Sea we decided to make a stopover at Shotley Marina, Dover. We weren't in the routine of watches yet so we all could use a good night sleep.
Brighton
The wind finally veered and we made good progress when I noticed that the batteries weren't charging. It turned out to be a fault in the alternator. That was a major problem. We'd loose the instruments and the navigation lights. It was still daylight and close to Brighton so we made a second stop over there. Also one of the seacock fittings of the forward heads was leaking. Anyway at Brighton they could fix the alternator but not the seacock fitting, the lock to the crane was out of order so there was no way to haul us out.

Shoreham
Calls were made and the Sussex Yacht club in Shoreham could help us out. Going into Shoreham needs a perfect timing though. At low tide the Yacht Club dries out completely. The guys at the Yacht Club were very helpful and were able to fix it overnight. It turned out that the seal of the seacock fitting was leaking because the seacock itself was actually too small for the hole. They put in a new seacock that did fit. However this was a brass one instead of bronze. I had no choice so I went ahead, considering it would hold for at least a year or so. Bronze is an alloy of tin and copper, brass is made out of zinc and copper. As you might know, zinc is the metal used for anodes, meaning in due time it dissolves in salt water. And that's what it did, in less then a year the seacock snapped in the lagoon of St Martin.
We left Shoreham and headed back to Brighton to pick up the alternator that was refurbished. After installing the alternator we were all set and ready to go again. We left Brighton around 5pm Wednesday September 28th and started off with the gennaker 🙂 After a while though the wind dropped and we got down to 1.8 kt speed. We started the engine to keep some speed. The night was clear and full of stars. The winds stayed very light so we kept on motorsailing into the second night. For a few hours we had some really thick fog. So again I was very pleased with the sea-me and the AIS. Friday the wind picked up a bit and we killed the engine no doing 8.5 kts over ground ! The wind is supposed to become easterly. That would be great for a direct leg to La Coruña. If that would really happen, we'd make the whole trip from Brighton to La Coruña in one single tack !!
Charlie unfortunately had injured his back and his doctor advised him not to take on the trip crossing Biscay. So instead of heading west we went straight for a Coruña. We had a very nice crossing! The weather was great, getting warmer by the day. The wind was light but stayed easterly and we arrived October 3rd, indeed on a single port tack!
Along the way, at one time we had a lot of fuzz going on with a mayday relay. There was a lot of talking over the radio and the distress signal went off a few times. Although we were in international waters, they only spoke French over the radio. We had no clue at all, no position was given, whatsoever. Anyway, there were a lot of vessels in the AIS so I figured the rescue operation would not need our assistance. I guess we were too far away anyway, because I heard them talking about a cell phone number of the vessel in distress, so they had to be close to shore.
A few times we were visited by dolphins and at one time even a whale. We also had picked up a tiny bird around Brest I guess. Sadly it didn't make it all the way. When we came closer to shore, there was this pretty annoying purse seine fisher, with a yellow flashing light. At first it looked like a north cardinal since it didn't seem to move, but the map didn't show any cardinals. So it had to be a purse seine fishing boat. You know that from the book. Since they don't use that kind of gear in Holland I'd never saw one before. They annoying thing is that the flashing light is so bright, you can't see any nav lights. So you have no idea where he's heading.
a Coruña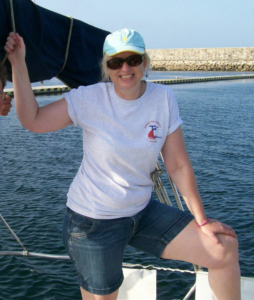 At a Coruña Monique joined us to sail all the way down to the south of Portugal. We picked her up at the marina went on to a nice anchorage in the bay.
Since we left Scheveningen, it seemed we stepped in a different world. No rushing, no up tide people. It was all relaxed and all the people we met were friendly and very helpful.
While at anchor in a Coruña, we ran out of gas for the outboard. A fisherman helped us out and wouldn't take any money for it. Instead he gave us some fresh caught fish for the barbeque!
Mayday, mayday
After a few days we decided to move on to Corme, some 40 Nm west. We left after diner and had just set the main. I was down below checking the chart plotter when Andy and Rutger urged me to come on deck. They just witnessed a collision between a fishing vessel and a big freighter. We immediately dropped the mainsail and went full throttle to the location of the collision, about .3 nm ahead of us.
I could steer the boat by the lights of the sinking finishing vessel. We heard people shouting in the water. Within 3 minutes we were there and saw 3 men in the water. Andy had already send out a mayday. We picked one of the men out of the water, the second and the third one being picked up by a pilot vessel that responded to the mayday call. The man we picked up was not injured but in shock obviously. We could manage him to tell us there were 4 people on board of the fishing vessel.
I tried call the pilot vessel over the radio but they didn't seem to respond, at least not in English, so I handed over the radio to the man we picked up and they spoke for a while. The pilot vessel picked up our man. We cruised around for some time to help searching for the 4th person. By then there were at least 5 vessels and a helicopter nearby to search for the missing sailor. Eventually we headed back to the marina where I was interviewed by a journalist of the local newspaper that had picked up the accident.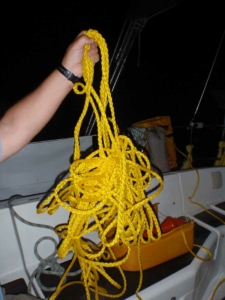 It took a while for the adrenaline level to drop! You do the man-overboard training many times but this was for real! The man we picked up couldn't swim and he was fighting for his life. I'll never forget the look in his eyes, utterly despair! I realized that if we had been just a minute later he would have drowned. And that's when I started to tremble. I'm so proud of my crew and how we handled the situation, Rutger dropping the main, Andy sending out a mayday, Monique getting the searchlight, it all went like clockwork just because. There were some lessons to be learned though. The throwing line wasn't ready for use, it had an rubber band on it I didn't know about and the brand new man-overboard line I bought in Brighton wasn't much help either. The rope was a mess!! I made sure they're ready for use at all times. It took a glass of wine before we finally could manage to go to sleep.
Waking up next morning was a bit unreal. I went over to the marina office to learn they were still searching for the 4th man. He might have been down below at the time of the collision and didn't manage to get out in time or might have been injured by the collision. We all felt very sorry for the loss of the 4th guy. We couldn't have done more or anything different but still..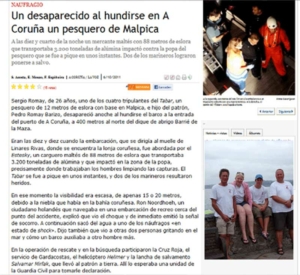 Today we'll go for Corme after all. There's nothing more we can do here and there's no point in staying another day. Andy posted an message on the Yachting Monthly forum and they asked us to write them the whole story and send it in. I think writing and talking about helps us to digest what all happened.
In the mean time we all went for a shower and Rutger gave a radio interview. Sometime later we were asked to go over to the port control office to give a statement. Andy and Rutger told what they had seen. They also made a copy of my log. What seemed to have happened was that the fishing vessel tried to overtake the freighter but miscalculated their speed difference and the distance. The man we got out of the water turned out to be the skipper and the one that's still missing is his son. There were divers out now to try and find him. The other 3 are still in the hospital, one of them broke his leg.
We had a coffee and decided to pick up the plan we had yesterday, leaving for Corme tonight after dinner to get there by sunrise tomorrow morning. We left a Coruña as planned around 9pm. The wind was good, as in 14 kts and on a beam reach we made a great speed., over 7.5 kts. on average. We arrived at Corme in the dark. That wasn't too bad, I could steer on the lighthouse and the buoys that marked the harbor. It helps when you look at the chart before you go, and have a clear picture of what to expect.
Corme
Corme is not the picturesque village we sort of expected so we decided to sail to Vigo the same night. After Rutger had got us some nice croissants from the village, we walked around a bit, sat on the beach for a while and did some shopping for dinner – when siesta time was over… Just as Rutger picked up Andy and me with the dinghy, we saw the local police launch theirs and soon after they came on board. Andy and Rutger were asked to give some more detailed information about the collision, especially about the visibility and the distance between the two vessels. Anyway, Andy had to write down and sign a second statement and that was it. We had another great dinner cooked by Andy and I went to bed. We'd leave at the start of my watch at 11 pm. The trip to Vigo is about 120nm, so we would then get there around noon or so.
The wind was quite fresh when we left, about 25 kts, so was the swell. However, on a broad reach we did hit the 10.6 kts ground speed, towing the dinghy. Later the wind decreased to 15 kts and after the gibe, the swell was pretty much gone, which made it a bit more comfortable ride.
Vigo
After a great nightly sail where Rutger set the speed record to 11.4 kts over ground, we came in to Vigo and were looking for a short stay to do some shopping and get the permit to anchor in the Islas Cies national park. We moored at marina just in front of the old city. It took us some time to get moored and by the time we were all set, we thought it a waste to go through all that trouble for just an hour or so. Also the facilities were perfect, with a gym, swimming pool, wifi and excellent service. Rutger in particular was excited about the gym and went for a work out. The lady at the marina office explained to me that in order to get the permit to anchor at Islas Cies, I needed to have a permit to sail there. So I actually needed two permits and that would take a week for sure … Well, it was not her fault but obviously this would not work out for us. So, instead we'll sail to the Baiona Bay and anchor there for the night.
Baiona Bay
We had a lovely night in the Baiona Bay. No wind, clear sky with moon and stars and a beautiful sunset and a delicious barbeque.
Next morning we got up at 7am. The weather is great but there's not much wind, about 5 kts S/SW, it's supposed to veer to W/NW but not to increase much.