Den Oever, Netherlands – Guernsey, UK, April 2017; Dehler Optima 101; Gaia
April 16th 2017 | Den Oever, Netherlands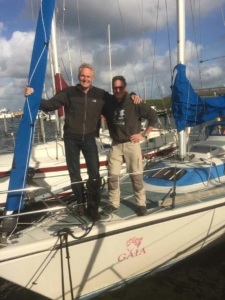 I met Jelle on Crewseekers. He was looking for someone to help him sail Gaia, a Dehler Optima 101, to Guernsey. He and his wife Hiekje wanted to spend their vacation around the Channel Islands but Hiekje didn't care much about sailing down there from Den Oever….
We had an instant click, same age, same background and we both loved sailing, just because…
Today Jelle and I will set off from Den Oever to sail to Guernsey. There I'll fly home again and Hiekje, wife will join him.
We'll have around 2 weeks for the trip, no hurry's! We want to make some stopovers on the way and enjoy the places we're gonna visit.
We had a great sail from Den Oever. The winds were good and Northerly. We made a quick stopover at Scheveningen where we had lunch with my wife and kids. Next day we arrived in Ramsgate. We stayed here for 2 days enjoying delicious mussels for dinner and drinks at the Royal Yachtclub.
From Ramsgate we sailed to Rye. Rye is a beautiful little town, a real historic place, very well preserved in the middle of a nature reserve.
Getting there is only possible for smaller yachts like Gaia and even for her with a draft of 5.5 ft we touched ground form time to time.
The marina dries out completely. the idea is that you come in at high tide and then let the keel just sink in the mud….Well that didn't work out, we sank in a bit but not all the way, so we had to secure Gaia by lashing the mast to the quay otherwise she would have fallen over.
It was a real pleasure to spend a couple of days in Rye.
From Rye we sailed on to Portsmouth with a stopover in Brighton. And there too we spent some time to visit the place. Spinnaker tower, the HMNB with all the historic boats that once sailed the oceans..
We're impressed how well preserved and kept all these boats were.
The famous HMS Victory lies here with a plaque where vice-admiral Nelson was shot to death. You could spend days here and you'd still haven't seen everything!!
From Portsmouth we went on to Yarmouth the last stop over before crossing the Channel again to Saint Peter Port, Guernsey.
While leaving Portsmouth we did see some signaling bur didn't pay too much attention…
It turned out to be some kind of 'keep clear to all' sing. A flotilla of naval ships was leaving port and no other ships were allowed in the channel.Sorry.. I guess we weren't a real thread and flying a Dutch flag sort of gave us a pass. Anyway, they didn't seem to care much and they let us be.
April 26th | St Peter Port, Guernsey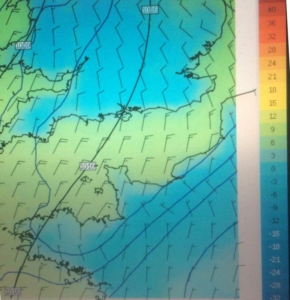 We reached our destination after a great sail. The weather was nice, sunny and 20kts still from the North it couldn't be better!!
Except for one thing though… it was cold… FREEZING COLD. The gribfiles showed it was actually freezing in France and the UK. We were in the > 0 degrees zone only because the water was still liquid. But with the arctic breeze from the North and the windchill…
Anyway, we had a great sail, doing the race of Alderney top speed!!
We spend a great couple of days exploring the island. We took a bus that runs the coast way all the way round, hopping of and on. And of course St Peter itself is a nice town with an historic castle where every day at noon the cannon was fired.
Two days before Hiekje would arrive I flew back home but Jelle and I had of course to clean the boat first, the most important job before the wife comes on board 🙂
By by Guernsey. We had a real good time and a real great sail !!