Harvester 1, Harmony 42; IJmuiden Netherlands – Lisbon Portugal, January 2021
A lot of shopping; sailing with the owner / skipper; no political discussion on board; experience vs competence; a nice and cold delivery!!
November 17th 2020
I responded to an add on Crewseekers. Fritz (not his real name) was looking for someone to help him sail Harvester 1, a Harmony 42, from Stavoren, Netherlands to Lisbon Portugal. Next day Fritz responded and we agreed that I would sail with him on this trip. Fritz had told me he was a very experienced skipper and had sailed a lot in the South African waters where he used to live. However, in this time of year he wanted to have at least one experienced crew for this trip.
Originally we planned to leave first week of December but eventually we left January 1st 2021.
In the meantime I helped him out getting the boat ready. Fritz lived in Germany so I got him an Epirb, flares, lifelines, charts and the almanac form my chandlery in Scheveningen, he wanted to have before we set off. Also Barbara, a Brazilian woman, living in the Hague, very close to where I live decided she wanted to sail with us. She had done her competent crew course and very much liked to do a longer passage. Rudolf (not his real name), Fritz's son would also sail with us, not as crew that is because he wasn't into sailing that much.
January 1st 2021, 06:00 am, setting sail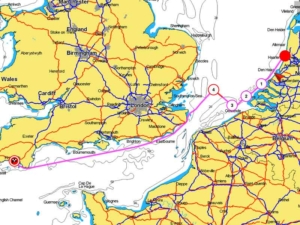 Barbara and I boarded new year's eve in IJmuiden. The day before Fritz and Rudolf had sailed the boat from Stavoren to Ijmuiden. We left IJmuiden January 1st at 03:00 am.
We set off with northerly winds and fair weather, perfect for where we're heading! The winds stayed fair but did not veered as much as predicted.
The three of us did 3 hr. watches, so 6 hrs. of sleep (minus 30" to get (un)dressed) and to warm up again …. sort off… It was cold, VERRY COLD despite the thermo layers and double gloves.
We were very lucky crossing the shipping lanes. My watch ended while we're about to cross the N-S shipping lane. I told Fritz that we'd to stay on the same course for another 5 Nm before turning south. However, when Barbara later took over from Fritz, she called me. There was this very big ship coming from behind and it was already very close by. I immediately changed course about 90 degrees. Very much to my surprise the freighter had also seen us and was baring off too. Obviously there the officer on the bridge was very focused. He/she must have picked us up on the radar because the AIS wasn't really working …. pffff….
When I checked the chart plotter, we were sailing in the middle of the south bound shipping lane :-o. When I spoke to Fritz about what happened, he gave me a story that didn't make any sense and basically denying it was his fault. So much for experience … not so much for competence!
Anyway, we got across alright at around sunrise and as always, it's nice to see the white cliffs again 🙂
The winds had veered even more and varied from 8 to 27 kts, so from time to time we motor sailed.
On the South coast of the UK we were visited twice by the coast guard. Very friendly people, just checking. I guess we seemed a bit insane doing the trip midwinter. We'd probably also be the first sailors in the UK waters after Brexit but since we were heading for Lisbon, they didn't care too much.
We didn't get to spend much time on deck together, it was just too cold.
That was totally fine with me. Fritz turned out to be convinced that the elections had been stolen from Trump. Also in his opinion the whole Covid issue was a hoax and the climate change was a bullshit story. I had no interest in any discussion on these topics, not at all! So when I wasn't on deck I tried to rest as much as possible, as I was also keeping Barbara company from time to time during her watch. The incident in the shipping lane was still very fresh. Her knowing I was close by to keep an eye on things, made her feel at ease. She'd also told me that she was a bit afraid of waves and that she really wanted to get over that fear.
stopover at Plymouth
We decided to make a stop in Plymouth. We'd ran short of fuel and no objected to a good sleep and a long hot shower. We arrived in Plymouth Monday January 4th around 05 am. For the first time sailing into the UK, we had to clear customs, because of Brexit. That was all done over the phone but it took a day to get clearance to leave the boat and use the facilities.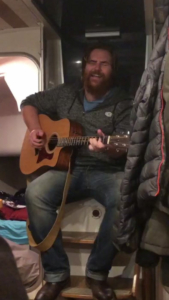 In the meantime a storm was brewing around a Coruña which seemed to come up north every time we checked. We decided to wait a couple of days. In the meantime Fritz decided to change one of the batteries that had died and get a tricolor mounted. Of course we had a nice walk into town and fish & chips, twice even.
That night Russel, a friend of Fritz came over together with his girlfriend Serena. Russel was a musician and happy to sing and play his guitar for us. We all enjoyed it very much. Russel himself sort of the most since this was the first time he 'performed' since the Covid lockdown.
setting sail to Brest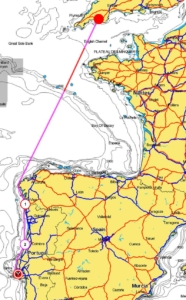 At around 11:00 am we set sail to Brest. The storm should have gone by the time we'd get close to a Coruña. Next day we had crossed over to France, Ile d'Ouessant. It was a nice sail, good winds. We did a final check in the weather before crossing over to A Coruña and all seems fine for the next few days.
The crossing of Biscay was great! Nice weather, beam reach and one day after leaving Ile d'Ouessant the sky cleared and we had nice sunny days. With the sun shining, the wind had died so we had to motor-sailed quite a lot. We could round Cabo Finisterre pretty close though, not something you'd wanna do in strong winds :-/
Cascais, our destination
It took us about 5 days to get to Cascais, final destination for Barbara and me. We got there around 11:00 am. The last few days we were running. The winds varied from 4 – 16 kts. So from time to time we started the engine to keep up the speed. We also had a quick stop at Figueira da Foz to refuel.
After Barbara and I got off, Fritz and Rudolf directly set sail again to Lanzarote to make the most of the remaining winds. Next couple of days would be close to zip wind.
Barbara and I spend the rest of the day in Lisbon. Next morning I took the train to Lagos.
All in all quite a fast trip 12 1/2 days. Sailing wise it was a nice trip (except for the cold)! Good winds, nice weather, sunny and at night the most amazing sky's!
Also it was a very educational trip. I normally enjoy the company of the people I sail with. This time I had to stick to being the professional. Except for Barbara that is. We got along very well and when we got to Lisbon she told me that she totally lost her fear of waves. While she was helming, we had some serious waves while running close to shore around Plymouth. I had kept her company during her whole watch. She told me she felt totally relaxed the whole time just because I was so calm and relaxed. She even started to enjoy trying surfing down the waves. To her, this had made it a great trip!
Lagos, Amanzi base
It took me about 4 hrs. by train to get from Lisbon to Lagos. Trains do not very fast on this route. Sometimes it stops for no obvious reason. However, I must say that I'm impressed about the punctuality. All this slow running and strange stops must be part of the time table because I got to Tunes exactly on time for my 3 minutes stopover to change trains!!
Lagos will be my temporary base, watching over Amanzi, the beautiful Oyster 56 of my brother and his wife. I'll spend some time here, working on the never ending to do list that all yachts have. Although, I must say, this list is really getting shorter 🙂