Ithaka, Contessa 32; Workum Netherlands – Falmouth UK, June 2021
A lot of shopping; thunderstorms in Amsterdam; instruments breaking down; gale at the UK South; learning my own lesson; still, a very nice trip!!
Friday June 11th 2021
I got an email from Phil from Halcyon Yachts if I'd be available to deliver Ithaka, a Contessa 32 from Workum, Netherlands to Falmouth, UK, leaving Wednesday the 16th… I was.
Things had to be sorted out because of all the Covid regulations, but that all worked out. For me that is. The crew, Noa and Giacomo needed some more time to sort things out and also to travel from Scotland to Workum. They couldn't get there until late Thursday night. That was okay since there was some bad weather expected and I didn't wanna set of in bad weather.
That also gave me some time to do the shopping and prepare the boat.
I was told there wasn't much on the boat so I went over to my chandlery in Scheveningen where I picked up the paper charts and some other stuff which weren't on the boat or were way outdated, like flares etc.
32ft is quite cozy for a crew of 3 and Ithaka was over 50 yrs. old. The instruments were a bit crappy and didn't work properly. One by one they died during the trip including the fridge . I was prepared though, I had brought my own sailing laptop which has Open CPN, Zygrib and AIS installed on it. Ithaka carried 4 headsails and 2 spinnakers. That's a lot of sails which evidently takes up a lot of space. The 4 headsails were all hanked on sails, why else you'd need 4…
None of the winches were self-tailing so you'd need 3 hands to put proper tension on the sheet and also to hoist the main which furled around the boom. While one was unfurling the main, the other was hoisting by also a non-self-tailing winch.
The owner that was selling the boat had told that the liferaft was in date and serviced. NOT! It was over 5 yrs. outdated. I wasn't going to set off with 2 crew with a liferaft that was outdated so I contacted Halcyon who contacted the new owners and got back to me if I could get them a new liferaft. Workum has no serious chandlery but luckily my chandlery in Scheveningen could help me out and Scheveningen was on the route.
Anyway, doing the shopping meant not only buying food and drinks, I also had to get pots, pans and all the other kitchen stuff. There really was nothing in the boat. The 2 extra days before my crew was coming was well needed!
slipping the lines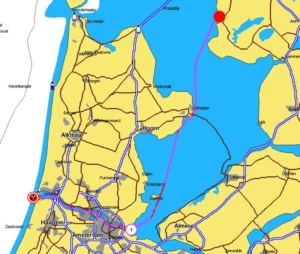 Noa and Giacomo arrived late Thursday afternoon. They sailed together the week before and got along very well. They were a really great crew! I explained to them that I wasn't doing this for a living. I just love sailing and I'm doing this for fun! So, my goal was to enjoy the trip and I want them to enjoy it too. No racing, but a comfortable and safe trip. They very much appreciated this concept and felt at ease from that moment on. We did a safety briefing Thursday night and left June 18th at around 6 am.
There wasn't much wind so we motored the first part to the locks of Enkhuizen. After that we hoisted the main and motor sailed to the locks of Amsterdam. It was sunny when we got there but that changed rather quickly. By the time we passed the bridge and the locks the sky had turned black and the whole way through the North Sea Channel it was pouring down. By the time we got to the locks of IJmuiden the sky had cleared again. Still, there was a warning for thunderstorms so I decided to stay the night in the marina at IJmuiden.
Next morning the weather was fine and we sailed down to Scheveningen to pick up the liferaft. After a bite to eat we left and set course to Rotterdam. South of Rotterdam near the North Hinder I wanted to cross the Channel.
The sail was fine. We had some rain,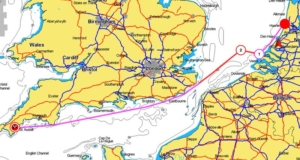 we saw some lightning in the south but that stayed there.
The crossing was amazingly easy. Hardly any big ships going either way. 15 to 20 kts. of wind, doing 6 to 7 kts. on average with full sails. This Contessa is a really nice boat to sail. No slamming into the waves, whatsoever!
While we were crossing we were greeted by a pack of dolphins. So nice! I hadn't seen many dolphins in the North Sea.
When we sailed round Dungeness the wind had veered some more and now we had a nice broad reach that stayed all the way to Falmouth. Close to Brighton we got a gale warning. I decided to take the mainsail down and run on the just the headsail. We were actually doing the same speed but more comfortable. Later the wind picked up to 30 kts. and we changed the headsail for the storm jib, still doing the same speed.
Funny thing. I sort of learned my own lesson. I had told Noa and Giacomo that at all times they could call me if they felt uncomfortable. When I took over from Giacomo that night he told me that there had been a couple of moments that he felt a bit uneasy. He had thought of calling me but decided to wait some more. I explained him that that was exactly what I meant about feeling uncomfortable: if you think about calling me, you're uncomfortable so, just call me. No worries, I never get upset when I'm called.
When the wind was still picking up and I told them I was thinking of changing the headsail for the storm jib, I realized what I told them before: if you think about it, just do it! When I shared this with Noa and Giacomo, they really understand what I was trying to tell them and we changed the headsail.
After we passed the Ilse of Wight the wind eased to the point where we could set all sails again. By then my small inverter to power my laptop broke so we were really back to old school sailing: no instruments, only paper charts. Anyway that was perfectly fine and we got to Falmouth with no problem.
By the way, it's good to regularly check the strainers. I never had a fish in the strainer before …
Arriving in Falmouth
Thursday June 23rd at around 5 am we arrived in Falmouth. We cruised a bit outside to wait for daylight. We were supposed to pick up mooring buoy 39 and I didn't wanna go for a blind search. Just after sunrise we went into the bay and easily found our mooring buoy.
At around 11 am, Fay, one of the new owners, came onboard bringing a very much apricated welcome breakfast and after a debriefing and a formal hand over, we said goodbye and went our way back home.
All in all it was a really nice trip and another experience. The owners were very happy and thankful for the service and that too made it a real nice trip.