Skylark, Swan 38; Almerimar Spain – Hamble UK, September 2021
A lot of motorsailing; no Orca's; incompetent crew; broken gearbox; still, a very nice trip!!
Cartagena – Almerimar – Gibraltar/la Linea
I was with Marc, sailing Amanzi from Benalmádena to Cartagena when I got the email from Halcyon, urgently looking for a skipper to deliver Skylark, a Swan 38, from Spain to the UK. Skylark was moored in marina Almerimar, the same marina Marc and I spent the night two nights ago. I called Pete from Halcyon and told him I was available and that was it.
The plan was to sail with Peter, the owner, from Almerimar to Gibraltar. There the liferaft would be serviced. Peter would fly home from there and my crew would fly in.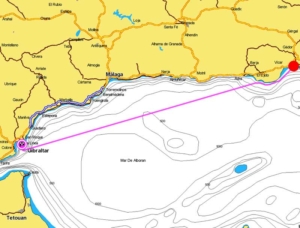 I met up with Peter September 14th and after we had lunch we set sail to Gibraltar. The sail to Gibraltar was nice but/and took us more time than expected. The wind varied from 3 to 20 kts. from NW to SW, most time on the nose. And of course we had to beat the about 2 kts. current into the Med.
It was really nice to meet Peter. He sailed Skylark for years now and it was very helpful for me finding my way around on her. It keeps amazing me how well you get along with fellow sailors, people you never met, for 48 hrs. straight, just after you shook hands in a pretty confined space. And it all seems so very natural. Try that in the city :-/
During the night we saw dolphins and tuna chasing flying fish. There was a lot of lightning all over the place but never really close by. The was extremely bright even though it was only a half moon. Next day at around midnight we arrived at Alcaidesa marina, La Linea, Spain.
 Gibraltar – la Linea – Lagos
The crew was flying in on Friday night, so I had 2 days to explore Gibraltar. I'd never been there. Going up and down from the marina, a 10 minute walk, I'd had to cross the border. A real border, with officials checking passports and stuff. Not like the border between the Netherlands and Belgium or Germany, that's basically just a road sign. And then you cross a live runway…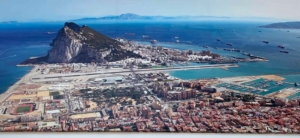 Thursday I had a real nice walk, ending up walking all the way to the top of the rock. It felt a bit weird climbing the stairs for the last part, stepping over the monkeys. They couldn't care less though.
Friday I did the shopping for the trip to Hamble. I found a Mercado that also delivered cause obviously I couldn't get all the stuff to the boat on my own.
Friday night only Donald (not his real name) arrived. Georgia was refused boarding the plane. Some misunderstanding about her vaccination certificate… However, she managed to fix that and got the next plane out on Saturday morning. That was still good. I'd planned to leave Saturday afternoon anyway because of the tide.
Between 09:00 and 11:00 Saturday the provisions were supposed to be delivered… All that came, no provisions. I called the Mercado twice. The first time I got somebody on the phone that didn't speak one word English. Second time I got a nice woman explaining that there was something wrong with my credit card. If I just could come over and sort it out then they would still be able to make the delivery later that day. Anyway, it all worked out and at 14:00, we got our stuff.
We had a safety briefing and I explained my concept of the trip. My goal was to make this an enjoyable and comfortable trip for all of us and they couldn't agree more. We left at 4:30 pm, an our later than planned, we had to wait quite a while to get fueled up.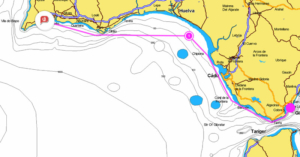 We had missed the best tide and had to deal with about 3 kts. tide against us + the head winds of 6 kts. We managed and I didn't wanna wait another 11 hrs.
Sailing in the Strait is a unique experience. You can see where exactly the tide's running and all kind of eddies close to the shore. After we got out of the Strait, we still had to stay close to shore to keep out of the exclusion zone that was set by the authorities because of the orcas incidents. Again having the wind dead on the nose, we motor-sailed the whole night through.
Next day the wind had backed significantly and we could kill the engine. A beam reach with 13 kts, a wonderful sail!!
However it then turned out that Donald just couldn't sail, he was all over the place and had no feeling what he was doing. He also was too insecure moving around the boat to my taste, so considering we still had a long way to go, I decided to let him go. A lesson I learned over the years: whenever I'm aware that I consider something regarding safety or precaution, I have to do just that! Sad, he was a real nice chap but not fit for this trip.
We got in at Lagos marina, a place I know very well and said goodbye to Donald. I made some calls and we got Richard to replace him. He's a friend of Georgia, who is a very good sailor by the way, and set off again Wednesday, September 22nd.
While waiting for Richard, I showed Georgia around. I spent months in Lagos on Amanzi and it's a very nice place to get 'stuck' for 2 days. We had diner twice with my friends Peter, his son Seb and his girlfriend Ceira from Falkor which was really great. Just across the berth of Falkor there was this sushi place that had just opened. It turned out the place was closed on Mondays so we went to this other sushi bar in town. Tuesday it was open so …. we had sushi twice.
Lagos – a Coruña -/- Hamble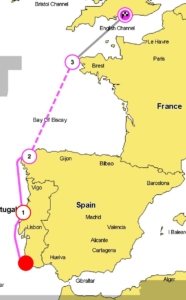 I was glad that I made the decision to let Donald go. Richard is an excellent sailor and we made a great team from the moment he came on board. We didn't get to sail much the first day. No wind or dead on the nose… traveler all the way up, the main sheeted hard in, steering 30 degrees, motor sailing, doing 4-5 kts but in the good direction, covering 130 Nm the first 24 hrs.
The following days were sort of the same. All in all we motor sailed pretty much all the way up to a Coruña. Every time just as we had a bit of wind and killed the engine, the wind dropped again, leaving us with around 2 kts SOG.
We had to go into marina Figueira del Foz to refuel and by the time we got to a Coruña, we're running low on fuel again. The last part to a Coruña we had a great sail though! The wind had picked up to 17-18 kts, still South and as we're heading East, Georgia clocked 8.2 kts SOG flying just the headsail!
The weather for the crossing didn't look to good for Sunday night/early Monday. A depression was crossing Biscay at the exact spot we'd have been if we'd sailed on. I decided to let this one pass and to stay the night in marina Coruña. A shower, a nice meal and a good night sleep was also very much appreciated. Monday morning September 27th around noon we'd leave.
Not so. When we left the pontoon to go over to the fuel pontoon, we couldn't get the engine into gear.. We had to fiddle trying to get it into gear the whole trip but that worked so far. This time however it didn't. I managed to park the boat again going backwards but that was it. No way we'd leave now. We took the engine cover off and did some checking. It seemed like a fault in the gearbox.
I contacted Peter and agreed I'd find a mechanic to come over. With help of the marina office I got in touch with a mechanic, who promised to get over next morning.
In the mean time we had a real nice chat with Chris and his brother Björn from Sweden who were moored up next to us. They were heading south for Madeira and the Canaries on Njord a HR 36. Later that day I ran into them again at the supermarket and when we got back to the marina we decided to have dinner together. Tapas of course, after all, we were in Spain! We had a real great evening!!
Chris was a very good sailor as well as Björn, but he was a racer. So two worlds met, he being a racer, me being a long distance cruiser. He found it real hard to think of what to do on a long distance trip. He was sailing now with his brother from Brest to the Canaries and was actually thinking of picking up knitting, lol! He was used to be tweaking the sails all the time, tacking when the wind shifted 4 degrees, while I was looking at the Hi's and Low's in the overall gribfiles to decide whether we're gonna tack today or tomorrow. To me it's all about enjoying the trip, no rush, no deadlines. He enjoyed trying to do the utmost to win the race.
When cruising, I always try to be open to whatever happens and try to enjoy it. So even if you get stuck because of engine troubles, you have a chance to meet nice people and have a great time. To me, this mindset is an essential part of cruising, go with the flow. Chris admitted that to him this was a new and different way of sailing and he really appreciated the concept. It made him sort of understand why people would wanna cross the ocean.
Next morning came but no mechanic showed up. I went over to the marina office again and I was told in 30 minutes somebody would come over… Spanish minutes or actual minutes, that had to be seen.
It turned out to be Spanish minutes… so an hour later they arrived. After 30 minutes they came to the same conclusion, the gearbox was broken. They later send me an email they they'd be able to start working on fixing it mid next week.
That meant the end of the trip. Obviously we had not the time to wait for that, considering it probably would take them another week to fix it after they'd started. I called the owner and agreed we'd leave Skylark in a Coruña. He would get in contact with the mechanics and sort it out from here. Too bad! Still… I'm glad this all happened in the marina. We ended our trip in a nice restaurant, having sushi again.
Next day, Thursday September 30th we all left heading home.
It hadn't been a straightforward delivery but still it was a real nice trip, we all enjoyed very much!