Freedom, Bali 4.8; Mindelo Säo Vincente/Cape Verde – Bridgetown Barbados, January – February 2022
A great crossing on a brand new Bali 4.8
Mindelo, Säo Vincente, Friday January 21st
I saw John and Nicole's ad on Crewseekers. They were looking for someone as soon as possible to help them sail their brand new Bali 4.8 catamaran from Cape Verde to the US Virgin Islands or St. Martin.
Well, as soon as possible, that was it. I replied, Nicole responded a few hours later and when they arrived in Cape Verde they got the approval of the insurance company. The next day I was on a plane to Lisbon. There I had to wait a day for my connecting flight to Säo Vincente.
I arrived on Wednesday, I did, … half of my luggage didn't. When I arrived in Lisbon, it turned out that one of my bags had been left behind in Amsterdam. I was told that my bag would come on the next flight to Lisbon and would most likely be on the same plane as I was going to Säo Vincente.
I arrived safely in Säo Vincente on Thursday, but my bag was not on the plane. It took me a lot of patience and phone calls to finally hear that my bag had been sent on a plane back to Amsterdam… 🙁
I was able to borrow some clothes and stuff from John and Alex and we left on Saturday 22 January.
We, that's John and Nicola, the owners, Alex, Ian and I as a professional crew. Alex as skipper.
During the time I had to wait for my luggage, the sail plan changed a bit. What else is new 🙂
Since John and Nicole wanted to cruise the Caribbean, we suggested we go to Grenada. From there they could cruise north and visit a number of islands, ending up in the US VIs. Northward would be downwind rather than upwind. And, why not make a stopover in Barbados first? You only visit Barbados on your way to the Caribbean. Once you're there you won't go back. Long story short, Barbados it was going to be.
Position 16:19.02N 028:18.82 W, Sunday January 23rd
We are now 2 days at sea. It always takes some getting used to a new boat and crew. I've never sailed on such a big cat. It's basically a floating hotel, very luxurious, very comfortable.
I really had to get used to the movement. A monohull has heels and rolls stably with the waves. This cat doesn't heel at all, but it moves like a drunken elephant, as Ian likes to put it.
I skipped the sashimi from the fish we caught a few hours after we left Mindelo. Instead I stuck with the salad for dinner. That didn't help much, though. An hour or so after dinner I was feeding the fish but after that I was completely fine.
I tried steering by hand for a while to find out how this boat would feel. In summary: you feel nothing at all! Freedom has a hydraulic steering system which means that you don't feel the boat at all. I think the autopilot will steer all the way.
Alex and Ian are very nice guys and very skilled and professional sailors. They also enjoy sailing immensely and I am happy to say that we got along very well from the start!
The owners, John and Nicole are also very nice people! The first impression you get of John is a typical 'loud American'. He is sometimes loud, but that is because of his hearing. When there is music or other noise, he speaks very loudly because he just can't hear himself that well. Nicole then gently strokes his arm as if turning down the volume 🙂
The other day, John admitted that he is a little scared. Going to all those new places and countries. He is very eager to learn and eager for adventure. However, sailing with a professional crew and skipper also means that he had to hand over all the reins all the time and that was a challenge for him.
Nicole is a very nice and friendly woman. She claims to be the least experienced sailor and for miles-wise she is, but she knows exactly what's going on and what and why we're doing it.
Nicole is the chef on this trip and a very good one too! She makes delicious lunch and dinner every day. She also does the dishes. Because she is not included in the waiting system, she sees that as her 'watch'. Yet she also comes to the bridge, to keep John and us company and to help with reefs and such. Together they make a really great couple, always friendly and very respectful to each other. They both really enjoy the trip and want to get the most out of it.
Position 16:11.3N 032:36.0W, Tuesday January 25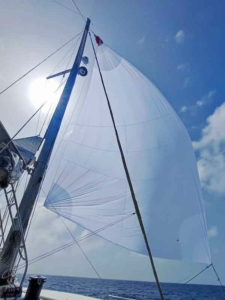 When I came on watch at 9 pm last night, the wind was blowing around 25 knots and it was pitch dark. The wind kept picking up. When Alex came on deck, the wind was over 30 knots. I already put in the second reef in the genoa. With the 3rd reef in the mainsail, we're flying.
This morning the sun really came out. It was cloudy from the day we left. When I came on watch, John wanted to use the spinnaker. We motored all night. The wind was just under 8 knots and going downwind the sails would not stay full.
It took some time to find the best trim but we got it working and it sailed great! The wind helped by picking up a bit and now we're doing 5 knots over the ground 🙂
Alex set up a 3 hour watch system for the four us. My watches are 9 am to 12 noon and 9 pm to 12 midnight. However, we stay in UTC all the time, so as we move west it changes over time. My watch is actually from 7 to 10 local time now. It's a different schedule than I'm used to, but I really like it.
Since the sun is shining today, we can also take some sightings – 🙂 Alex has brought his sextant and downloaded the relevant pages of the almanacs. That will be fun! I really like to get the hang of it again. I'm afraid I'm a bit rusty on that one.
Position 16:27.195N 038:05.388W, Friday January 28th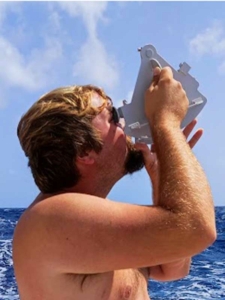 We are doing great!
We all get along very well and enjoy the sailing. The weather is beautiful, both at night and during the day. Without a moon, the stars are amazing.
When I came on deck for my morning shift yesterday, I saw what looked like a big wave crashing. But then a large dark object came out of the water and disappeared again with a big splash. It was a whale! I called out to Nicole who was on the foredeck and then he breached again and again. She went to get John but alas, the whale was gone.
Today Ian saw a geyser and yelled 'whale'. The next moment he breached just 30 meters in front of us!! Unfortunately I was below at that time and when I got on deck he'd left. I did see the turtle though. We almost run over it. He looked up from the water and seemed to be waving at us with one flipper, or was he just telling us to get lost :-/
We take sightings twice a day. Alex, Ian and I work out the plot after dinner, if we're not all on watch. The first time, it took us a lot of time to work out the plot. We put the long numbers in the lat box, but when we figured out what we had done wrong, we were only 11 Nm off. The next day we were 9 miles off and yesterday only 2.5 Nm. That's very accurate!!
After dinner and plotting the sights, the three of us watch a movie. John has downloaded a bunch of  movies. We watched the Bourne's. I couldn't finish the second. It took us too long to work out the plot. So half way through the movie I had to go on watch. No problem, I've already seen the movie.
I am very happy with my watch starting 9 am and pm. Since we are still at UTC, the local time is now 7 am and pm when my watch starts. That means I can now see both the sunrise and the sunset-:)
John also has a DVD package with a complete meteorology course. John, Nicole and I watched the first few lectures yesterday. Very interesting!! However, the professor presenting the courses is quite monotonous and boring. First Nicole, then John fell asleep and just before I fell asleep too, I turned off the TV. We'll see the rest another time 🙂
At night we only fly with the jib heading the north of the rumbline. Most nights the wind increases to 20-25 kts, giving us a SOG of 5 to 5.5 kts. In the morning the wind decreases again. Then we gybe and fly the spinnaker, which gives us a SOG of 7.5 to 8 kts!
Over the past few days we did just over 140 Nm in 24 hours. So tomorrow we'll hit the halfway mark – 🙂
Position 15:47.703N 042:39.600W, Sunday January 29th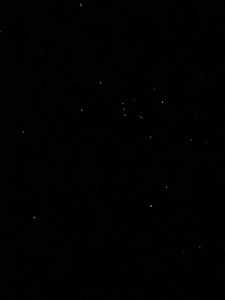 The other day we damaged the spinaker and we had to take it down. We motored during the day but then the wind picked up a bit and since then we're running on the genoa; 20-25 kts winds and 5.5 kts SOG on average. That's really nice and although we lost some miles while motoring, we wouldn't have flown the spinaker over 12 kts AWS anyway. So it doesn't affect us that much.
The sail has been fantastic so far and we all enjoy it very much.
I took some pictures of the stars during my watch the other night. They are so bright that even with my phone and some adjustments of brightness and the like, they came out very nice 🙂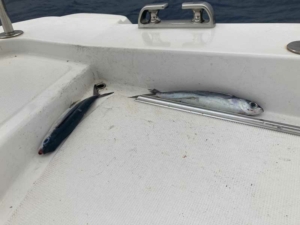 Every morning we have to clean the decks from at least a half a dozen flying fish. A couple of times I could rescue one when I heard it flapping on the deck and last night on woke me up flapping on the deck just over my head. It didn't stop so I got out and tossed it back in the water.
Position Sunday 15:04.611N 043:51.788W, January 30th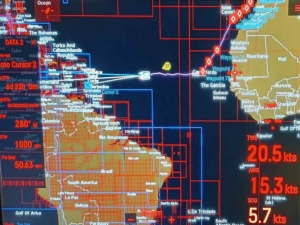 We are now officially halfway, 993 Nm to go. Around noon we'll have a half way party. I brought a bottle of champagne and now Nicole is cooking the rice for sushi. We still have half of the Mahi-mahi we caught the first day and we hope to catch a tuna this morning. That would be really great 🙂
At noon we had a glass of champagne. According to some strange American custom, Ian, John and Nicole put a splash of orange juice in their champagne. And they even drank it too… weird people those Americans.
John had made a paper hat for all of us with an appropriate text on it. I was the father of the boat 🙂 Then Ian sang a song for us on the foredeck. Just when he couldn't remember the lyrics any further, the spindle of the rod went crazy. We caught a fish! We stopped the boat to bring it in. That was not so easy. He was quite strong and did not cooperate at all. So we let him go every now and then to tire him out. It turned out to be a huge Mahi-mahi. John hooked it up and then just as he got it on deck the fish managed to free himself and was gone… hopefully we didn't hurt him too much and he will recover from any wounds.
We had another drink and then we went for lunch. John made amazingly good sushi rolls and sashimi from the fish we caught earlier. With avocados cucumbers, spring onions wasabi and of course soy sauce, we had the most fantastic lunch!
Then we all sat on the bridge enjoying the sail and then the spindle went crazy again! This time it was a yellowtail tuna. Luckily it wasn't too big and this time we really caught it. Alex and Ian ate heart for some traditional reason… the rest of us enjoyed the freshest sashimi imaginable.
Sometime later Nicole some very large shadows in the water… whales! They kept swimming with us for almost an hour. They never really breached, but from the bridge we could see them clearly. Later, Nicole checked and found that it must have been Minke whales. They are quite common in the North Atlantic. Anyway it was a great experience!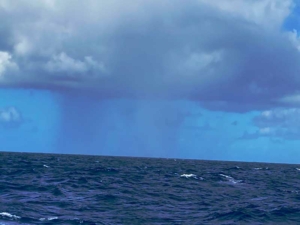 Later that afternoon Alex saw a squall coming our way. That was a very good experience, especially for John and Nicole. Alex explained what to expect and what to look out for. We reefed the jib. Not long after, the wind picked up and it started to rain. 10 minutes later it was gone and we were able to shake out the reef again.
Later, about half an hour into my watch, I also saw some dark clouds and could see the rain. John and Nicole were still on deck, so now I could tell them what to watch out for at night. We reefed again and just before the rain hit us and the wind veered considerably. Since the autopilot was on the windvane, I showed them how the boat looked after itself. Again, it only lasted about 10 minutes. Still, I was able to show them the dynamics of these types of systems. When it was over, the wind backed and the boat was back on course.
All in all this was a great day. All things happening on a single day, a special day even, halfway day. I will always remember this day, as we all will.
Position 15:06.206N 050:04.610W, Thursday February 2nd
Today was a repair day. The other day we noticed that the code 0 halyard had chafe marks, so we went up the mast to check it out. John went up the first time and noticed that the casing was damaged. So we decided not to fly the code 0 anymore. Later Alex went up and took some pictures. It showed no serious damage.
The next day John went up for the second time. The pictures he took were out of focus, but did they show some white areas of the core? We decided to fix it with some duct tape. This time Ian went up. He also took some pictures and for some reason the chafe marks had worsened. We hadn't used the halyard in the meantime?
Anyway, we fixed the halyard and rigged the code 0. When the wind picked up, we went wing to wing. That really made a difference in speed.
Just after dinner, John was on watch, the boat began to spin. It turned out that the connection to the starboard rudder had come loose from the hydraulic cylinder. How he managed to do that is still a mystery. It took John and me quite a bit of time and effort to fix it. We drifted half a mile, but in the right direction.
Later when I came on watch there was an AIS alarm. I turned it off but it kept going off every few minutes. I had no idea what it was, but when Alex came on deck he saw a 'boat' following us. Even up close. So close that you could only see it if you zoomed in to the maximum. It wasn't another boat, it was us! The AIS information showed a SART. A personal beacon from one of the life jackets was activated. We woke up Ian, his vest was fine. Then we woke John up and it turned out that Nicole's beacon was accidentally activated. When John turned it off, the alarm went off and everything was back to normal.
Time for me to go to sleep.
Position 14:36.487N 053:15.371W, Friday February 4th
Today is a bit of a boring day. No winds, no sailing, motoring all day.
The weather is beautiful though. After another great lunch made by Nicole, a pot of dolphins came by to greet us. That was fun. Obviously they liked it too, some jumped out of the water. After about 10 minutes they were done and left.
I miss my iPad. These are typical 'reading' days. Alex was kind enough to let me use his Kindle. I started reading the Celestine Prophecy again, nice!
Yesterday we were really making miles with the code 0 and the jib until the wind died. Alex, Ian and I were having a lovely meal again when John decided to hoist the mainsail to gain some speed. That surprised us a bit because then we would have to steer a course way of our rumbline. John wanted to do that with Nicole since they would be on their own soon. That didn't quite go as planned. Just minutes after we heard them hoist, Nicole came down to get us. The foot of the mainsail was ripped from the luff almost all the way to the mast. It took us an hour or so to get it furled into the boom again.
After the job was done, John told me this was the second time the main had ripped, basically in the same spot as this time. So we've lost two sails out of four now, but we've got two engines now and doing a little over 6 kts. With this speed it is still 2.5 days to Barbados.
Position 13:34.109N 058:30.293W, Sunday February 5th
After 2 whole days and nights of motoring, the wind finally picked up enough to set sail again. That is, for most of the day. In the afternoon we had to start the engines again to maintain a decent speed.
We are getting close now, about 70 Nm still to go. Nicole called the marina in Port St. Charles on the satellite phone to let them know that we would be docking around 7am. They told us they would have a slip but they had closed the customs office there and we had to go to Bridgetown to clear customs. Port St. Charles is located on the north side of Barbados. Bridgetown on the south side. So we changed course.
Due to our change of course, our CPA with Daniëlle, a vessel we previously saw on the ais, was now less than half a mile. Since Daniëlle only did 2-3 kts SOG, we thought it was a sailing vessel. We couldn't see any sails though.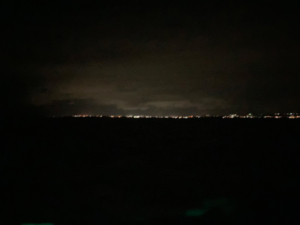 Then they called us on the vhf and when we finally saw her, it was a rowboat! They had rowed all the way across the Atlantic. They had been at sea for 40 days and now hope to enter Barbados on Tuesday morning. Wow!! I'd heard of people doing that, but never seen it in real life. Ian suggested we give them a beer, but I don't think that would do much good for the rowing… Instead, we applauded and cheered them on. Soon after, they disappeared from the ais.
As the sun set, we saw the first sight of what must be land. Just above the horizon there was a small strip that didn't move like the waves. Barbados was in sight!
Barbados, Monday February 6th
Monday February 6th at 8:45 AM we reached the Bridgetown harbor entrance. We were instructed to dock close to Nieuw Statendam, a huge Holland America Line cruise ship that we'd seen coming into port an hour earlier.
There we had to wait for the doctor. He would be in sometime this morning and come to the boat to check on us and decide if we should take a Covid test.
While waiting we did some jobs on the boat and removed the mainsail that needed repair. We also checked the flights for the trip home again.
Sometime later the doctor came and went through all the papers. He acquitted us all. Ian, Alex and I had to do an antigen test anyway. We needed it to fly home. After we were cleared, John and Nicole had to go to customs to check us in and we were allowed off the boat.
Alex and I would fly together to London Heathrow from where I would fly on to Amsterdam. I could have traveled through Trinidad too, but the Covid paperwork I had to go through was too massive..
Our flight was scheduled at 9.05 pm and since we had to be at the airport for 3 hours, we disembarked in Bridgetown. Ian's flight was due to leave the next morning.
Once all the paperwork was done, passports stamped and fees paid, John, Nicole and Ian left for Port St Charles and Alex and I went into town for lunch and a drink.
It took a while at the airport, but everything went well. After we checked in, boarded the plane and sat in our seats it didn't take long for us both to fall asleep.