Stealaway, Jeanneau 43; Antigua – Gran Canaria, June – July 2023
Crossing the Atlantic eastbound with a detour to Bermuda
Flying out to Antigua, Monday June 5th 2023
Rutger, my eldest son, and Eveline got married last Saturday. Of course I had to fly home from Tahiti for that as well as my own 10-year anniversary May 5th.
Pending my surgery in which a new tumor will be removed, a nice opportunity did present itself: the delivery of Stealaway, a Jeanneau 43 from Antigua to Gran Canaria. Departure asap due to the approaching hurricane season.
Monday I got on the plane, left at 7 am and by 7 pm (local time!) I got on the boat.
Noah, one of the crew members had already arrived that Sunday. Manot, the other crew was supposed to arrive on Tuesday but it ended up getting there on Wednesday.
That was no problem because Stealaway was nowhere near ready for departure. Without sails, sprayhood, bimini etc, she was in Catamaran marina. Fortunately, preparations ran smoothly with the help of Richard, the agent of Hedley, the owner.
Finally, we left on Thursday,  June 8th. I had decided to sail to Barbuda first and anchor there as a sort off trysail.
.
Friday, June 9th; position 18:16.887N 61:58.515W
8 am we left Barbuda. First we sailed a bit back to get clear of the reefs around the island. The wind was due east so left the island west of us.
It was a beautiful day and also a nice breeze. The wind gauge even showed 30 kts.
Along the west coast of Barbuda, we sailed due north. A nice beam reach that we hope to hold for the next few days. On this course and wind, we're doing 7.5 kts SOG. That's a perfect speed.
The plan is to head east somewhere around 30 N. Then we should be able to pick up the westerlies and sail north of the lulls of the highs indicated by the weather charts.
We'll see. We have no satellite connection to download grib files but we will get updates from Sven via my Garmin-in-reach.
Saturday, June 10th, position 20:01.901N l6:59.523W
The first night was very pleasant and quiet. Manot had made dinner and at 7 pm we started the watch system. I took the first one, Noah the second while I slept in the cockpit, Manot the 3rd and I the 4th again.
Soon after Manot got off watch, he came up again reporting that we must have a diesel leak because his cabin smelt pretty bad.
It didn't take very long to find out where that was coming from. It was the generator. There was about a liter of diesel in the locker where it was placed. Luckily in the cockpit and not downstairs. Also luckily we had heeled to port so far and the diesel had stayed in one spot which I could clean up reasonably well. The stench will stay for a while I'm afraid.
Anyway, we won't use the generator anymore. It didn't give that many Amps anyway. Next time we will start the engine to charge the batteries.
Apart from the diesel leak, we also found a water leak. We soon found the cause of that too. It turned out to be the seacock off the toilet outlet. Fortunately, the leak was after the valve. We'll just keep that shut and only open it to flush the toilet.
Anyway, never a dull moment.
Sunday, June 11th, position 22:14.297N 62:18.400W
A lot has happened again since yesterday. We found out that the control unit of the solar panels and the wind generator isn't working and therefore the batteries don't get charged.
It took some time but finally I found that the output cables of the control unit were both connected to the positive pole of the batteries. That obviously won't work. Problem solved…. unfortunately not after all.
Something is wrong in the unit. It shows 19V on the input from the solar panels but only 0.1V on the output to the batteries. Obviously the faulty wiring fried the unit somehow.
We really do need the solar panels and wind generator for the crossing. We don't have that much diesel. So I decided to make a stopover in Bermuda and get things fixed. That is only a slight diversion and, based on the weather forecast, it looks like we need to sail north of Bermuda anyway to pick up the westerlies to head east to the Azores.
There is this minor issue… we have no charts of Bermuda. However, Richard from Halcyon will send us a route with waypoints so we'll be fine. Getting into Saint George's is not that hard and I've been there before with Penelope.
In the meantime, I found the e-mail address from the supplier of the control unit and contacted them  with the problem. Since it is Sunday, I expect we won't get a response until tomorrow at the earliest. Well, we'll still be on the road for a few days before we reach Bermuda.
I am very happy with my Garmin and my unlimited data plan, though. Without Garmin, we would have been in quite a mess.
Tuesday, June 13th, position 25:29.529N 62:54.140W
Noah has decided to disembark in Bermuda. Not really surprising. This is his first serious sailing trip and I already noted that he had a very different idea of it all.
He is a very nice guy but has no clue whatsoever of sailing or life on board. He also still feels very wobbly after four days, cannot sleep in his cabin and consequently lies in the cockpit all the time.
Obviously you don't get to sleep there very well. Except during his watch last night, then he fell asleep. Now that we are making a stopover in Bermuda, he decided to step off. I feel sorry for him but sailing is just not his thing and if he hadn't decided to step off himself, I would have had to let him go. Crossing the Atlantic is a serious thing especially eastbound and surely he wasn't ready for that as crew.
Wednesday, June 14th, position 28:08.345N 63:02.769W
The weather is beautiful with light winds. Before, we still could motor-sail, now we have been motoring for two days straight. Well, you can't have it all.
Yesterday, it looked as if the engine also had enough off running all the time. It started to run quite irregularly. This can have several causes. Given Hedley's suggestion to pick up some extra fuel filters before leaving Antigua, the first thought was to replace the fuel filter.
We killed the engine and let it cool down a bit and in the meantime we unfurled the genoa for a bit of stability. We actually did 2kts SOG.
Anyway, once the engine had cooled down, the fuel filter was easily found. It is at the very front of the engine. The new filters that were already on board turned out not to fit. One was a completely different type, the other had a thread that was too small.
The extra filters Richard picked up for us just before leaving Antigua had the right thread but were just too big in diameter. After first disconnecting the fuel lines, we eventually managed to get the new filter on.
Using a syringe from my first aid kit, we were able to fill the outgoing fuel line with diesel before connecting it again. The rest we could bleed with the pump on the filter housing. All in all, it was quite a job, but in the end it worked fine and most importantly: the problem was solved. The engine ran like clockwork again.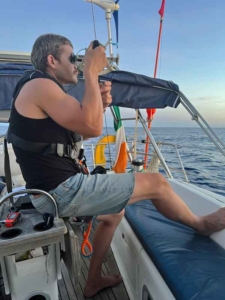 Manot has taken sun sights for a few days now. He brought his sextant and he needs to take sights for his Yachtmaster Ocean ticket. Taking sights goes well in itself and he also manages to work them out quite well. The difficulty lies in plotting. Because of our lat and long, the lines that have to cross for a fix almost run parallel. With the slightest inaccuracy, you are then just 40Nm further off.
To avoid this, he took a number of star sights last night. That's an art in itself but if you prepare well, and he certainly did, it's quite doable. He happened to have the sunset – sunrise watch so that worked out nicely timing wise. Now we have to wait and see how the plotting works out 🙂
Meanwhile, I also got word from Halcyon. They have a replacement for Noah. Ben, he will arrive in Bermuda on Monday afternoon and he will also bring a new control unit for the solar panels and wind generator.
Friday, June 16th, position 32:06.858N 64:24.078W
Since yesterday morning we're sailing again. The wind has picked up considerably and in the afternoon we had over 20kts. Just in time, the engine started running irregularly again and it looked like we had to replace the fuel filter again. With the wind came the clouds or rather the other way around. And with the clouds came the rain. What started with some drizzle turned into some heavy downpours.
When it stopped raining, Manot, assisted by Noah, changed the fuel filter. That indeed turned out to be the cause of the irregular running of the engine.  Replacing took only 10 minutes this time.
Later in the afternoon the sky got darker and darker and it started to thunder. It stayed at thunder at first. The lightning was above the clouds. After dinner that changed. I had the first watch when it really started to thunder with torrential rain and wind gusts up to 45kts. We already had furled the main away and on a reefed genoa were doing 7-8kts SOG on a broad reach.
Under these conditions, I decided that Noah would stay inside. Manot took over his watch.
At 1 am it was fairly calm again, calm enough for Noah to do a wacht until I came back on deck at 4am.
By sunrise, the world looked totally different. It was nice and sunny again but a lot cooler. We were clearly in a different weather zone.
The wind was holding up nicely, 20-25kts. With this wind, we got into Saint Georges around 2 pm. So far we sailed just over 800Nm covering about 500Nm to the Azores leaving us another 1300Nm to go.
As the day progressed, the ocean turned calmer and calmer, almost like a mirror. I'd never seen it like this before. Sunset was amazing!!
    Saturday, June 17th, Saint Georges, Bermuda
By 2:30 p.m. we got to the safe water buoy. An hour later we moored up at customs. The entrance was pretty straight forward. We didn't have a chart of Bermuda, which was not very convenient, but Richard from Halcyon had sent me the coordinates of the safe water buoy. Also, I had been there before with Jay and Elliott when we sailed Penelope back to the UK.
After clearing customs, there was one spot left in the 'marina', right across customs. The marina isn't much but the alternative of anchoring was not very tempting.
It is very special how quickly you make contact with the other sailors. As soon as we moored up they walk by to have a chat.  One of them, Jason, really impressed me. He was sailing his 30ft boat with a 4hp outboard, only 200Nm away to complete his solo circumnavigation.
Much less impressive was the 'carnival' that apparently had 'erupted' Friday. Where was somewhat unclear. We guessed Hamilton would be the place to go. We took the bus and 40 minutes later we got into Hamilton. A nice ride to see something of the island but once we arrived there was no sign of any carnival whatsoever. According to a local it was cancelled because of the chance of rain! Later when we went for dinner, the festivities turned out to be somewhere on the opposite bank of the bay and the tickets would probably be sold out.
Oh well, Hamilton itself was nice to walk around for a bit. After a while we decided to go back to Saint Georges because we had seen them building a stage there. Once back, there was indeed a 'party' going on there. A party that did not remotely resemble what you would expect from a Caribbean carnival. It was more like a "cozy" evening at a retirement home. It also was an elderly person who was the only one doing his thing on a very large empty dancefloor.
Meanwhile, it is still unclear whether we'll leave on Tuesday. There is a disturbance that could possibly develop into a hurricane and according to one weather model it would cross our route to the Azores. Oh well, we still have a few days to see how things develop.
We also have a few things to do on the boat. Manot has serviced the port winch and it works great again. The hinges of the hatch above the sink are rotten. That can be fixed, but we need some stuff from the hardware store, which is closed on Monday because of a national holiday. And of course we also need to install and check the new control unit for the solar panels and wind generator.
Anyway, if all goes well, we'll probably be leaving Tuesday afternoon.
Sunday, June 18th, Father's Day
Father's Day appears to be a thing here. Yesterday's stage is used again, first by a new band and afterwards by the same singer + repertoire as yesterday. After he finished, the Whitehorse, the restaurant opposite the stage, turned their music up to max volume
Tonight however, it's way more crowded. The entire population of Saint George's seems to have come down to the square and they all are clearly having fun.
The nice thing is that wherever I went, everyone's wishing me a happy Father's Day.
The celebration was preceded this afternoon by a religious gathering in the square. I missed the what and why but it's obviously an important event for the locales.
This morning I went for another walk. I walked past the 'Tuckers house' a perfectly maintained house that's been there for over 400 years. It was open to the public and it was very worthwhile. The whole house including all the original furniture is in perfect condition. A little further down the road, the local museum also was open. That too was very interesting. Much less artefacts but it showed a nice overview of the history of Bermuda.
What also stands out is the exceptional friendliness of the locals. Almost everyone also says hello when you meet on the street. Really very nice!
            Tuesday, June 20, position 32:48.903N 64:24.622W
By now it is clear that TD Bret will stay way south of us on a westerly course. No more danger of Bret crossing our path to the Azores and at 12:15 pm we left Saint George's Bay.
The day before around 9 p.m. Ben had come on board. Ben is just a little older than Noah, 20, but has a lot more knowledge and experience. We had a click right away and I have a good feeling about it.
Before leaving, we got some last mostly fresh things, fixed the hatch and, of course, installed the control unit. Fortunately, it worked well right away. There was also some paperwork with the authorities and of course fueling up.
We set a NNE course and will maintain this course for the next few days. The plan is to turn east  at 39-40N. This way we hope to get a favorable N or NW wind and bypass the calms of the high.
We're having a sort of slow start. With only 9kts of wind we are doing 3-4kts SOG but, as long as we are still moving forward we want to keep on sailing. With only 340L diesel we have fuel for max 5 days of motoring and we will need it if we run into a serious calms. As it looks now that may very well happen next week. The Azores high is at a much higher latitude than usual. Oh well, we shall see.
Wednesday, June 21st, position 34:02.375N 63:25.308W
Today is the longest day and indeed it was a long day. The autopilot broke down. The unit on the pedestal went completely ballistic. The thing just started beeping without any obvious reason. The kind of beeps you hear when you adjust your course with one of the buttons. The beeping went faster and faster, as if someone was holding the button down all the time. Consequently the autopilot course also changed all the way to maximum rudder angle. Then the whole system froze and none of the buttons worked anymore including the 'standby' button.
Finally we killed it by switching off all instruments on the panel at the nav station. Only then we regained control of the steering again.
Switching everything off and on again seemed to have reset the system and it worked again but at the end of my watch the exact same thing happened. This time switching it off and back on didn't help. We ended up handsteering all night and it looked like we'll have to hand steer for the whole crossing. In itself, handsteering is not so bad, as long as it is by choice. But now…. we changed the watch system and are now also doing watches during the day.
Next day we spent pretty much all day trying to get the thing working again. Without success, unfortunately. I also called in Hedley, the owner and Richard from Halcyon. Tomorrow they'll check with the engineer who installed the autopilot. Hopefully he's got some suggestions to get it working again.
In the meantime, the weather is real nice but not too much wind as predicted. We try to sail whenever the wind picks up a bit to save as much fuel as possible. After all, 340L is not too much.
Thursday, June 22nd, position 36:03.518N 62:21.283W
We sail most of the day but keeping up the speed is a challenge. With 7-8kts true wind on a clause hauled course we have some more apparent wind and we sort of manage to do 4-5kts SOG. Other times we have 12-15kts true wind and then we immediately do 6-7kts SOG. With a bit more wind she sails very well balanced. Which is nice since we still have to hand steer.
Despite Hedley's and Richard's efforts, we still have no input from the engineer. Oh well, on my first crossing we hand steered the whole way just because we wanted . Then again there were four of us and now only three.
Anyway, the weather's still nice, sunny and not too hot. It's definitely getting cooler since we getting into higher latitudes.
Last night we were visited by a pot of dolphins. Dolphins are supposed to bring good luck. Hopefully tomorrow we will hear more about a solution for the autopilot 🙂
Saturday, June 24th, position 38:17.866N 58:53.117W
The last couple of days we have had a nice breeze and also from the good direction. We're pointing east now steering fairly directly towards the Azores.
If we can hold this pace of 6-7kts SOG we'll get there in 8 days, according to the plotter that is. That'll probably turn out too optimistic but it is good for morale. Another 3-4 days and we can celebrate halfway. That always turns out to be a turning point in the sphere on board.
Sunday, June 25th, position 38:39.046N 55:40.187W
It was a hectic morning. Just as I was about to take over form Ben at 7pm, out of the blue the bow thruster turned itself on. We were able to shut it down with the main switch just in time before it overheated. It turned out that some 40 liter water had come under the floorboards in the forward cabin. That somehow had engaged the bow thruster.
It was salt water and upon further investigation it appeared to have come in from the anchorlocker, at least from above the waterline and not below. Hedley revealed later that it had also happened to him before. It turned out that the drains of the anchorlocker were not 100% watertight. Well, it was a bit scarry at first but nothing serious is broken. We'll keep an eye on it and check every day to see how much water is getting in.
The good news is that we finally got a suggestion from the engineer and we got the autopilot working again Yeee!!! The motor phase setting had to be switched from A to B. anyway this was a great relief and the sphere on board immediately got a lot better.
All in all we do have a perfect sail so far which we all enjoy. Nice weather, nice breeze most of the time, good speed pointing directly to Horta!
What started as a hectic morning ended in a perfect afternoon. And to top it off, Manot made a delicious burrito with chicken, rice and lettuce for lunch.
Monday, June 26th, position 38:39.559N 51:20.500W
We're flying! On a beam to broad reach with 20kts wind, a reefed main and a full genoa, we're doing 9kts SOG on average since last night. Its really amazing how fast she goes. The slight sea state and a perfect sail trim obviously also helps.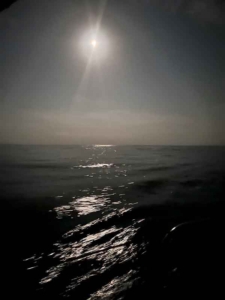 The weather still is beautiful. Apart from some high veil clouds in the north it is almost cloudless. Last night was also bright. When I came on deck at 1am I took the bimini down and enjoyed the most beautiful starry night. We are a lot further north by now and the air here is fresher and consequently brighter than in the south. That makes it even more beautiful. With my new phone I managed to take some nice pictures.
The leakage through the anchor locker drains is not too bad. This morning about 10 liter of water appeared to have come in.
When I checked this afternoon we had covered just over 800Nm since  we left. 800Nm in 6 days is very nice. Another 150Nm and we'll be halfway. If all goes well that'll be tomorrow evening, a day sooner than I thought. Nice champagne moment!
Tuesday, June 27th, position 38:04.791N 47:42.589W
This morning we made our half way mark!  More than a day early than I had thought. That was a memorable moment that we celebrated with champagne. In the afternoon we also reached the 1000Nm mark, double celebration but with the same bottle -:\
However, since this morning we have been motoring. The wind dropped and backed, steering downwind the apparent wind decreased to less the 5kts. We are now pointing a little south of the Azores. According to the forecast a front wil pass us tomorrow. That'll first give us easterly winds veering to southeast after it passes. By steering a little more south we can point northeast later and then – hopefully when we on the latitude of the Azores – we can steer east again.
Oh well, we'll see, for now we are making fine progress, half way in exactly 1 week is better than expected!
Thursday, June 29th, 1:15am, position 37:55.952N 45:16.593W
The front has since passed. As a front, it wasn't too bad in the sense that we hardly got any rain. Other than that, it was quite turbulent. 35kts close hauled is not very comfortable.
Before, during and after the front passage the wind shifted urned quite significantly. Initially we steered SE, but after a while we even steered 170°. We had to tack because the course to steer to the Azores is 80°. That went well for a couple of hours until we were close to steering almost north. So we had to tack again. Right now we are steering 120°. Hopefully tomorrow the wind will veer some to the SE and we can tack again and point to the Azores again.
It was my turn to cook last night. That was quite a challenge given the sea state but I managed to surprise the crew with nassi. That was extremely appreciated!
Friday June 30th, position 36:19.173N 42:48.721W
The wind stayed the same. It was a bumpy 36 hours. With a heavily reefed main and a reefed genoa we managed to keep up the speed in the boat despite the waves. They waves regularly came over the for deck and the front windows in the saloon appeared to be leaking heavily.
We  previously noticed that the sealant had dried out considerably and that one of the screws of the starboard window got loose. Ben had already tightened the screws and put gorilla tape over the seams, but that didn't really stop the leaking.
Checking with Hedley revealed that all windows for his crossing had been reinstalled and sealed in 2019. Three years on the hard in the tropical sun and everything obviously wrecked the sealing . My impression is that they used the wrong kind of sealant. It doesn't look very professional either. Anyway, we'll have to see further in Horta.
Later the wind has decreased  somewhat and the sea state also got a lot friendlier. We're still steering SE. According to the latest information from Sven we're getting close to the center of the low now. There we'll hit a calm and the advice is to motor east until we get the southeasterly winds. If we'd head up too soon, we'll have easterly winds again. Thank you Sven for the great shore support.
Saturday July 1st, position 36:14.532N 40:23.115W
The wind changed a bit earlier than expected and so we were able to point directly to Horta again.
From time to time we had to get some more revs on the engine to  maintain the pace. We want to do at least more than 4kts SOG.
The ocean is completely flat again except for a slight swell. Although we saw a few heavy showers on the radar last night, we were spared most of the rain.
We mainly spend our time reading. Manot takes  several sights every day and then spends an hour doing the calculations. He manages to do that quite well and is usually less than 5Nm off.
With the wind expected to pick up later today, Ben and Manot had their Mid-Atlantic swim in the afternoon. I'm never very enthusiastic about that, but so many people do and it clearly was on Ben's bucket list. To keep morale high, I agreed. That was a great success.
Sunday July 2nd, position 36:54.231N 37:48.522W
We are motoring. No wind of any significance and the expectation is that it will remain that way until Horta, another 425Nm. At our speed of 4.5kts SOG that is almost 4 days.
The problem is that we only have diesel for three more days at most, maybe a little more, but definitely not enough to get there.
Every now and then the wind picks up a bit and we quickly trim the sails. So far that didn't last very long and we barely made 3kts and not quite in the right direction.
One time we had a heavy shower with an accompanying wind of 25kts. At 7kts we flew almost over a totally flat ocean in exactly the right direction. Unfortunately, that also lasted for 15 minutes and the wind dropped again to < 5kts straight on the nose. So it was back to motoring.
In the meantime, the weather remains very nice. It is mainly sunny with some cumulus clouds here and there. That produces very nice photos.
The atmosphere is otherwise good. We have enough to eat, although it would be nice if we could catch a fish. Yesterday afternoon we suddenly had a pod of tuna swimming near the bow. Small ones, but big enough for us. They swam with us like dolphins normally do. Of course we tried to catch one. You could see them go for the lure a few times, but missed. One time I actually had a bite but the real blocked and he let go again. Anyway, it did show there's indeed fish here.
Sunday July 2nd, position 36:54.231N 37:48.522W
Tuesday, July 4th, position 38:12,295N 33:49,499W
After 36 hours of motoring we're sailing again. The weather is fantastic with an almost cloudless sky. 10-15kts of wind clause hauled we're doing 4-5kts SOG on an almost flat ocean.
It's still 250Nm to Horta. We'll get there sometime Friday.
In the meantime, there has been a change in plans. I have decided to step off in Horta. I have to be home on July 17 for a CT scan in preparation for surgery a week later. From Horta it is still 900Nm to Gran Canaria (as the crow flies) and there is a good chance that I won't make it.
I've always told others that sailing with a deadline is a recipe for disaster, so I shouldn't do that myself. Moreover, I have now been at sea for 5 out of the 6 months this year. When I realized that, I also realized that the balance with my time home is lost. And that was the deciding factor! Manot will take over from me and a new crew comes on board in Horta.
Too bad, but so be it. Time for a different choice, in the interest of my family back home and my own health. Fortunately, Ben and Manot responded very well to this. Previously I had  discussed this possibility with Manot when we had to stop over in Bermuda.
Manot and Ben form a good team and I'm very confident they'll manage perfectly.
Wednesday, July 5th, position 38:17.070N 30:37.035W
Only just under 100Nm to go. This will be our last night at sea.
Yesterday and today were really fantastic sailing days. 10-15kts on a beam reach, hardly any waves doing 6kts SOG with a bright sky, what more could you wish. It was really enjoyable!! In that respect, it is a shame that the trip for me ends in Horta.
Today we again had a pod of tuna swimming next to the boat. Unfortunately, they didn't pay any attention to the lure behind the boat.
Yesterday we also saw some whales, not very big and we only saw the dorsal fin from time to time. Later I thought they might have been sharks because I didn't see any spouting. The again, Mink whales don't have an impressive spout either. Anyway, it was nice to see them.
Tomorrow around noon we'll arrive at Horta. That's nice, it gives us some time to arrange things and I can also check us in properly. Let's hope they have a berth for us in the marina.
I now have confirmation that there will be a new crew. That will be Saturday or Sunday. Depending on the weather they might sail on Monday morning.
Thursday July 6th, Horta, Faial
We arrived in Horta at 2:30 pm local time. First we moored at the fuel pontoon. The fuel guy was still on a lunch break and in the meantime I was able to check in the boat and crew.
Fortunately, there was still a spot in the marina where we were finally moored after refueling around 5:00 pm.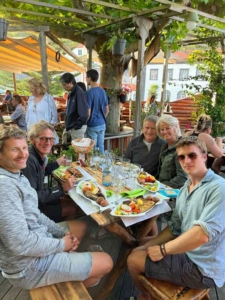 After cleaning up we of course went to café sport for a nice drink. There we met Steve and Margaret. Steve got into Horta just after us. We'd seen his boat Dream Weaver on the ais for a while and we wondered why she was doing only 0kts from time to time. It turned out that Steve had sailed solo from Bermuda to Horta, but that some things had broken along the way, including the autopilot. Irreparable in his case. That delayed his crossing quite a bit. At night he heaved to to sleep. In the end it took him 31 days, a record. According to the customs officer. in the 20 years he worked there, the longest he ever recorded was 28 days.
Anyway, we started talking, of course about his experiences, but later it turned out that he had worked as a scientist and photographer in Antarctica for almost 30 years. Enough food for conversation.
Saturday July 8th, flying home
Friday we did some work on the boat, fixing the drains of the anchor locker and temporarily re-sealing the hatches.
I left Saturday early afternoon. All in all it was a very nice sail and completely different than before. Again I learned a lot.