Penelope. Hallberg Rassy 35; Hamilton Bermuda – Horta Faial, Azores, June 2022
Crossing the Atlantic eastbound on a 35 footer; avoiding Alex, the first named storm of the season; a great 22 days sail!
Flying out to Bermuda, Thursday, June 2nd 2022
.
My flight to Hamilton was scheduled for 12:15. For a week or so, there have been some persistent stories on the news of people waiting hours and hours to get through security checks at Schiphol, missing their flight and all that. Two days before my departure there was also the story that if the airport did not come to an agreement with the union, the people who handle the luggage would go on strike on Wednesday. Luckily that didn't happen and I was on time to catch my flight.
Funny, when you consider what it takes to fly somewhere, the schedules, the documents, forms to fill out and whatnot. And then there's the sail back, no stress, no deadlines, nothing but the wind, the ocean and the days that go by. The difference couldn't be greater.
Anyway, I was in time to find out that the gate had changed and the flight was delayed by an hour. When we finally boarded, the announcement came that facemasks were still mandatory on Canadian Air. Not at the airport or anywhere, just on the plane. I don't think they are the fastest at adjusting procedures. An hour or so after taking I got THE question; chicken or pasta…
Bermuda
The flight was okay. A little bumpy at times, but I got quite a few hours of sleep. Just after takeoff, I got an email from Canadian Air telling me to pick up my luggage in Toronto. Hmm…, when I checked in I was told that my luggage would proceed to Bermuda. If I had to pick it up in Toronto and check in again, I would never make it to my connecting flight. The cabin crew was assured that everything would be fine and that my luggage would be taken care of. Nevertheless, they told me to check with the staff at the gate, just to be sure. I did and all was well.
I got in Bermuda right on time. After showing all the documents, some even three times, paying the departure tax, I got a taxi to the dinghy club where I was to meet Jay and Elliot. When I arrived I immediately found them . Jay had ordered me a burger and salad, assuming I'd like something to eat. How nice and what a great welcome!! We chatted for a while and we clicked right away. Around 10 pm we went to the boat and had a last drink before going to bed.
The next day Jay showed me around the boat and I unpacked my stuff. Then we discussed the departure plan. They had been monitoring the forecast and a storm was expected on Monday or Tuesday. We could either stay a few days to wait it out or leave the same day. If we then sailed south for two days, we would miss the storm itself and could sail east on its south side. We chose the latter. Jay and Elliot had already made all the preparations. All we had to do was sail to St. George's to refuel and check out.
June 3rd, 3 pm we slipped the lines heading south.
The weather was fine but not much wind. So we motor-sailed through the night.
Next day the wind had picked up just enough to set the sails and kill the engine. On a broad reach it was quite a rolling day. Oh well, a nice way to get used to the boat. Later that day the wind picked up a bit more and veered. That gave us a nice beam reach and some more speed and a way more comfortable ride. We'd checked the weather again. There were two models. One showed the storm coming in on Monday on a easterly track, the other sat for Tuesday on a north easterly track. We decided to go by the first one for now as the worst case scenario. Meaning we kept steering south until we'd downloaded the next forecast next morning.
Monday June 6th, position 28°59.16N 61°14.46W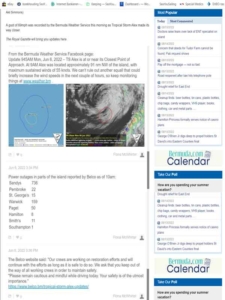 We sailed south for 2 days. That was just the right call. The storm intensified and became the first named storm of the season 'Alex', giving Bermuda gusts of more than 60 kts.
As we sailed down, we got a call on the radio from another sailing yacht passing us, heading for Bermuda. They had no weather information and their wind instruments were out. They had been hit the night before by a squall with a very strong gusts that had knocked them down and dragged them for half an hour. We shared all the weather information we had and told about the storm.
The skipper didn't really want to wait out the storm, even though his crew was inexperienced and they sailed a 35 footer. "I think we'll heave to if it gets too nasty," was his reply. Oh well, that's his decision. We gave him all the info.
Later that afternoon we were south of the storm and changed course to east, southeast. On a beam range we did almost 7 knots with a deep reef in the mainsail and 2/3 of the headsail. This sail plan worked out very well. Although, as the waves got bigger and bigger, the rolling increased, making cooking dinner a real challenge. Still, Elliot managed to make great burritos with a pre-cooked filling.
That evening we would get the strongest wind of the storm, around 30 knots and the wind would turn to the east. We decided to drop the mainsail completely and sail on the headsail only.
We wanted to stay on the same course with the waves. That meant we may have to jibe at some point and jibing with just the headsail would be much easier.
Wednesday June 8th, position 29°23.33N 056°51.38W
We have been on the ocean for 5 days now. So far we had a really great sail. It was a good decision to leave Bermuda right away. We dodged the storm and made good grounds. In miles, that's… not exactly in the direction. South of the storm system, we went east, but the wind turned north, northeast, so we're still at 29° latitude. The Azores are located at 35°  latitude. Well anyway, as long as we can steer east-ish we'll be fine. We'll get some lull's within the next couple of days and then we can motor up north.
Last night Elliot was on watch and Jay was also on deck when we got hit by a classic squall. Lots of wind and even more rain. The wind was not a problem, the rain however soaked both Elliot and Jay. The squall just seemed to stay with us and kept dumping loads of rain. When Jay decided to jibe and they managed to get out of it. When they told me about their adventure the next morning, I suggested to jibe much earlier next time. Especially if you can see it coming on the radar… they could have avoided it altogether. Oh well, every day is a school day, still it was a nice experience to see what a squall really is. And they had a nice fresh water shower. The shorts and shirts dry quickly enough here.
Thursday June 9th, position 30°53.95N 056°77.27W
Yesterday we tacked. The wind had backed enough to keep us east of north after we tacked. We had about 12-16 knots of wind and more importantly, a calm sea, so we made a nice speed and progress accordingly. The sky was almost clear which made it a beautiful sailing day.
The night was great too. The wind had decreased a bit, the sky was completely clear and the sea was flat. During my watch from midnight to 3 am, the moon set and the sky became magical. I had never seen the Milky Way all the way from north to south. I tried to make a video, but I'm not sure if it worked. Maybe the pictures I took of Jupiter and Mars will come out better.
I woke up around 6 am and it was the same as yesterday, clear skies, about 12 knots wind but the waves were higher, slowing us down to about 3kts SOG. Just after I got up, a huge container ship passed us. We were actually on a collision course in the middle of the ocean, but they also saw us and changed course for 10°.
We are still sailing almost due north and although we are north of our rhumbline we have decided to stay on this course. The wind would turn to the east around noon, which would give us a nice course to the Azores. We also wanted to go further north to make use of the front that was forecasted in a few days. That would give us 20 knots on a beam reach. First, however, we will have very little wind on Friday-Saturday and will probably have to motor sail for at least a day.
Saturday June 11th,

 

position 32°89.16N 54°85.39W
The winds decreased during my watch from 9-12 pm. When our SOG dropped to 2kts, I furled in the headsail and started the engine. At first we motor sailed but when I got up for my next watch, Jay and Elliot had also dropped the main. The wind had dropped to 3kts, and that was our apparent wind.
This morning we spotted a whale, probably a mink whale. It surfaced a couple of times to breath and than it disappeared. It was the first wild life we'd seen since we left Bermuda a week ago. Except for a few birds, a solitary flying fish and Portuguese man o 'wars. This morning the latter all seemed to enjoy the flat water and sun forming a real armada.
So far we sailed just over 800Nm covering about 500Nm to the Azores leaving us another 1300Nm to go.
As the day progressed, the ocean turned calmer and calmer, almost like a mirror. I'd never seen it like this before. Sunset was amazing!!
Monday June 13, position 34°06.38N 51°28.20W
Yesterday at sunrise we caught a wahoo. I was still asleep and didn't hear or notice anything. By the time I got up, Jay and Elliot were all set. The fish was filleted, sliced, put ​​in the fridge and the deck cleaned. I think I must have been pretty tired.
The rest of the day we motor sailed. There was no wind at all. Good time to run the watermaker. We also filled the diesel tank with 2 jerry cans. All in all, we have enough diesel to motor for another 10 days.
Dinner was great, Elliot had 'cooked' some of the fish in lemon. We had a delicious meal with rice, onion-tomato salad and soy sauce.
This night I'm on the sunset, -rise watch and as a bonus, the moonset. Unfortunately, the sky was almost completely covered, so it wasn't as beautiful as most nights so far. Later it even started to drizzle.
When my next watch was on, the sky had cleared. Shortly after I had come on watch we caught another fish. A mahi-mahi this time. We got it on deck and I managed to fillet it without making a mess. So now we have enough to keep us going for a few days. We had fish for lunch to celebrate reaching 1000 Nm.
Later that afternoon the wind veered some more, a good course to fly the spinnaker that Jay got just before leaving Bermuda. It was a bit of a hassle to set it up, but the wind was very weak so everything worked well.
Anyway, what started as a really gray day with drizzle and rain turned into another beautiful sailing day. At golden hour we enjoyed dinner: rice, fresh fish and red cabbage. The icing on the cake was definitely the green flash at sunset and full moon.
Wednesday June 15th, position 35°11.58N 46°28.01W
When I came on watch this morning, Jay told me the so very sad news that his mother passed away that night. His father had called him during the night. She was seriously Ill but nevertheless. So obviously plans have changed now. Jay will fly home when we get to the Azores for the funeral. What happens next, we'll see later.
In the meantime, the elements seem to acknowledge the situation and are helping us to get there as fast as possible. The weather is perfect, clear sky, stable. On a broad reach with 15-20kts, we're doing over 6.5kts SOG on average. With this speed we'll be there in around 7-8 days.
Our half way celebrating will be a toast on Jay's mom.
Thursday June 16th, position 35°44.82N 44°24.50W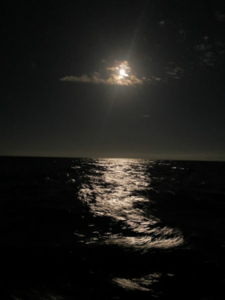 Jay is having a hard time. Knowing it will be at least another 5-6 days before we'll arrive at the Azores doesn't make any it any easier. At the same time he thinks it's for the best, being on the ocean giving him time and space to reflect. We toasted on his mom last night and some time later he went to rest. Elliot and I took over his watch but he came on deck for his next one.
We're still doing fine speed-wise and right on course. We covered about 150Nm and passed the time zone. The clocks didn't adjust jet so Elliot will be the lucky one for the short watch.
Friday, June 17th position 36°51.71N 42°07.25W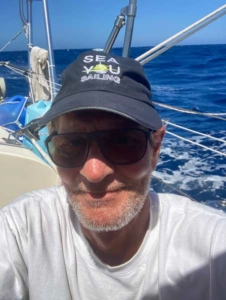 We're 2 weeks at sea now and we're all looking forward to make landfall. The wind has picked up to 25-30kts and the waves are looking impressive. Penelope is holding great but it's very rolling and from time to time a big wave is flushing the aft deck. The sun is out though, making it a bit more comfortable to sit in the cockpit. I'm so glad with my waterproof shorts otherwise I'd sitting in wet boxers all the time.
In about 24 hrs. the wind is supposed to decrease and hopefully the waves will follow soon after.
Saturday June 18th position 39°13.51N 40°13.16W
The morning started very well weather-wise, the wind had dropped to 20kts and the waves had decreased accordingly. I furled out some more headsail when I came on watch at 9 am. Soon after though I furled it back in. The wind had picked up again and made Penelope heel more then was comfortable.
By midday we were back to 25-30kts and the waves over 3 meters. Because of the waves we bared away to a broad reach, meaning heading north east again. That wasn't forecasted. It seemed we'd been caught up by a new depression. Luckily it would pass us soon and by 6pm the wind and waves let us head up again to a better course. The new forecast showed us favorable winds for the remaining of the trip. It seems we have had the worst behind us now. We all needed that and we celebrated it with a shot of rum and M&M's after dinner. That little celebration felt really good and kept up the spirit.
Dinner by the way was made by Elliot (again). As the tallest one of us he's the only one that manages to keep himself 'standing' while using both hands in 30kts wind and over 3 m waves. Also Elliot is the best cook and managed to cook some very tasteful meals in these conditions.
Monday 20 June, position 40°43.19N 37°21.96W
We are now sailing upwind for about 5 days, pointing northeast. We are about 200 Nm north of the Azores. Later today, the winds are supposed to back to north-northeast. Then we can finally tack and actually point to the Azores. With about 400 Nm to go we should be there in 4 days. So much for the prevailing westerlies :-/ All in all we sailed upwind for about 2 weeks. By the time we arrive, we will have sailed 400 Nm more than the actual distance.
Last night we had some weird things going on. The wind dropped to less than 8Kts and our speed had dropped to less than 2Kts. I started the engine but soon after, the wind picked up again. I put the engine in neutral to see what our speed was doing. It didn't pick up, we're still doing less then 2kts although the wind had picked up to 15kts. Something was off. Looking at the water we certainly did more than 2kts boat speed. It looked like we're fighting a 2kt tide, but there's no tide here.
Jay got on deck too and we tried to figure out what was wrong. We tacked to see if that'd made any difference and it did, a bit. We tacked back but it was still the same. Worse even, according to the chartplotter we're going backwards ??! Nothing seemed wrong with the boat or the sails and looking at the water, our speed was what it had been all the time. A glitch in the chartplotter maybe? But my Garmin showed the same numbers. After a while we just left it and sailed on. We'd have a look again next morning at daylight.
Next morning everything was back to normal. I think it might have been a huge solar flare, messing up with the magnetic fields and satellites communication. I know this happens from time to time. Recently a number of satellites were destroyed because of it. Well anyway, never a dull moment I guess.
Tuesday June 21st longest day of the year, position 40°45.67N 36°02.25
As forecasted the wind changed to northeast around 11pm last night. We tacked and are now steering directly to the Azores. The wind is supposed to stay northeast, maybe backing even a bit more, which would give us a perfect angel. It's 'only' 370Nm more to go, so in 3-4 days we should be there. Three weeks at sea. My longest trip so far.
Later that day we caught a fish. But before we got to the rod, it took all the line and it snapped. The tip of the other rod broke when we caught the last fish. I guess we're done fishing for this leg.
Thursday, June 23rd position 39°32.56N 32°39.00W
Last night was pitch black. No moon, no stars, you couldn't see the horizon. A bit eerie. The wind dropped to 9kts, 15 minutes later it picked up again to 20kts to drop again to 5kts and so on and so on. Sheeting the main in and out again. Well it kept me busy during my watch.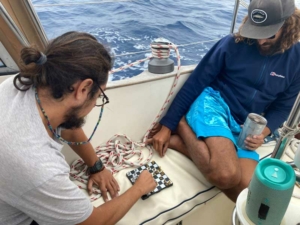 During the day Elliot prepared another nice meal. He likes to cook and although recourses are getting quite limited he manages real nice. Later we played some more chess. I'd picked up a magmatic set just before flying out to Bermuda and that turned out a very good purchase. All three of us play at sort of the same level and we all enjoy playing. I definitely add this to my standard sailing equipment.
It's less than 200Nm to Horta now. Around Saturday afternoon we should arrive. The wind has persistently dropped to less than 10Kts so we're motor sailing. We're definitely running short on a lot of things, toilet paper even, but not on fuel. If needed we can motorsail all the way to Horta.
Later the day the wind picked up a bit and we killed the engine. Soon after we could see the contours of land. Ilha das Flores, the most westerly island of the Azores. First sight of land on the 21ste day, celebrated with rum and peaches -:)
Friday June 24th. Position 39°10.47N 30°50.21W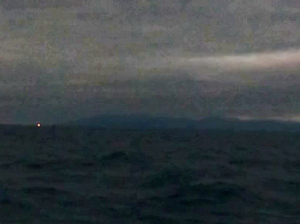 Last full day on the ocean! After passing Flores it's now only a day sail to Fayal. Weather is fine, wind is fine and we're sailing downwind right on the rhumb line doing over 4kts SOG.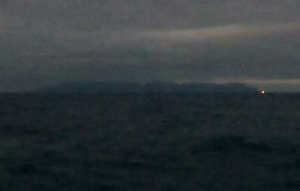 We're all looking forward now to make landfall. With this speed we'll be there tomorrow morning at around 9am. Perfect timing to get a real breakfast instead of left over beans.
Last night while passing Flores we had good reception. My phone didn't stop pinging for a while. Three weeks of emails, WA-messages and what ever else came in. Most important though, It was very nice to be able to call Marischka. It's never been so long that we didn't actually spoke each other. Obviously we sent messages but hearing her voice again was really nice!
The morning started kind of choppy. Waves coming from all over. A lot of clouds, some rain even. Later it all cleared. The wind veered a bit and we had a fantastic afternoon sail. A beam reach, full sails out, 17kts of wind and over 6kts SOG. The plotter gives us an ETA at 7:30am. Then again, that's in the wrong time zone, meaning we'd to add 2 hrs. Anyway, what a great way to sail our last full day at the ocean!
Saturday, June 25th position 36°36.86N 29°03.38W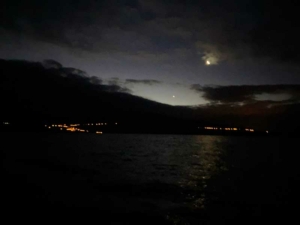 Elliot was the first one to see the lights on Fayal at around 11pm. When I came on watch at 3am we were as close as 23Nm.
It was a magnificent view with the moon and Venus.
We had an awesome sail during the rest of the night doing 6kts SOG, full sails out on a beam reach with 15kts wind.
We arrived at 08:50, after 22 days and just over 2200Nm. So nice to step on land again-:) It took a while though before we got ashore. The marina was packed and we'd to drop anchor in the bay. Next we had to inflate the dinghy and mount the outboard. After checking in and going through customs they let us raft up to a fishing vessel that wasn't supposed te leave for the next couple of days. By then we're done. A shower and a drink/dinner at Peter's bar was all we could manage before falling asleep on a non moving boat!
Monday, June 27th Horta, Faial
It has been 10 years, almost the same date that I was here the first time. Back than I was sailing my own boat, True Companion around the Atlantic. We left from St Martin and it took us 16 days to sail to Horta. https://www.seayousailing.nl/around-the-atlantic-crossing-the-atlantic-eastbound/
So nice to be back! Of course I wanted to see if our painting was still there but I couldn't remember where I put it :-/ I went over and over all the paintings and finally I found it. It was a pretty faded but still just enough recognizable. It was really cool!!