Windval, Dehler Optima 98G Lelystad – Portsmouth; May 18th – May 22nd 2022
Lelystad, May 18th 2022
On my way to Lelystad, I went by the chandlery in Zaandam to pick up the last bits for our trip to Portsmouth. The liferaft and flares would have taken a special service to have them delivered; the John buoy and anchor chain would have been a bit of size and heavy to haven them shipped.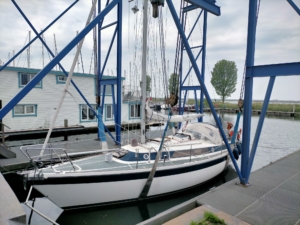 When I arrived at the marina, Windval was still in the slings. The yard was supposed to have finished all the jobs yesterday…. Oh well, what else in new. Anyway. By the time Sebastian and I picked up the provisioning and some last bits and pieces for the boat, Jelle had cleaned the boat. The yard had finished the last job and we were ready to leave.
We motored to Amsterdam where we had to pass the Schellingwoude bridge and the Oranje locks. At around 7:30pm we were in the channel on our way to IJmuiden. There we'd spend the night before setting sail to Portsmouth.
The sail through the channel is always very nice. You pass the Central Station with a nice view on some very old parts as well as very modern parts of the city. And of course there's always some excitement on the water. There was this little party boat with way too many people on board and later on we had to wait for an immense freighter that went astern out of the dock.
We arrived at IJmuiden around 11:30pm. There we met the people from my sailing club, including my brother. They have their weekly evening race on Wednesday. We had a drink with them and to our luck the owner of the Chinees restaurant, which was already closed, hadn't left yet and was willing to open up for us for some take away.
IJmuiden, Thursday May 19th
Next morning at 8 am we left IJmuiden. We had three options: going south and cross the Channel just south of Rotterdam, going south and keep on going south till Calais and cross over there or go west and cross the North Sea straight away.
Earlier we had decided to go west but the weather forecast was still inconclusive. Especially the wind prediction was 'variable'. There was a high coming in with not much wind and the direction varied from east, north to south westerly. When we were about to leave the winds were easterly predicted to veer to the south west and we decided to sail south. The tide would soon be with us for a nice and quick sail to Rotterdam.
Around 3 pm we passed Rotterdam. By then the wind had dropped completely and we were motorsailing. The wind hadn't veered yet but was still supposed to. South west at first and maybe west later. So we decided to keep sailing south as far as we could until the wind would actually veer. The further south we got, the better angle we'd have for the crossing.
Near Dunkerque we had to make another decision. We were motoring now for around 20hrs. We should be okay on diesel but since we were all new to the boat and only had an educated guess on fuel consumption, we thought we'd better be safe than sorry and went into Dunkerque to fill up.
We got into the marina at around 2:30pm. Just after filling up the tank it started blowing and pouring rain. Hmmm … obviously not the best time to leave right away. Sebastian and Jelle hadn't slept too much and were quit tired. So when I suggested to call it a day and stay the night in the marina they instantly approved the idea. Of course, in all honesty, I wasn't eager to leave either. Also the thought of using the facilities and have a nice hot shower helped a lot us with the decision.
Portsmouth, Sunday May 22nd
We had a very nice dinner and by the time we got back to the boat, the weather had cleared. We checked the latest forecast and decided to leave at 4 am. According to our calculations we could then get to Calais when the tide would turn and the cross. That would give us a favorable tide to get past Dungeness.
We had used only 23l of diesel, that's an average of just over a liter pr hour at 16000 rpm. That was very efficient and with 60l in the tank we'd be fine to get to Portsmouth with no worries.
When we left the winds had picked up a bit, 20kts app. But against the wind and the tide we didn't do more the 2kts SOG. We had to stay in the channel because of the sandbanks so it took us more then 5 hrs. before we were clear to cross.
The crossing itself was the best sail of the trip! A beam reach, doing over 8kts SOG, got us to Dover in no time. The first part to Dungeness was great too but then the tide turned. We couldn't make it in one go and when we tacked, the tide pushed us back again. After the next tack we were sort of back from where we came from. We weren't going anywhere and decided to furl in the genoa and motor sail.
During the night the wind dropped to less the 5kts again and in the end we also dropped the main. At least we were on a straight line to Portsmouth now. About 10Nm past Brighton we saw this fogbank coming in. That looked a bit creepy although the sun was still out where we were sailing. Luckily it dissolved quit fast. You could actually see it dissolving. I have never seen this before, it dissolved in a bow, it actually looked like a rainbow, weird…
At around 3:30 pm we arrived at Wicor marina, Portsmouth, our final destination. Soon after Sebastian's wife and daughters came to greet us. Half an hour later Jelle and I were picked up by Andy.
I had met Andy, his wife Denise and their friend Richard in Cartagena on a live-a-board BBQ just a month ago. That's one of the best things in sailing. You get to meet the nicest people, make the best friends in marinas and anchorages all over the world. At the BBQ I had told them about my upcoming trip and Andy told me they were living very close to Portsmouth. I'd be very welcome to visit them when I'd get there. We'd been texting during the last part of our trip and he'd invited Jelle and me for dinner. We had a great time and great dinner too, ending up staying there for the night. So very hospitable!
All in all we had a great trip and we enjoyed each other's our company very much. Maybe a bit more motoring than sailing but that's what it is. Not too much wind and headwinds is also part of it all.