Oyster 56; Amanzi; Sailing the Galapagos, Februari 2023
Friday, February 10th; position 02:52.960N 84:41.422W
We are now 490Nm underway, well over halfway to the Galapagos. The wind we had in the Gulf of Panama has died as predicted. Since yesterday afternoon, we're motoring. We only have 2kts of wind and occasionally even less.
The sea is almost flat with hardly any swell. During the day, the weather is beautiful and also quite warm. The sunset is also very nice. At night it is very pleasant with beautiful starry skies until the moon rises. Clouds drift over now and then, looking very threatening, but there is no rain on the radar. Something to keep a close eye on though, because spicy squalls are no exception here.
Today we used TripAdvisor to check out some tours we can do later. Plenty of choice, that's for sure.
Sunday evening we will probably arrive at San Cristobal. There we will clear in. The plan is then to sail on Friday or Saturday up to Isabelle, some 85Nm to the northwest, and than sail back east to Santa Cruz on Tuesday or Wednesday.
So we are still puzzling over which tour we can do on which date, but we have already booked the first one. A diving trip at Kicker rock. Long live the starlink.
Just as Marc came on deck, I checked the radar. And yes, there was quite a squall there. Just out of nowhere. Five minutes later it was gone again, but as calm as it sometimes seems, things can change so quickly.
Sunday, February 12th; position 01:04.293N 88:51.212W
We are still motoring. It's a bit boring. With fishing, we haven't had any success yet either
The engine is also struggling a bit. Yesterday morning, we noticed that the oil pressure had dropped a bit. We just turned off the engine and checked the oil level and put in a litre. This repeated itself again in the evening. I asked Davy my course leader via WA what could have caused this and whether there was anything else I should check. He responded almost immediately. Fortunately with a reassuring message. When an engine runs for so long consecutively in that heat and the oil is a bit thin, the engine uses some oil. 'Keep a close eye on it and top it up if necessary' was his advice.
Later that day, we passed 86 degrees west. Since IJmuiden is at 4 degrees east, that means we have now rounded a quarter of the world!  A great moment and it also changed the mood after all that motoring.
Just after we had dinner, we were visited by a pair of Red-footed boobies that had chosen the pulpit to take a rest. They had been keeping us company for a while but from the air, as they should do being birds.
Initially, we were not too happy with the thought of them sitting there for very long. They leave quite a mess. However, they didn't let them chase away. If they already thought I was getting too close and flew away, they came back less than 30 seconds later. In the end, we let them be. It's also kind of cosy.
During my watch from 1-4 am, I watched True Spirit. That film about 16-year-old Jessica Watson who sails solo and non-stop around the world had come up on FB several times. It was supposed to be a great film.
And it was. Of course, the fact that we are also sailing around the world right now adds a very special dimension!
She deserves great respect. We 'just' sail around the world. A real circumnavigation apparently rounds around all capes. We only going to round the Cape of Good Hope.
Also this film gave me a sense of connection. Living your dream is exactly what I am doing now. The run-up was not easy. I had to overcome cancer twice and survive a heart attack. The prospect of me sailing my dream journey with my brother and sister-in-law helped a lot. And still does. I was faced with the choice of staying home to further investigate some new abnormalities revealed by the latest CT scan, or leave. I left, living my dream. In May, I'll go home for a month and then we'll see.
The rest of the day was a bit dull. No wind and so still motoring. Until early evening because then we did get very close to the equator.
Sunday, February 12th, 20:00 hr. crossing the equator
We decided to do the ceremony a bit earlier as we would still have daylight. I made a nice trident with a couple of pliers and a long screwdriver and Clare cut a nice paper crown. A tablecloth completed the outfit. Marc had figured out how he wanted to make the photo with all the three of us. That still needs some photoshop work.
Of course, we waited with the actual celebration until the moment of crossing. Pole Pole who sailed up with us nearby asked over the radio if we wouldn't cross together at the same time. Of course! Nice!!!
At exactly 20:00 we were on the southern hemisphere.  A special moment. A moment of which, thanks to Pole Pole, we also have a nice photo. And them too, of course -:)
Monday, February 13th, San Cristobal
Around 4am San Cristobal came into view as a dark outline.  After an hour or so, Kicker Rock also marked itself out. To be on the safe side, I kept that to port. It is certainly deep enough to sail between the island and Kicker Rock but it in the dark the passage was a bit hard to see.
An hour later we arrived in the bay where we would anchor. Meanwhile, it was completely light. That was nice because we were by no means the only boat there. It was quite crowded and there would be more than 20 stille to come.
Then it was waiting for the officials to clear us in. For some reason, the arc people had indicated we would arrive from Tuesday but they had managed to arrange that we could the officials after lunch at around 2pm.
First, we got 2 divers on the boat. Armed with cameras and GoPros, they checked the underwater ship for almost half an hour. Fortunately, they were satisfied and we got a thumps up. Then it was waiting for the the rest of the officials to check everything else.
That took a while, but then 10 of them came on board. We had laid out all sorts of things, lifejacket, flares, shoes and whatnot. They all sat in the cockpit and asked Marc questions. And all at once :-/ Meanwhile, the quarantine officer and another inspection lady had come down to check the fridge and freezer. That was soon fine but the lady did object to our waste separation system. Cans didn't belong in the recycling bin. Bit weird but we didn't argue. It was a bit of a kenau. Also one of the stickers we had put on did not have the right text. If  we could immediately print a new one and put it up …
Then we were asked how many absorbent mats we had for under the engine. I showed the pile we had. That wasn't enough. I found another pack and showed it, still not enough. I found two more small packs, again not enough. Well, that was all we had. We were instructed to buy more. I ask how many moer we would need. 10 was the answer. When I asked how many we actually had to have in total, the answer was: 10 more…. Uhhh, okay
Anyway, after about half an hour they were done. With the promise that we would email a picture of the extra absorption mats to be bought, everything was agreed and we were officially cleared. Those mats fell through. They were not for sale on the island. Mike from Isabel later forwarded me a photo of 10 of their mats but we had no phone number or e-mail address where to send it. Well, no one got back to us.
After clearing customs, we were allowed to disembark. We did so by water taxi. We couldn't use the dinghy because of the sea lions. San Cristobal has more sea lions than people on the island. They would take over the dinghy in no time and stay there they were rested. The swimming platform we had barricaded with fenders otherwise they would come aboard for sure.
We were just in time for happy hour ashore. Not long after, three more boats were cleared and we all went for something to eat. After that, we went fairly quickly back to the boat and got some sleep.
Exploring San Cristobal
The next few days were fantastic. Everything you read about the Galapagos is real and to actually experience it, is unique! I felt very privileged.
There are not many places you're allowed to go without a guide and that is okay. All the measures to preserve the different ecosystems are justified. There is an interpretation center where you are allowed to go by yourself and from there there is a walk through a small part of the park.
Clare had booked a diving trip at Kicker Rock for the Wednesday. We were lucky with the weather. It was sunny and dry. The day before, it had rained heavily. January – February is the best time to dive i read somewhere. The different currents that meet here create a unique environment for all kinds of different wildlife. There are also a large number of species of sharks and rays in addition to the omnipresent sea lions.
The dive was on my bucket list. I have now ticked it off but in the future I will stick to snorkelling. It was a nice dive but too tough for me. It had been more than 10 years since my last dive and it showed. I couldn't get my buoyancy under control and had to concentrate so much on diving that I could only half enjoy it. When blood was also running from my right ear and blood was in my spit when I surfaced again, I called it a day and skipped the 2nd dive.
After diving and snorkelling, we were dropped off at a secluded beach where we could enjoy nature for over an hour.
The next day, Marc and Clare and I did our thing separately. Occasionally we  need some time for ourselves and a few days on an island is a very nice opportunity for that.
Friday was another arc tour. With a bus and two guides, we drove to the volcano. It is very special to see the vegetation change the higher you go and also more southern. All kinds of mini ecosystems at such a short distance from each other.
The crater of the volcano is filled with fresh water. San Cristobal and Floreane are the only islands with a freshwater source. That's what made these islands so important for ships in earlier times.
After the walk to the crater, we drove to a turtle sanctuary. The animals there just live in the wild, only the eggs are helped to hatch a little and also the little ones are protected from the rats and frigate birds. The tour ended with a visit to yet another super beautiful beach.
Saturday, February 18th, position 00:54.477S 89:50.433W
This was our last day on San Cristobal. At 3am the alarm went off. We wanted to leave at 4am and sail to Isabela, some 80Nm to the west. That would be about 12 hours of sailing. On engine unfortunately because ever since we arrived at San Cristobal there had been no significant wind. The sea is also super flat apart from a slight swell.
It took some time to really wake up getting up the anchor and leaving the bay went without a hitch. Besides, we were treated to a very beautiful – southern – starry sky!
Around 7 o'clock we were already some 20Nm on our way and passed Santa Fé, one of the uninhabited islets. If all goes well, we will arrive at the anchorage at Isabela around 16:00. With daylight and in time for the capitana to check us in.
Sunday, February 19th, Isabela
At 15:30 we arrived at the anchorage in the small bay in front of the village. The route to the bay was in itself well marked with a red and a green buoy only the green buoy was almost invisible against the background of the green vegetation on the island. However, it was important to follow the route precisely because reefs and shallows were all around.
With Phil and Loraine from Far, we later went ashore. The check-in protocol had changed according to the latest reports. Apparently, not everyone knew about it because this morning after we arrived  we were visited by an official at 7am. He just wanted to know how many people we were, how many liters of diesel we had and the number of life jackets. That was it.
Anyway, last night there was a big party going on, carnival. On the beach were all the little tents where you could get food and drinks. A bit further down was a street bbq. They take that quite literally here. A few bags of coal on the street, a rack over it and done. Fortunately, all streets are made of sand so it can't do any harm. What is special, by the way, is that all pavements are neatly paved with natural (lava) stone.
On the beach, we met the guy from the water taxi. After 9pm they don't sail anymore unless you can make a deal. He was still willing to take us back to the boat, as it turned out later at double the fare, which was already twice as much as the $1 in San Cristobal.
This morning Clare and Marc went for a walk and around 11pm I also went ashore for a walk. My walk ended very soon at a little restaurant for lunch. My lunch was listed on the menu as breakfast but anyway. I ordered a tuna sandwich. This was the very first tuna sandwich where the tuna did not come from a can!!! It was a slice of grilled tuna with lettuce, tomato, egg and dressing. Along with coffee and fresh fruit, it costed $6.
In that respect, Isabela is a very different island from San Cristobal. Much less developed, much less (souvenir) shops, no asphalt roads in the (much smaller) village. The vibe is also much more relaxed and the anchorage is also much nicer.
That afternoon, I took a nice walk. Not too long and for the most part in the shade. There was a path through a sort of mangrove area with some small lagoons with the occasional flamingo. It is a very special landscape. The transitions are a bit weird at times. At the end of the path was a tortoise sanctuary. Again, the different species are helped by hatching eggs in incubators and protecting the little ones from non-endemic species like rats. After a few years, they are then released into their natural habitat. In this way, the national park has been able to help the survival of several species.
Monday, 20 February
This morning we took a speedboat to tortoise island, some 6Nm off the coast. It is more of a rock than an island and you can't land anywhere either. This makes it a naturally enclosed area where the various birds can nest undisturbed.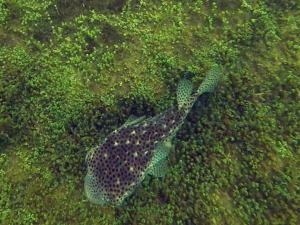 After the tour around the island, we entered the water for a 1.5-hour snorkeling session.
Snorkeling here is very special. Especially because of the variety of fish, turtles, sharks, different kinds of rays. Unfortunately, I had limited success in taking really nice photos or videos. Filming underwater still needs some practice I'm afraid.
Wednesday, February 22nd
Yesterday, Tuesday, we also each went our separate ways. I had booked a tour for Tuesday afternoon to Tintoreras islet, the reef behind which we are anchored.
This tour did not quite bring what I expected. I joined a bunch of hotel guests. Surely that's clearly a different kind of people. It was also a kind of conveyor belt of groups visiting the islet. They stopped at every sea lion and the blue footed boobies were at a distance where you couldn't really see the blue foots. The snorkeling afterwards didn't go very well for me either. My mask was too small, hurt on my forehead and also leaked. Well, the guide's explanation and explanations during the tour made it worthwhile anyway.
Before the tour in the morning I had hired a bike. I wanted to go to the Wall of Tears. That is about five kilometers going up there and another five getting back, with several side paths on the route that I definitely didn't want to skip. A bike seemed a bit more convenient. The bikes here are all these off-road devices and they need to be.
This trip was spectacular, especially those side paths. In the beginning there were so many that I hardly got any closer to the Wall of Tears. The landscape changes about every 100 metres. From lagoons and mangrove trees and bits resembling rainforest on one side and on the other side bare stretches with cacti . At the same time, you cycle along the coast where sandy beaches alternate with lava rocks. All along the route you see many marine iguanas on the beach and on the rocks. It was mating season and they were also digging nests.  Halfway there was a side path to a mangrove forest with black mangrove trees. There also a stream came out from the hills inland that ran to the sea. It was low tide and through the stream you walked straight to the sea.
A little further on, a huge land tortoise crossed the path. I had been under way for almost two hours and it then took me another 20 minutes to finally reach the wall of tears.
The wall of tears is all that remains as a monument from the period when Isabela was used as a penal camp. The wall itself did not really have a function other than to punish the prisoners who then died it in large numbers while building it.
The ride back was mostly downhill thankfully and in half an hour or so I was back in the village where I still had enough time for lunch and sit back for a while.
Today, Wednesday, we had booked the lava tunnels tour. This was 'the' tour to take here on Isabela and, it was!
In a speedboat, we raced at nearly 25kts for over half an hour to a spectacular spot where lava had flowed into the sea. Erosion and subsequent eruptions that had caused earthquakes had created a large area of largely collapsed lava tunnels here. An impressive and spectacular landscape which over the years had become a gathering place for all kinds of endemic animals and plants.
After a walk over the lava rocks, we went snorkeling at two places here. At the first we should see seahorses. This indeed turned out to be the case. For me, they were deeper than what I wanted to do because my ears were still bothering me but our guide later sent me the pictures.
The visibility at the second spot was a bit less but clear enough to see other fish again besides turtles, sea lions and some small sharks. Snorkeling among the mangroves was also quite special.
On the way back in the speedboat, we suddenly stopped. The skipper had spotted some mating manta rays. What colossal animals they are! We had to jump from left to right in the boat to be able to see them because they apparently did not appreciate our interest during their intimate moments.
Anyway, this was a very nice end off our stay at Isabela. Tomorrow , Thursday we will sail o Santa Cruz.
Sunday, February 26th, Santa Cruz
The trip to Santa Cruz was again mostly motor running. There was no wind except for a few hours. Then we furled out the genoa and staysail until the wind turned and we had to go straight into the wind. For the last 6Nm we motored.
At 2:30pm we arrived. Anchoring was a bit of a challenge. It was quite busy in the bay and the first time we did not succeed to drop the hook where we wanted. In the end, we were all right but still a bit close to one of those 25-metre steel workboats. We decided that Marc and Clare would go ashore first and I would stay on the boat to keep an eye on things. Around 7pm they would be back and I'd go ashore.
When I got to shore, it was immediately clear why Santa Cruz is thé island from which all boats depart. The town, Puerto Ayora, looks super modern with its shops. One of the first shops you see when you come ashore is a GoPro shop.
Puerto Ayora also has a hospital. I thought I wanted to have a doctor look at my ears after all. Since the dive at Kicker Rock, it was like I was still underwater with my head and water kept coming out of my left ear as well. The next trip would take over three weeks and I didn't really need an ear infection in the middle of the Pacific.
Visiting the hospital
The hospital was easily found. I stood for a moment figuring pout which door would be the entrance when a guard kindly showed me in. Once inside, I was first asked for my ID. I had not thought of bringing my passport but my driving licence was also good.
It took a while for got me into the system but it all worked out fine. Then the question was what my complaints were. At least that was what I could make of it because the good man didn't really speak English. Fortunately, it was not difficult to explain that it was about my ears. He then took me to the waiting room in the corridor and told me that they would call my name when it was my turn.
It took half an hour until they called for 'Johannes'. It was clear from the tone and pronunciation that they were looking for a foreigner and since I was the only foreigner, I took it as my turn. Apparently, they had listed my middle name as my surname. Well, whatever.
A friendly doctor who also spoke very limited English helped me and quickly understood what my problem was. She asked some questions about how and when it had happened and then looked in both ears.
The conclusion was that both ears were somewhat inflamed and it was not completely clean either. On a slip of paper, she wrote a prescription for antibiotic ear drops and some syringes. I had to rinse my ears every evening with boiled water first and then 5 drops in each ear.
Well that was clear and I was very glad I had gone anyway. I asked what I had to pay. I was  prepared and brought enough money but to my surprise it turned out to cost nothing. Healthcare is apparently free in relatively poor countries like Ecuador. That's something 'prosperous' countries like the US could take an example from!
At the pharmacy across the street, I was then able to get the ear drops. Cost: $3 and the 5 syringes: $5. Well that too was quite a surprise. I didn't get a receipt or anything and that was okay. This is not an amount I could seriously claim from my health insurance.
A busy weekend 
All in all it was afternoon when I ran into Marc and Clare again. I had meanwhile checked with one of the agencies for a tour I could do and had ended up on a snorkeling tour near Pinzou, an uninhabited island west of Santa Cruz. Clare also had this tour on her list so we booked the tour for Sunday. The fuel would be delivered on Saturday, but no time indication was given.
Saturday Marc and I did some maintenance jobs on the boat. Changing oil in the engine and gearbox, renewing oil and fuel filters and also the impellor. The latter was the trickiest. You can hardly reach it to get it out and it took two of us to get it in. In between, the fuel was delivered.
The snorkeling tour was very special. The water super clear. I did not see Sharks and Rays but I did see many different tropical fish. Very beautiful! .
Back on the boat we had a shower and Marc and Clare went ashore. I was still working on the videos of the snorkellingtour. When I had called for a taxi to go ashore too, it turned out that either our anchor or that of the steel workboat, or both, had started dragging. Either way, we were far too close for comfort.  couldn't leave the boat like that. as a matter of fact, I had to move the boat.
That was quite a job. Anchoring on your own meant quickly switching places between the cockpit to steer the boat and the foredeck to retrieve the anchor. And constantly keeping an eye on the boats around along the way. That worked out fine.
Then I had to look for a new spot to anchor. That wasn't easy. It was a lot busier than when we arrived and also quite dark. The spots I found turned out not to be very nice after all. In the end, I sailed a bit outside. There I found a large enough spot on 7m of water and decided to drop the hook. Now I had to contact Marc. It would be a surprise if he came back and there was no boat. And, no clue on where to find me. Fortunately, he was in a restaurant where they also had WiFi so I could call him to tell him where the boat was now.
He was of course surprised but also very happy with my action. Good thing I didn't go ashore with them right away. And that I also had to wait quite a long time when I called for a taxi. No such thing as coincidence, it turns out! Everything happens for a reason, and if you don't let the annoyance of the long wait for a taxi get in your way, you can also discover the reason.
Tuesday 28 February 
Today is our last day in Santa Cruz and in the Galapagos. Tomorrow we're leaving for the Marquesas.
It was a day of chores and making final preparations.
Marc and I still had to change the generator's oil and filters. We couldn't really do that before because the oil filter we should have according to the inventory wasn't there. Fortunately, Peter from Isabel was able to bring one for us from England as it was not available here on the island.
Meanwhile, I had also received an app from Chris from Mistral asking if I could help him with also changing the oil and fitters of his generator. Well, that worked out well then. Marc and Clare had booked another tour for the morning. Then I would go and help Chris and when Marc was back we would do our own generator.
When I arrived at Mistral, Karen was just about to go up the mast. Chris looked very unhappy. We've got a more serious problem was his text.
On the way to Santa Cruz, something had fallen from the mast and before they could see what it was, it went overboard. It remained a mystery what it had been. In any case, Chris had thought of checking that all was well with the mainsail. Call it gut feeling or experience but it was a good thing he listened to it because he could not unfurl the mainsail. It was trapped by a part of the top swivel that had gone halfway down the mast.
Karen went into the mast to see what was going on. Chris, meanwhile, had found the documentation of the top swivel to check what could be wrong. Karen was able to see something but felt very insecure in the mast and couldn't do much about it either.
By now, from the documentation, we had figured out what had happened. A locking bolt had come loose and so the part that had fallen down was now clamping the mainsail. The only way was to see if we could get that part to the top of the mast, then unfurl and drop the mainsail and then see how we could fix it.
They all felt better if I went up the mast, so I did. In the end everything worked out real fine and when the whole sail was down on the deck it indeed turned out to be just the bolt securing the part. Other than that, there was no damage or anything broken.
A new bolt was the solution but, of course, we didn't have one. Patrick was given a mission: go to shore and find the right bolt.
In the meantime, Chris and I then got to work on the generator after all. Fortunately, that went off without a hitch and when Patrick returned from his mission we had just finished.
Patrick had managed to find the right bolt and with that I could also fix the swivel system without any problems. Sail hoisted again and ready.
Things had gone a bit differently than planned but everything was now okay. Chris and Karen were really very happy with my help. Well, you're welcome 🙂
I returned to Amanzi again to do the generator there, which also ran smoothly and without any problems.
By now it was 3pm. Time to head ashore for a visit Santa Cruz. We sure couldn't leave without visiting the Darwin research center. That was very interesting. The guide was quite passionate and told us all about the vegetation, wildlife and of course the tortoise program. Of course we payed a visit to lonely George!
After the tour I got some last souvenirs, including a nice T-shirt with a smiling hammerhead shark for Floor.