Oyster 56; Amanzi; Sailing into the Med. August 2021
Benalmádena
The plan is now to join the ARC and the World ARC in 2022 -2023. Marc and Clare decided to spend the summer 2022 in the Med. instead of staying another year in Lagos. Together they sailed Amanzi to Benalmádena. There Clare flew back home again and I joined Marc to sail to Cartagena where they would leave Amanzi for the winter.
I joined Marc September 6th. Benalmádena is a very nice and very crowded place, even at the end of the season and we left the next day.
We weren't in any rush and would do just day sails.
Punta de la Mona
Sailing in the Med It's quite a difference weather wise compared to the Algarve. It's much warmer this time of year. In Lagos you'd need a jumper after sunset while here you're still fine in just a t-shirt.
We found a  nice and sheltered anchorage at Punta de la Mona. Until the wind backed that is. Then we had quite a swell coming in the bay and we decided to set the alarm to check on the anchor during the night. Still it was a very nice anchorage and the anchor turned out to hold perfectly.
Almerimar
Next day we sailed on to Almerimar. We decided to spend the night in the marina.
The layout of the marina in Almerimar into the village looks a lot like Benalmádena. Almerimar however was quite deserted. A lot of restaurants were closed and it seemed like the season was about over.
After a while we did find a restaurant that was still open, serving burgers that were so big we easily could have shared one and still not finish it all. Anyway we had a nice night with no swell.
Ensenada de Rodalquilar
Next stop was Ensenada de Rodalquilar, a beautiful anchorage on the south east coast of Spain. Here we weren't the only yacht spending the night.
Cartagena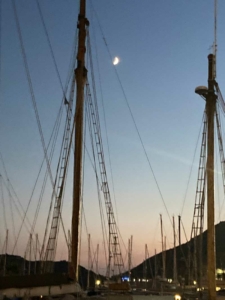 The next day we sailed to Cartagena. That took us about whole day. The wind had died and wasn't forecasted to come back again the next couple of days so we motored most of the trip.
In Cartagena we got a very good berth. Very good indeed because here we'd leave Amanzi for the winter.
On the way I received an email from Halcyon. They were looking for a skipper to deliver Skylark, a Swan 38 from Almerimar to Hamble. Well that was a nice coincidence. We were in Almerimar two days ago so when I replied to let them know I was actually very close by, I got my trip back on a boat instead of a plane. September 14th I gathered my gear and got a cab back to Almerimar for a sail to Hamble.