Oyster 56, Amanzi; Sailing down the Atlantic coast of Portugal, September 2020
August 25th 2020,  La Rochelle, France
August 24th Rutger and I arrive in La Rochelle by train to join Marc for the rest of the trip, that is, Rutger would only stay with us for the first leg to Porto.
We left La Rochelle the next day at 12:30 after fueling up. While motoring to the fuel pontoon we noticed that the batteries weren't charging … that was weird.. we had no idea of the cause. We decided to have a look at it on a later time. We had the generator and that was working fine.
Starting all up after we had fueled up, there also seemed something wrong with the autopilot, it just didn't come up…that too was pretty annoying. Again we decided to leave it for now. We would to start handsteering and have a look underway. The autopilot had worked perfectly so far, a reboot would probably fix it.
Bad luck… the autopilot never came up again until Lagos where a technician got it fixed in 15′ The malfunctioning was caused by the new system that was installed years ago interfering with the old system that was still in place. Why it chose to just quit at that place and time will for ever be a question.
So handsteering it was and it would stay that way. As such it's not a big deal. When I did my around the Atlantic trip we hand steered the whole way. To Porto would be around 625 Nm and the three of us would handle that perfectly.
The first part was nice-ish. The winds were okay 15 – 20 kts but close hauled in the Bay of Biscay …that's a BUMPY ride. Short steep waves even sprayed over the sprayhood. Speedwise we're doing great 90 Nm in 14 hrs. beating!
As of around 04:00 hr. the wind start dropping   and kept dropping to practically zip and it stayed that way until 07:00 the next day. Then the wind picked up again to 20 kts and that also stayed that way up until Porto. The wind angle was better though and now we did 200 Nm in 21 Hrs.!!
Around 14:00 hr. August 29th we arrived in Porto or Leixoes actually. We did visit Porto but by Uber 🙂
September 2nd 2020, Leixoes, Portugal
In Porto Rutger had to fly back home again. Marc and I would sail her further down the Atlantic coast to Lagos. Since it was now just the two of us and not in any hurry, we would keep it to day trips down to Lagos. It was nine years ago when I sailed down the coast of Portugal on my way to the Caribbean. It brought back a lot of great memories. First port of call was Figueira da Foz.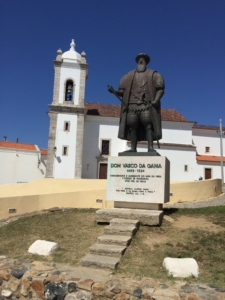 We left Leixoes September 2nd at 11:30 and arrived at Figueira da Foz at 20:30. Next day we had a nice walk in the town and a drink in a bar in an old castle. I couldn't recall the beauty of the beaches though, they are really incredible. At sunset we had dinner on the beach.
The day after at around 11:00 we sailed down to Peniche but decided to anchor at Ilha da Berlenga. I had anchored there before. It's a nice and sheltered anchorage just in front of the lighthouse. We arrived just before dark at 20:45
We decided to set off early the next day. We'd sail to Sines and wanted to stay there for a day to do some sightseeing. Sines is the Birthplace of Vasco da Gama. Sines is a beautiful town and we took out the bikes to see a bit more.
Lagos, winter stop
September 7th we reached Lagos, our final destination for the winter. It had been a nice trip. We enjoyed visiting the places although the winds were very light and we had to motor quite a bit.
Except for the very last part, sailing into the Baía de Lagos. The wind had picked up and I had a great last part helming.
In Lagos we had the autopilot fixed. The alternator turned out to be beyond repair. Marc would get a new one at home which I would bring next time I'd come over.
Clare came over to join us a couple of days later and we spend some nice time in Lagos. Lagos is probably the best place to leave your boat for the winter. Nice climate, beautiful town and a very good and sheltered marina, with a pool!
While Marc and Clare were working from time to time, I did all kinds of jobs on the boat, including a lot of cleaning and polishing..
October 8th I flew back home, to celebrate my birthday and to get a new hip…. :-/