Cruising the Caribbean; Tobago to St Martin
We cruised the Caribbean for about 2 months.
Visiting the most beautiful places you actually only can visit by boat.
The value of the things you have and you do today vs being preoccupied by the things you don't have or you have to do next week
King George fort
The day after we arrived in Tobago was mostly taken by the administrative things. I went over to customs to find out I first had to go to immigration… At immigration I had to fill in all the forms but the rest of the crew had to come over too to present themselves. Then I learned that I had to write a letter to the chief immigration officer to ask permission to add Clare and Kitty to the crew list, also Jur had to present his hotel booking in order to get him off the crew list….
But first I had to go back to customs to get clearance to go ashore… There they told me I can't sail to the North of the Island without getting clearance first and of course I have to report at Charlotville to get clearance to leave Tobago…
This was how it would be for all the islands we'd visit. And it was okay. Of course can you think of a lot of ways to do this much faster and much more efficient, but that's not their way of doing things and you better respect that.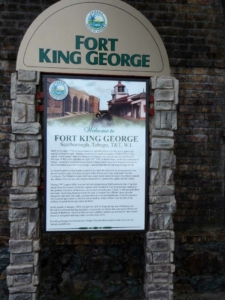 Anyway, after I did all this we went up to King George fort. That was at the top of the mountain and since it was very hot we had to take a break every 15 minutes and have a drink. At the last stop we had a beer at a Errol's place. We had a nice chat with Errol and when we came down from the fort we had another drink there and asked him for a good place to have dinner. He recommended a restaurant in Plymouth, about 15 minutes by car. He also happened to know this Scotty who would take us there. He would come over soon anyway to have his beer so if we wanted he could call him. Scotty came and had his beer and took us to this restaurant. That really was a good place and we had a great dinner. Prices were European but that was okay. Afterwards Scotty picked us up again and joined us for a drink at the bar just 100 meters down the road. The music was good and loud !!
Store Bay
Scarborough is not a very nice place to stay, it's kind of shabby so next day, after we had a traditional Xmas breakfast with all kinds of local dishes at Errol's place, we sailed to Store Bay, some 12 nm further, just round the Southern corner of the Island. That was more like in the brochure… a beautiful bay and beach. Also from there it's a 10 minute walk to the airport where we picked up Clare. The letter I wrote was stamped by immigration and I had to take that to immigration. Clare was already prepared so when they asked her for the letter she could tell them it had actually been delivered. It was a good thing I had gone through all this because she would not have gotten past immigration otherwise. Afterwards we had a drink with the crew from Maja, the yacht we met mid ocean and had just arrived in Store bay too. That had skipped Barbados because of the same letter crap they needed for the wife of the skipper who was flying in on Monday.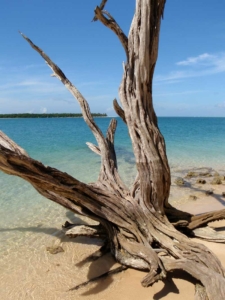 Anyway, Sunday we chilled out on the beach. Then Franky came along and offered us to take us for a rainforest trip. That was something we already had planned to do when Kitty had arrived, so we booked a tour for Tuesday together with Jur, Elisabeth and her brother who would arrive Sunday. Actually, Franky would take us all to immigration first so we could sort out the changes in the crew list so that was very handy.
He also sold us tickets for the step up Sunday School, a kind of tradition where everybody is partying on the street, with life steel bands, food and drinks of course.
Although it was not as crowded as we expected, it was nice and the steel band was very good.
Today we took the dinghy to go to the lagoon, just North of Pigeon Bay. Luckily the outboard still runs. Rutger got capsized the day before when landing on the beach. A wave took him by surprise… Everything was floating is the see and the outboard was upside down. Luckily it wasn't still running so it did start later but obviously it hadn't liked the dipping and ran with a hiccup…
Anyway the lagoon was gorgeous and we had a great time. When we came back at the boat to get ready to pick Kitty up from the airport, she called me to tell me that her flight from Curacao to Trinidad was canceled. Technical problems…. they would try and get another plane but that wouldn't be until tomorrow. Later she texted me to tell me there wasn't a flight available form Trinidad to Tobago so she won't be able to get in before Wednesday…
Well anyway, I guess this is Caribbean style too. Too bad she'll miss the rainforest tour tomorrow but she has a good place to stay over with her father.
Tobago's rainforest
Tobago is home to the oldest protected rainforest in the Western Hemisphere. The Main Ridge Forest Reserve is home to a number of flora and fauna; it is estimated that the rainforest provides habitats for twelve to sixteen species of mammals out of the nearly ninety mammal species in the Caribbean region, twenty-four non-poisonous snakes, sixteen lizards and two hundred and ten species of birds, the most outstanding being the bird species Campylopterus ensipennis – the White-tailed Sabrewing Hummingbird – that is both rare and endemic to Tobago.
After the 1963 hurricane Flora, many of the flora and fauna populations dwindled or disappeared. The Sabrewing Hummingbird is one of the species that has been recovering since the incident. The bird was declared an Environmentally Sensitive Species by Trinidad and Tobago's Environment Management Authority in 2005. The ridge is also home to the ocellated gecko, an animal that is not found anywhere else in the world.
Our guide was a guy named Darlington, a local Rastafarian with rasta hair that went down to his calves. More than once his hair got stuck when he closed the door of the van. In the jungle he bundled it and put it in his pocket!
He really knew his forest and all the plants and birds, he told us many amazing stories and showed us a lot of exciting spots. Whenever he saw a bird, he would look at the color of one of our T-shirts and the one with the closest match in color had to remember the name. Mine was the 'breast speckled spine tail', you would think he made that up on the spot. However every time he took out his bird book and showed us a picture and all the names were in the book too.
He kept on talking and telling stories about the animals and the Island of Tobago. So by the time we had lunch it was around 5 pm.
Kitty had managed to get a plane from Trinidad and was due to arrive in Tobago at around 6 pm. So we had to skip the 'afternoon' part of the trip to get in time to the airport and sort things out with the letter to get her through customs and immigration.
Darlington drove us to the airport via a shorter route. He drove like a madman, but kept us assuring he knew all the (6) roads very well, where to hit the break and where to step on it. That didn't kept him from stopping from time to time to have a chat with somebody he saw walking down the road.
When we arrived at the airport, Kitty already had gotten through customs and immigration. Nobody had asked her about any letter flying in from Trinidad, a domestic flight. They should had checked things when she boarded the plane but well, that's Trinidad.
Tuesday Kitty and I still had to go over to immigration in Scarborough to get her on the crew list. Next stop was customs to get clearance to leave Tobago.
We wanted to sail to Englishman's Bay first and then leave for Grenada but for that we needed a separate clearance which I found was too much. So we didn't bother telling them.
Englishman's Bay Beach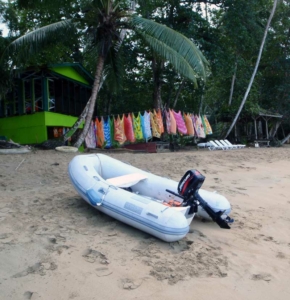 Englishman's is listed as the 6th most spectacular anchorages and… it is! We didn't visit the first 5 yet but I believe whoever made up the list. It's a bay at the edge of the rainforest with only one hut where you can eat roti and that's it. The beach is gorgeous and unspoiled, a river from the forest flows into the sea and you can see how the fresh water mixes with the salt water…
We stayed the night and most of the next day, snorkeling and eating roti. At the end of the day Jur, Elisabeth and her brother Stephaan joined us for a goodbye drink. The had rented a car and drove over the bay.
After they left we set sail for Grenada. It was about 80nm and we figured it would take us about 14 hours. We had to get in early next morning.
Marc and Clare had thought it might be nice idea to give Rutger his paddy open water diving for his birthday 🙂 Actually Clare already had called them and made the booking. Rutger was very excited when they told him!! However, that also meant he had to study. The course includes a theory exam that he had to take the next day. Clare had brought the book with her so Rutger spent all his time reading.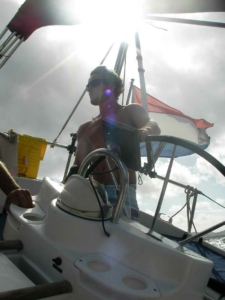 The sail to Grenada was great. With 15 kts of wind we actually had to slow the boat down, otherwise we would have gotten in at 4 am.
We arrived at around 6:30.and found a berth in True Blue Marina, next to the diving center. I thought I'd join Rutger and luckily for me, we could take the exam on Saturday so after clearing immigration and customs, I also had some time to study.
Grenada, True Blue Marina
The first part of the course was in the pool and went really great. Today, before the real thing, we took our exams. Rutger of course beat me in the score, but we both passed. The dives went great too so tomorrow we'll have a fun dive in a marine park and Marc, Clare and Kitty will join us.
The next day we have some work to do at the boat. The deck light didn't survive the crossing so we'll have to replace that. Also I got a new windlass which has to be installed and a new outboard. The ride to customs and immigration was indeed the last ride of the old one and I was lucky to get a tow from s real nice guy from another yacht in the bay.
We had dinner at True Blue Bay. Marc made the reservation but had already had a beer or two and obviously had trouble pronouncing his name, looking at the card they made for us.
Next morning at 09:30 we all went for a dive, two actually, at Shark reef and Glovers reef. At the end of both dives, Rutger and I had to do a few tests, like taking off your mask, put it back on again and clear it. That wasn't too hard.
The dives were amazing, especially for Rutger and me. It was our first real dive.
We saw a lot of fish, including a couple of nurse sharks, a stingray, turtles, moraines and lots of others. Also the corals were very beautiful. We went down to about 16 meters, too deep for my camera unfortunately.
After we came back Rutger and I filled in our new diving logbook, so now we're officially open water qualified divers!
The afternoon we chilled at the pool or dodgy dock, the bar at the waterfront. Tomorrow we'll go back to budget marine to get the windlass and change the deck light.
Also we'll do some shopping tomorrow and get some provisioning supplies for the coming days. The plan is then to leave for Carriacou on Tuesday and go for Union Island the day after. That means going back to customs and immigration again since Union Island belongs to St Vincent.
From there we'll go to the Grenadines and Tobago Keys, celebrating Xmas and Rutger's birthday at Mustique 🙂
Carriacou, Tyrell Bay
We left True Blue Bay for Carriacou in the afternoon after picking up the new windlass and checking out with the authorities. It was supposed to be a 6 or so hr. sail but it took us all night to sail upwind in a force 6-7.
When we got into Tyrell bay it was already light. It had been a bumpy ride but a good ride but so much better than the North Sea in these conditions.
We stayed over for the night and got some sleep. Early next morning, on Rutger's birthday, we left Tyrell Bay for Union Island. We had quite a lot of wind, about 30 kts, and it too was upwind all the way. Still it was a great sail! The plan was to check in with customs and immigration and sail on to Tobago Cays.
Thursday December 21st, Birthday at Union Island
By the time we arrived at Clifton, Union Island, it was about 1 pm so we decided to stay for the night and go on next morning. At Union Island we also could go out for dinner and go to a bar to celebrate Rutger's birthday.
We found a berth at the yacht club, that was nice because the wind and the swell had picked up more so we could get ashore without getting wet.
After having lunch and getting cleared with customs and stuff we did some shopping. Rutger bought me a nice T-shirt…. 'born for sailing…. forced to work'
We had dinner at a restaurant with a live steel band. At first it sounded like they were playing for the first time, but that was the way they started any new song. Then they started to play for real and very good too!
Of course they also played 'happy birthday' for Rutger. That was really great! Happy birthday in a steel band variation … that sounds much more happy!
Later on we went over to a bar and had a couple of drinks until they closed up at around 1 pm.
I guess Rutger will never forget his 21st birthday.
Next morning we installed the new windlass and did some other jobs on the boat. Tomorrow we'll leave for the Cays and stay there for the night. That is, if the anchor will hold…. the wind has picked up a bit more and although we'll be sheltered by the reef, that will only go for the swell, not for the wind.
We'll leave without Kitty, she decided to disembark and fly home from Union Island.
Tobago Cays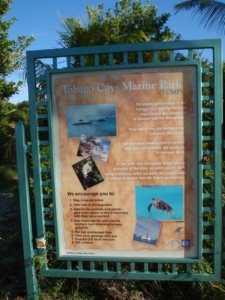 Tobago Cays is probably one of the most famous places in the Caribbean and, for a reason.
The only way to get there is by boat. The Cays is a group of 3 tiny islands surrounded by reefs. The whole place is a nature reserve with a turtle sanctuary and it is indeed fabulous!
Once you managed to pass the reefs and found a spot to drop the anchor, at least one boat will come by to make sure you're okay…. whatever you might need, Walter in our case will bring it to you. We ordered some croissants and banana bread for the next morning.
We took the dinghy to snorkel. I had seen a turtle before but this was amazing. Numerous turtles gently swam around, obviously used to snorkelers. I also saw some stingrays but you don't want to get too close to them.
The reef was great but so was the current. You could hardly hold your spot. It didn't take that long to get tired and head back for the dinghy.
Next morning Walter brought our stuff and after breakfast we sailed to Canouan.
Union Island, Tobago Cays, Canouan, Mustique and Bequia are all part of the Grenadines and the Grenadines belongs to St Vincent, not to Grenada.
Canouan
Canouan is a beautiful little Island with Charleston as the main and only village. As soon as we entered the bay another Walter showed up in a boat to help us with a mooring buoy. There were some other yachts but the resort seemed to have only 2 or 3 guests. We went ashore and walked around a bit. As we passed the 'supermarket' annex bar, I was called over to meet and sit with some guys and have a drink, the local rum mixed with some kind of juice. The people are indeed very friendly. I could only get away after I promised I'd come back later to buy a bottle of their rum.
I don't think they can legally brew that kind of stuff in Europe, it's 87.5%. If you'd drop the bottle, it'll explode!
Next morning we sailed over to Mustique.
Mustique
Mustique is a small private island The island was purchased in 1958 by Lord Glenconner. He initially planned to start farming, but then decided to develop the island into an exclusive hideaway. The whole place is run by a private company, There are 2 hotels where you can rent a one room cottage for $15.000 a week.
We had booked a table at Basil's Bar to have a delicious Xmas dinner. Luckily the price of that was more normal.
Mustique really is a different world, especially compared to the other Islands. We took a small tour by taxi and the driver showed us some of the estates on the Island. That is.. from a distance and only those that were at all visible. He dropped us of at the lagoon beach, a very nice beach indeed but aren't they all.
Later the taxi driver picked us up again and took us back to Basil's Bar where we had lunch. Just in front of us another super yacht got into the bay. This one had a helicopter on deck.
Well whatever, the thing is, you can't just sail her, you need at least 20 crew.
We didn't see any celebrities, at least no one I know… but watching the people there was fun. You indeed enter a different world at Mustique.
Bequia
The sail from Mustique to Bequia was short and exciting. Starting with a gentle breeze, we were overtaken by a squall that gave us up to 30 kts and a lot of rain too. An hour later we took out the reef and unfurled the genoa again and by 1:30 pm we entered Admiralty Bay.
A beautiful and wide bay with as much as 75 yachts and cats already anchored. Still there was enough room and it didn't take too long before another 'Walter' helped us with a mooring buoy.
Next came the bread man, the ice man, the water and diesel guy and the lobster guy 🙂
Port Elisabeth is the main village and not too big. It's picturesque and totally ready for all the yachties. I managed to have the gas canisters filled and get the laundry done. Bequia is also famous for it's craftsman for all kind of woodwork. So I went to Caribbean Wood to get a new teak handrail that was broken. However, Caribbean Wood was closed for the holiday.
Another yachty told me to go to Parish Workshop, Jim would be able to help me. It took me some time to find him and indeed it was only a workshop. But Jim was very friendly man and did help me out. He made me a new handrail, by hand and did it right away. He was a real craftsman but it still took him over an hour to fix it. I was watching him all the time and I must say that I was impressed by his skills. When he was done he asked me if he could ask $ 60 EC, that is about € 20….. I told him that that was perfectly okay and thanked him very much. Back home that would have cost me at least 5 times as much and it would definitely not be better or nicer!
Next morning we went for a dive. That was amazing, not only because of the fish but far more because of the scenery. Rock formations with numerous kinds of coral in beautiful colors. Too bad my camera doesn't go that deep.
After the dive we checked out at customs and immigration and did some shopping. Tomorrow morning at daybreak we'll leave for St Lucia and have dinner in Rodney Bay. That will be Marc's and Clare's last night… They'll leave Saturday.
St Lucia, New Year's Eve
The 65 nm sail from Bequia to Rodney Bay, St Lucia took a bit longer than planned. We left around 6 am, but the wind was just a bit too much in the North to make it in a single tack. Also it was kind of blowing, about 30 – 35 kts. The St. Vincent Street between St Vincent and St Lucia is kind of shallow. That makes the waves steep and short and high too. At one point a huge wave rolled all the way over the deck and we got some serious water down the hatch.
With only a couple of hours more to go, the genoa got torn for 20 cm and we had to furl it in to save it. Luckily in Rodney Bay they have a very good sailmaker. We motor sailed the last part and around 9 pm we got into the marina and found a nice place.
Next day Marc and Clare were gonna leave but first we went to 'Spinnakers', a special place for Marc and Clare! This place has real funny waves, they actually roll back from the beach. I had never seen this before…We had lunch and a nice swim and chilled until it was time to go back to the boat and get ready to say goodbye.
Too bad they had to miss the party, and some party it was. Together with Collin, whom we had met several times since Puerto Calero, Lanzarote, and his Canadian/Finnis crew, Rob, Kristin and Tanja and a Dutch couple we met on the dock together with their kids, we shared a cab to the 'strip'.
Actually we only got halve way when the taxi got stuck in the crowd and we walked the rest.
At 'Delirious' we had a couple of drinks and close to midnight we all went back to Spinnakers at the beach to watch the fireworks. By that time it got really, really packed and the whole place was vibrating on the music that came from everywhere. It was impossible to get another drink there so we all went back to Delirious and had a real great time!
We managed to make it back to the marina by taxi where we had a nightcap until it started to get light again. This was some new year's eve!
Monique's return
St Lucia, Jan. 3rd
Today we'll have another crew change. Monique is flying in from Amsterdam. Knowing she'd come and join us again made her depart at Lagos much easier 🙂 The same goes for Marc and Clare by the way. They'll gonna return in February with the kids. Actually Marc had a meeting at the office yesterday and had lunch with Monique so it's more like a hand over and change places 🙂
We might even have a fourth crew member. When I came back to the boat yesterday, Rutger was having a chat with a French girl and it turned out she had to leave the boat which she's on. She's hitchhiking around the world. So we had dinner together last night and discussed our plans. She does want to join us but she's on a very low budget and offered to work for the trip. I can understand that and I know a lot of young people are trying to get around that way, but there's no real work to do and I don't want her to do all the cooking and cleaning for us. So. she might just sail with us to Martinique to find a temporary job and move on from there. That's just a short trip from St Lucia and that's more like giving her a lift. Well we'll see what will happen. Anyway, Monique sounded very exited to come over when I called her last night and she's definitely gonna stay for the next 3 weeks 🙂
Monique arrived spot on and we all went out for dinner. She was glad to be back again and so were we 🙂 Next day we chilled on the beach, picked up the sails from the sailmaker and then we went over to the anchorage where we had a nice barbeque. Heidi, the French girl joined us the day after and we had a great sail to Martinique.
Martinique
Martinique is different. It is a Caribbean Island but has nothing to do with the Caribbean so it seems. No Walters to help you with a mooring buoy, no ice man, no lobster man no nothing. Ashore no 'ya mann', but bonsoir monsieur…. no music except for the hotel trio…
Checking in was on a computer at the marina. That sounds very sophisticated, however, the form I had to fill in was in French…. also the keyboard was French, not the normal qwerty keyboard.
It's so not welcoming for all the yachts that come in. It feels more that you're being allowed to anchor as long as you comply with all the French crap.
So, instead of staying another day, we left next morning after breakfast. Breakfast was the only good thing about Martinique. The fresh croissants that were indeed the best we had so far. Only Rutger and Heidi nearly got arrested for trespassing. It turned out that the dinghy dock was private and the had to climb the fence to get out. On their way back security at first had no clue on what a dinghy was 😮 and then told them to walk all the way round the bay and over the beach. Which they didn't of course….
After breakfast we sailed to Dominica. Another great day of sailing. Underway we explained a bit on celestial navigation to Monique and Heidi and took a sight. Rutger almost caught a fish but when it saw Rutger's face, it took off again…
We made it just after sunset and found a mooring buoy at Roseau bay and I cooked my tuna pasta with no fresh tuna unfortunately…
Rupert's Bay, Dominica
This morning after I checked in, we went to the market and bought some nice fruits and a big tuna steak to put on the barbeque tonight. After that we sailed to Rupert's bay where we were welcomed by Spaghetti and the fruit man that also did ice and bread since we got the fruit on the market. The plan is to stay her for at least one other day to explore the Island a bit. There's a nice tour up the Indian river and Sunday there's a big beach barbeque we might wanna go to. Both we can do with Spaghetti 🙂
Also there's Big Pappa's, according to the cruising guide, they have loud music on Wednesdays and very loud music on Saturdays 🙂 a nice place to have a drink later.
The day after we came into Ruperts Bay, we did the Indian River tour with Spaghetti as our guide.
He's one of the guys of the Portsmouth Association of Yachts Security and is actually named in the cruising guide.
Indian River, Dominica
The Indian River is one of the places where they shot the Pirates of the Caribbean. The tour was magnificent and at the end there's a bush bar where you can have a drink. There's one guy actually living there and he showed us his place. The place is amazing and we stayed there way longer than just for a drink.
That night we went to the Sunday nights barbeque which this PAYS club organizes specially for the yachts that are in the bay. The food was indeed very good, so was the music and the rum punch.
During the party, the Dominican minister of tourism came over and gave a speech to compliment all the PAYS guys. This was not part of the regular program and they were very pleased with his attendance. He stayed for a while and danced with us.
We also met 4 Israeli and we teamed up with them to explore the Island some more. Next day we first had coffee at their boat and went ashore. Cobra, one of the PAYS guides was waiting for us. We thought of going by ourselves but eventually decided to go with him. That turned out to be a great decision!!
Chaudiere Pool, Dominica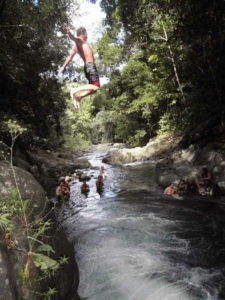 He took us to the Chaudiere Pool, a place we would never found ourselves. The road was actually off road and the path down to the pool was very steep and slippery. The pool was amazing. You could jump in from the rocks or slide in by the waterfall. Unfortunately my waterproof camera turned out to be not waterproof and it died.
When we came back to the car, it turned out that the battery of the car had also died so we had to push it uphill to jump start it. Luckily that worked.
This Cobra guy was a great guide who enjoyed showing us around. Every now and then he stopped to get us all kinds of fresh fruit, or a bush rum or a pastry. After the pool he drove us through Carib Country. Dominica is the only Island where the original Caribs still live. They have their own land and community and no Dominicans are allowed to live there.
After that he drove us to the Emerald pool, the place we wanted to go to by ourselves. He told us not to because all the people of the cruise ship would go there and it would be packed. He drove us there as a bonus on the tour and by the time we got there, they were all gone.
When we came back to Portsmouth we had dinner with the Israeli and went back to the boat. By that time Heidi had decided to stay and during the ride back she talked with Cobra. He's not only a guide but a very serious entrepreneur with a serious business. He started the Indian River bar, was a real estate broker and he was planning to open a souvenir shop so Heidi could come and help him to set it up if she wanted.
He picked Heidi and me up next morning and drove us to customs and immigration to settle the paperwork.
Dominica was by far the most beautiful island we visited!
Guadeloupe, Pointe-a-Pitre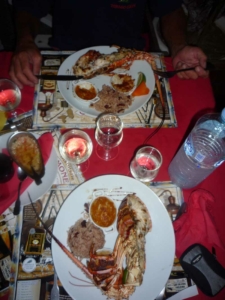 After we said goodbye to Heidi, we left and sailed to Iles des Saintes. A group of small island just South of Guadeloupe. Again the difference with the other Islands was striking. You're in the South of France instead of the Caribbean.
We stayed there for the day. Next morning we snorkeled and left for Pointe-a-Pitre, Guadeloupe. The plan was to sail through the river that divides Guadeloupe in two and sail to Antigua next morning. However, there is this bridge and it opens only once a day at 05:00 in the morning.
We left at 04:30 but missed the only bridge in the Caribbean by 2 minutes. We went back to the marina and will try again tomorrow. There's no point in sailing around the island, that would double the trip to 85 nm. We made the best out of it and had a very nice diner, fresh lobster at Ta Milonga Negra!
We left Guadeloupe the January 13th and this time we made it on time for the bridge!
The channel that divides Guadeloupe in half is narrow and just deep enough. It runs through a mangrove forest which makes it a special sail. After the second bridge we anchored, had breakfast and waited until daylight. It was indeed beautiful but had a downside too, mosquito's, a lot, so the second half of the channel we went as fast as we could.
Antigua, English Harbor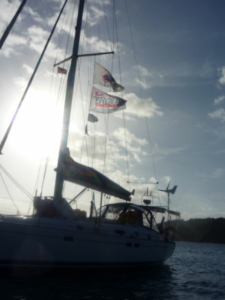 We arrived at Antigua early afternoon and anchored at English Harbor, thé historical site of Antigua.
The cruising guide told us that every Sunday there was a party at Shirley's Heights with a live steel band and later a reggae band so we decided to stay until Monday morning.
After dinner we went ashore for a drink and ended up in Mad Mongroose where also a live steel band was playing. They surly know how to party over here.
Saturday, that is the afternoon we went for some sightseeing and booked a zip line tour through the rain forest trees for Sunday. That was really great! You slide from one tree to the other crisscrossing a gorge at 100 meters high and then you had to cross over suspension bridges.
Shirley's Heights was indeed worth while staying a day longer. The place is at the top of the hill, overlooking English Harbor with a spectacular view. They have a barbeque and live bands that play without a break! The party ended at around 10 pm so we had a nightcap at Mad Mongroose where we met again with the Israeli guys from Dominica and Monique fell in love again with another Pedro.
Monday morning at around 10 am we left for St. Kitts. I decided not to go to Barbuda. That's a very tricky place to go because all the reefs and you have to sail there in good daylight. We weren't gonna make that, so Barbuda will stay on the list for another time.
The sail took us about 10 hrs. The wind was good and we could set the spinnaker for the first time here. Also we caught our first tuna.
St. Kitts will be our last stop before St. Martin. If it works out we'll go up the mountain and see monkeys but we also want to take a ride with the train, the only train in the whole Caribbean.
St. Kitts, Basseterre marina
We didn't get to do much at St Kitts. The weather wasn't too good, lots of rain.
Also there were 3 huge cruise ships at least as many tourists as inhabitants of the island, so the train was fully booked and we didn't want to do a tour with a crowd. The train tickets would have been a cause for second thought also, $ 115 US per ticket is a bit more then I'm used to.
So instead we took a taxi to the reggae beach bar at the South of the Island. The drive to there was kind of a tour itself and the driver stopped a few times to let us take pictures at the point where you can see the Caribbean Sea and the Atlantic only a mile apart and to explain some things about the Island.
The beach bar was nice but about to close when we got there. If we ordered immediately, we still could eat there, it wasn't even 6 pm.. The food was good but right after we finished, she brought us the bill and they closed the place. We walked over to the Spice Mill, another restaurant and had a drink there. We should have gone there in the first place. this was a really nice restaurant, but also closed at 10 pm.
Anyway, it wasn't too bad to get back to the boat early because next morning we had to get up at 05:30. The sail to St Maarten is about 50 nm and the bridge to get into the lagoon only opens 3 times a day. We wanted to catch the bridge of 5:30 pm and not miss it!
St. Martin, final destination
The sail to St. Maarten would be our last one before going home again.
It was a shitty sail, more or less like our first from Scheveningen to Harwich: a lot of wind and lots of rain, the whole day! We had to put in the second reef and I had to put on my sailing gear.
Anyway, we did make it in time for the bridge and got into the lagoon alright. This is the most sheltered place of the whole Caribbean and a good place to leave the boat until I come back. However, today I have to find out what is happening, I booked a berth at Bobby's Marina, but when I send them an e-mail to confirm my arrival date, they had never heard of me. It turned out that the woman I mailed and did the booking had left and obviously hadn't handed things over.
Anyway, the weather is okay again and the sun is shining. The wind has died and it looks like a nice and calm day to clean the boat and get it ready for the stay here. The berth for the boat turned out okay. Bobby's Mega Yacht had one spot left which obviously was not for mega yachts since I just could get in with a draft of only 6 ft (1.8 meter)!
After securing the boat we took a taxi to Sunset's where we had dinner and a cocktail. This is one of the most amazing restaurants. It's right at the start of the strip of Juliana Airport,