Bermuda – Tortola; eXpresso, X-412
Arriving at Bermuda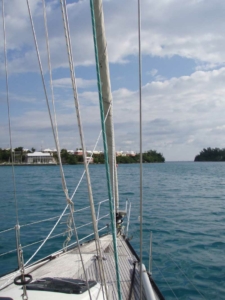 The rigging of Xpresso, an X421, was fixed again and Marc decided to keep her the season in the Caribbean. Now we, Marc, Clare and I just had to sail her from Bermuda to Tortola.
It was a long flight from Amsterdam and when I arrived at the airport I was told to wait for an official. No reasons given. So I waited and waited not a clue for what. It turned out that I had to pay a tax because I wasn't staying in an hotel or anything and was leaving again by boat… well anyway …
Marc told me he actually wanted to leave right away because of the bad weather that was coming soon. So just after an hour or so after boarding we set sail and left.
Great sail to Sandy Cay
It took us 5 days to sail to Jost van Dyke, just west of Tortola. We had a really great sail. A beam reach most of the time and 20 to 25 kts. It was a good call to leave right away and we missed the bad weather.
We anchored at Sandy Cay, a uninhabited gorgeous little Island on the south east side of Jost van Dyke. First thing we had to do though was free the prop. We seemed to have picked up some fishing gear that was wrapped around the prop. Luckily it hadn't damaged anything and in an hour or so all was fine again. We took out the dinghy and went over the island. It turned out the dinghy was leaking (again)…. a new job on the to do list
Jost van Dyke
After the prop was freed and we could actually use the engine again, we went over to Jost van Dyke to have dinner. The beaches are phenomenal except for the sand flies. They are really annoying!
Next day we managed to fix the dinghy, that is, for as long as it will hold. It's a real old dinghy and Marc will probably have to get a better one soon.
Nay Cay
We spend some nice days at Jost van Dyke and then we sailed to Nany Cay. Nany Cay holds some special memories for Marc and me. We did the BVI regatta once and actually the sail from St Martin to Nany Cat, Tortola was our first real offshore sail. That was on Odin II, an X421 too.
Unfortunately I had to leave there. I had to fly home and get back to work. All in all we had a magnificent sail and a great stay in one of the most beautiful places.