How my love for sailing helped me to fight setbacks as cancer and a heart attack
March 4th 2019
I was in hospital, recovering from a long cancer surgery, when Marc, my brother, came to visit and told me that he and Clare, his wife, were about to finalize the deal in buying Amanzi. They had closed the month before, pending the survey and sea trial.
Amanzi is a beautiful Oyster 56, number 59, built in 2007. He had showed me the brochure before and this is really an amazing yacht. They were planning to do a circumnavigation and were looking for a yacht for years. Now they finally seemed to have found the perfect yacht fit for their plans.
At that time I had no idea how much this visit would mean to me but when he told me about Amanzi, something changed. I didn't feel too good after the surgery but now, my mindset changed. I was going through all the stuff I still had from my boat after I sold her a few years earlier. All the stuff had gathered over the years, tools, equipment like Steiner binoculars, a complete scuba diving set, Imray pilot books, spare shackles, blocks, over 20 courtesy flags, and all kind of handy stuff, I had stored, not ready to get rid of it. Now I could give it all to my brother and that made me very happy. And I knew he would be very happy too. Most of it he knew, had used it himself as he sailed with me on True Companion my boat, like I sailed with him on Xpresso his previous boat. Some of the things I still had even came from Xpresso when he sold her, like the fishing rod and a most of courtesy flags. Anyway, having a wonderful purpose finally for all this stuff and equipment made me feel really good! Mentally but also physically.
The week after I got out of the hospital, Marc asked me if I'd like to come along to Fox's marina in Ipswich when the surveyor would be doing the survey. Of course I did! The week after Marc and Clare went over again for the sea trial and March 12th 2019, I got his text 'IT GIET ON', meaning it's final!
Two days later we went over to Ipswich again to sail her over to IJmuiden. Roy and Olaf, two long time friends of Marc would join us later.
Sunday morning, March 17th
The weather is sort of okay, a bit more wind then we'd have liked for the first trip.. > 20kts. But then again, it's an Oyster, weight 30t and on a beam reach…. this should go well. And the plan is to go on a circumnavigation with her, for sure we'd be facing much stronger winds 🙂
The four of us, Marc, proud new owner and skipper, Roy and Olaf, and myself, slipped the lines Sunday
at around 10:00 am, motoring down the river Orwell.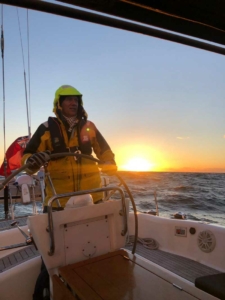 After 1.5 hr. motoring we arrived at Felixstowe. We set the sails (with 3rd reef) and killed the engine. The wind has picked up a bit more, 25kts. From Felixstowe it was a broad reach to Ijmuiden and it was an amazing sail!
She handles perfectly and very comfortable.  At around 00:45am, we crossed the border and entered  the Dutch waters. Exactly 6 hrs. later we arrived at IJmuiden, her new home port. It was a magnificent sail!! Especially Olaf enjoyed it as this was his first time crossing the Channel 🙂
From then on I spend a lot of time in IJmuiden. The surgery had been very successful, for the second time even. The year before my lung surgery, they had removed a tumor from my large intestine.
Physically I was 100% cured, mentally I still wasn't fit to go back to work. Working on Amanzi helped me a lot dealing with it all and there was a lot to do.
Over time Marc and I ticked off more than 150 jobs. Most of them weren't very complicated, just time consuming, like servicing winches, pumps, rigging the reef lines, preventer, downhaul, varnishing cockpit table, installing a fresh water flush system to prevent the growth of sea life in pumps and hoses. Also there was a load of spare parts on the boat. Figuring out for what system took a lot of time. And after figuring everything out, I put together a spare part catalogue, showing pictures of the parts, serial numbers, how to install them with the relevant exploded diagrams, where they were stored on the boat, where to order them and what they'd cost. The hardest part was yet to come… figuring out which parts were missing… Last but not least, I put together 5 binders with all the manuals, a maintenance log, weekly, monthly and yearly and a repair log. Amanzi might very well be one of the best documented yachts now.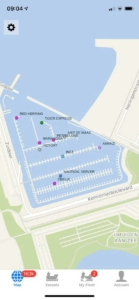 Three weeks after we sailed her over to IJmuiden, while I was working on Amanzi, I didn't feel too good. I knew something was seriously wrong so I called 112. I managed to get to the marina office and soon after the ambulance came. It turned out I was having a heart attack.
Within 90 minutes after I called I was in the hospital and they had placed a stent. Overall the damage was minor. Two days later I was back home again. I gradually picked up my work on Amanzi. That's what I like to do most, apart from actually sailing, and it really  helped me getting back on my feet.
In between al the weeks I spent on Amanzi, Marc and Clare took her out for their vacation to the UK. And I gladly helped them sailing across on their way to Cowes and back again from Lymington three weeks later. That was the third time this year I crossed the Channel.
2019 had been a quite eventful year.